The description of the consensus that growth will resume around mid-year — while accurate — does not convey much information about what is the consensus regarding the depth of the recession. Nor does it convey the degree of disagreement regarding the timing and strength of the recovery. To provide some insight , here is the mean forecast for GDP into the new year, according to the WSJ's December survey.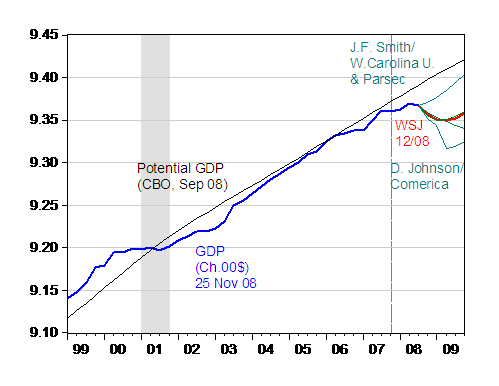 Figure 1: Log real GDP, from 25 Nov 08 preliminary release (blue), potential GDP (black), WSJ mean forecast from December survey (red), high and low forecasts (teal), and third highest and third lowest forecasts (green). Source: BEA NIPA release [link], CBO estimates of 9 Sep 08 [xls], WSJ survey of forecasters from December [link].
The mean forecast indicates a recovery (i.e., resumption of positive growth) starting in 2009Q3. Despite the positive growth projected, the output gap implied for end-2009 is 6.4% in log terms. I've also depicted the range of uncertainty by showing the trajectories implied by the top (James Smith/W. Carolina U. and Parsec) and bottom (Dana Smith/Comerica), where the ranking is made on the basis of the average growth rate over the 2008Q4 through 2009Q4 quarters.
The range of estimates is quite wide, but is driven by outliers. Taking out the top two (the usual suspects, of Mark Nielson/MacroEcon Global Advisers; James F. Smith/Western Carolina University & Parsec Financial Management) and the bottom two (Dana Johnson/Comerica Bank; Douglas Duncan/Fannie Mae) leads to the trajectories indicated by two green lines (low: Maria Fiorini Ramirez & Joshua Shapiro/MFR, Inc.; high: Richard DeKaser/National City Corporation). This implies substantially more agreement about the prospects for the economy, although the implied output gap for this low estimate is still 8.2%.
More recent prognostications from the American Economic Association meetings, from SF Fed President Janet Yellen, and NBER BCDC chairMartin Feldstein.