Or, 12.7% on an annualized basis. From Reuters:
TOKYO (Reuters) – Japan's economy shrank 3.3 percent in the fourth quarter, the biggest drop since 1974 and further confirmation that the world's second-biggest economy is in a severe recession as the global economic crisis deepens.

It was a bigger fall than the 3.1 percent contraction expected by economists and marked the third consecutive quarter of contraction — the first time this has happened in Japan in seven years.



Japan's gross domestic product figure translated into an annualized fall of 12.7 percent, exceeding a consensus market forecast for a 11.7 percent contraction, government data showed.


…

Brad Setser presaged this announcement in his post A truly global slump. He notes "There is a lot of spare capacity in the global economy now." I'll observe that if one believes in a Classical world, then there is no such thing as "spare capacity". If one believes in a New Classical world [1], there is probably no spare capacity — certainly none that can be systematically eliminated using monetary or fiscal policy. Things to think about, when considering what model is appropriate for interpreting the world.
Update – graph added 9:10pm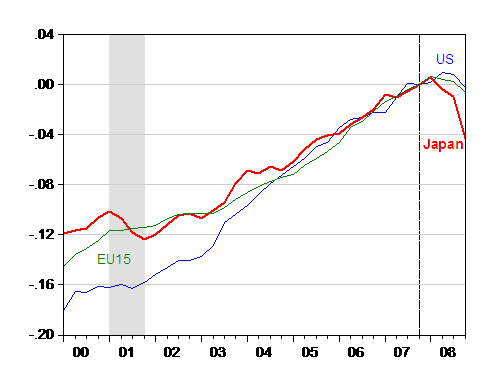 Figure 1:
Log US real GDP (blue), log Japanese real GDP (red), and log Euro Area 15 real GDP (green), all rescaled to 0 in 2007Q4. US NBER defined recession dates shaded gray, and dashed line at US peak. Source: BEA, 30 Jan 09 release, IMF
IFS
, and ECB, updated with news accounts, and author's calculations.
Technorati Tags: Japanese GDP, Euro Area.