It's interesting that as we discuss the magnitude of the economic problems and proposed solutions, the units everything is quoted in have gone from billions to trillions.
Even before the stimulus bill, the Congressional Budget Office was estimating deficits for the unified federal budget of nearly $1,186 billion for 2009 and $703 billion for 2010. On Friday CBO estimated that the new stimulus package would add another $185 billion to the 2009 figure and $399 billion for 2010. That would put the deficit at almost $1.4 trillion, or 9.6% of total GDP for 2009 and $1.1 trillion (7.6% of GDP) for 2010. Our World War II deficits were three times this size (as a percentage of GDP), but nothing since then comes even close. The 2007 deficit, for example, was only 1.2% of GDP.
Combined federal surplus (positive values) or deficit (negative values) as a percentage of GDP. Data source: 1950-2008 from FRED. 2009-2019 calculated from CBO projections ([1], [2]) by the author.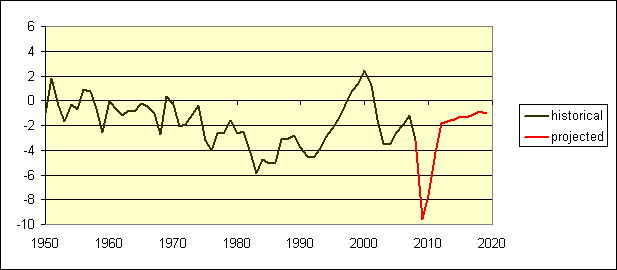 Recall that the government budget deficit is part of the accounting identity:
private saving + government budget surplus = investment + net exports
So, if the deficit increases as a fraction of GDP by 6% within two years, we're going to see adjustments in some combination of the other three terms of the same magnitude, that is, some combination of a plunge in private consumption, private investment, and net exports.
I take it as given that this is in part a policy response to a sharp drop in private consumption. From the point of view of the longer run objectives of policy, our goal should be to ensure that these higher rates of private saving persist and are used to fund an increase in investment and net exports, rather than finance an ongoing government budget deficit.
I grant that this is not a trivial thing to accomplish. Still, I wish I was hearing more consensus out of Washington that this is indeed the goal, and discussions of the best strategy for achieving it.
So what's your plan, you may ask? I've offered that here and here.
---
Technorati Tags: macroeconomics,
economics,
fiscal stimulus,
deficit