Here is a bar chart of three figures. What are they?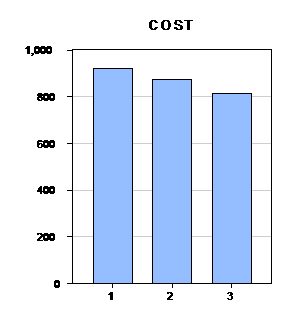 Figure 1:
Costs, in billions of dollars.
Bar 1, at $920 billion is the latest figure cited for the Senate stimulus bill. Bar 3 at $816 billion is the amount in the House stimulus bill. Bar 2 is the cumulative direct costs (excluding VA, interest payments) for operations in the Iraq Theater of Operation, aka OIF, through FY2010, in constant 2009 dollars.
I think this is all relevant when we think about what we've spent money on in the past, searching for those WMDs.
Putting things into perspective (because I keep on hearing that word "massive" over and over again), I divide each bar by two times FY2009 nominal GDP (given that the spending will take place primarily in two fiscal years — see this post).
Figure 2:
Cost of Senate stimulus bill, divided by 2 times FY2009 GDP, cumulative cost of direct costs of OIF through FY2010, divided by 2 times FY2009 GDP, and cost of House stimulus bill,divided by 2 times FY2009 GDP. Source: For OIF costs,
Belasco/CRS (October 2008)
, using "low troop level" CBO baseline, and converted to 2009 dollars using calender year CPI in CBO database Table c-1 (January 2009)
[xls]
and FY 2009 nominal GDP reported in CBO,
Budget and Economic Outlook
(January 2009)
[pdf]
, and author's calculations.
Technorati Tags: iraq, stimulus bill.