The Mankiw-DeLong inspired debate over the time series characteristics of GDP continues. [1] [2] [3] Here is a very long run (1867-2008) extension of my 1967-2008 quarterly analysis covered in this post.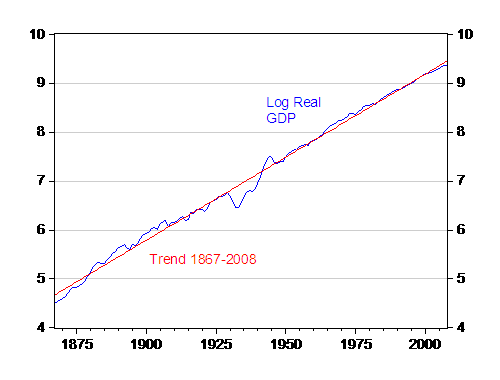 Figure 1: Log real U.S. GDP, 1867-2000, in billions 2000$. Source: GDP from Johnston and Williamson, and author's calculations.

The Elliott-Rothenberg-Stock (1996) DF-GLS tests statistic (assuming constant and linear trend, lag length equal 1, selected using Schwartz Bayesian information criterion), is -3.3258. The 5%(1%) critical values are -2.988 and -3.5296. Hence, we reject the trend stationary unit root null at the 5% msl.
The Kwiatkowski-Phillips-Schmidt-Shin (KPSS, 1992) LM test statistic is 0.88306 (allowing for constant, trend, bandwidth=9, Newey-West using Bartlett kernel), where the asymptotic critical value is 0.119 for the 10% msl. Hence, we fail to reject the trend stationary null at conventional levels.
So, by the conventional statistical criteria, I would judge log real GDP as reasonably well characterized as a trend stationary process. This doesn't mean that deviations couldn't be long lived. The deviation from the trend depicted in Figure 1 is 0.912, which implies a half life 7.6 years. This is longer than the three years estimated using quarterly data over the 1967-2008 period. This result could be attributable to the fact that this long sample encompasses the Great Depression, as well as the Depression of 1893.
And of course, in all of this, I have not investigated asymmetries, nonlinearities, etc.
Technorati Tags: trend stationarity, difference stationarity,
unit root, GDP, and KPSS.