Some good news, some bad, in the indicators we follow this week.
First, the bad news. Monthly sales for retail and food services, which had been up a bit in January and February, fell 1.1% on a seasonally adjusted basis between February and March, leaving the first quarter 8.8% below 2008:Q1. That's a particularly discouraging development, since given the cyclical behavior of the other components of GDP, it's hard to envision a recovery without an upswing in consumer spending.
On the other hand, new claims for unemployment compensation were reported today to have fallen by 53,000 in the week ending April 11, bringing the 4-week average down by 8,500 from what the revised numbers show to have been the recent peak the week before. If April 4 ultimately proves to be the peak for the entire year, and if this recession behaves like each of the previous 6 recessions, we could expect the NBER eventually to declare that the economic recovery began within 6 weeks of today.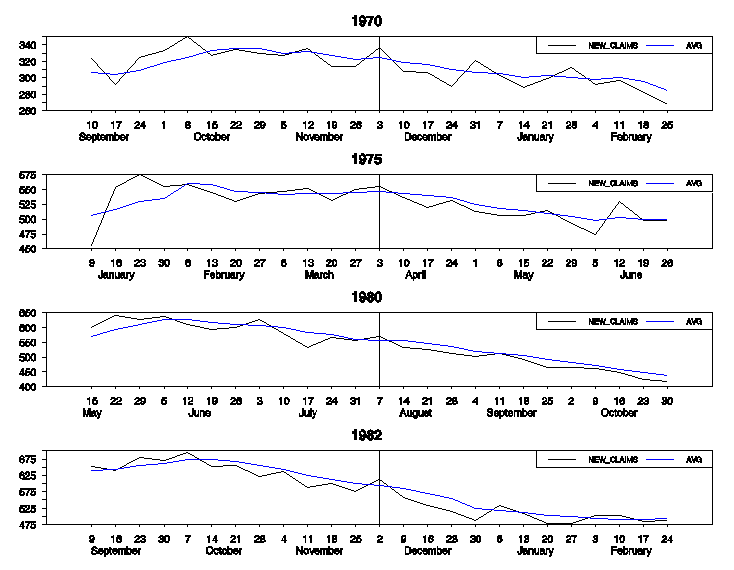 Black line: seasonally adjusted weekly initial claims for unemployment insurance, from Department of Labor via Webstract. Blue line: 4-week average of black line. Vertical lines: first week of the first month of a business cycle expansion as subsequently dated by the National Bureau of Economic Research.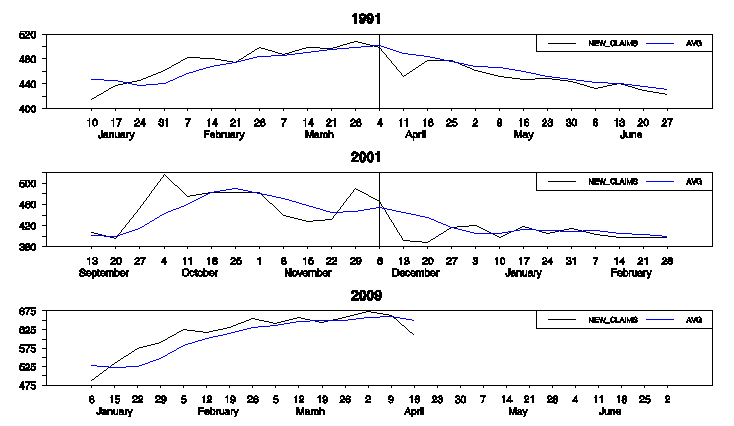 Calculated Risk notes Goldman Sachs economist Seamus Smyth's estimate that a decline of 20,000 in the four-week average signals we've passed the real peak with probability 0.5, and a decline of 40,000 would give us 90% confidence. CR accordingly cautions not to get excited over the 8,500 drop seen so far.
Excited or no, bad news it's not, and the new claims data release was enough to allow the Aruoba-Diebold-Scott Business Conditions Index to climb up to -2.04% on April 11 from the previous assessment of -2.44% for April 4.
---
Technorati Tags: employment,
recession,
macroeconomics,
economics