By Eiji Fujii
Today, we're fortunate to have Eiji Fujii, Professor of Economics at Tsukuba University as a guest blogger.
Shaken by the world financial crisis, Japan has recorded the first trade deficit (on the April-March fiscal year basis) in 28 years (see Figure 1). The trade balance of the 2008 Japanese fiscal year was about -725 billion yen. The last trade deficit (on the fiscal year basis) was recorded in 1980 when the second oil crisis hit the economy hard.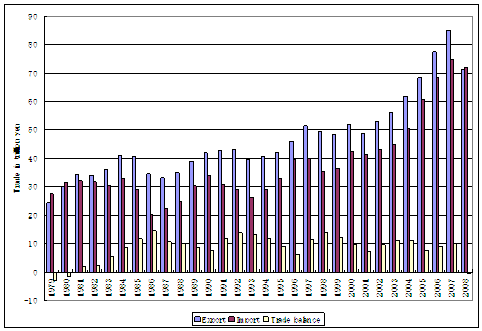 Figure 1: Japan's trade balance (April-March fiscal year basis, in trillion yen). Exports (blue bar), imports (red bar), trade balance (yellow bar). Source: Japanese Ministry o f Finance.

Shrinking demand overseas, particularly in the US, is clearly the main factor in this development. However, the unique status of the yen as a safe haven in the midst of the global financial turmoil can also be held partly responsible. In the initial stage, the fact that the Japanese financial sector did not have much presence in international markets worked in Japan's favor as Japanese financial firms had relatively little exposure. However, the irony is that temporary safe haven effect caused a steep appreciation of the currency (see Figure 2). This added further impetus to the decline in Japanese exports already being driven by rapidly diminishing demand around the world for Japanese goods.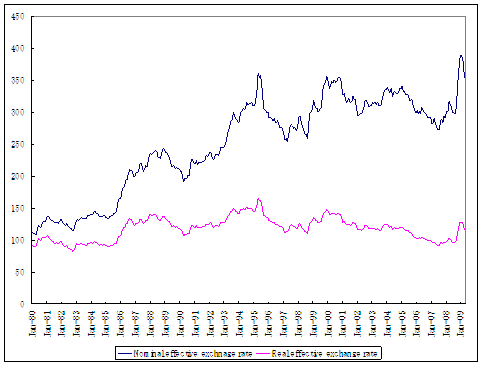 Figure 2:
Yen nominal (blue) and real (pink) effective exchange rates (1973=100, a rise of the index values means appreciation). Source: Bank of Japan.

It is no surprise to see the Japanese exports to the US and EU plummeting following the financial crisis. But a body blow to the Japanese economy came from the substantial drop of its exports destined to other Asian economies (See Figure 3). Some of these exports may have the US and Europe as their final destinations.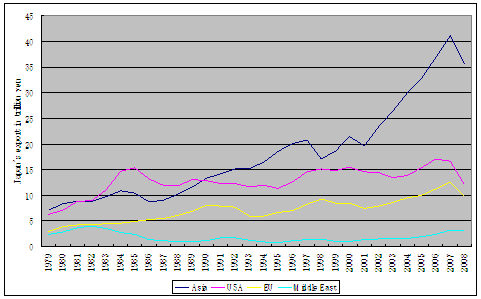 Figure 3:
Japan's exports by destination (in trillion yen). Asia (blue), USA (pink), EU (yellow), MidEast (light blue). Source: Japanese Ministry of Finance.

Are the Japanese welcoming the resolution of the long time trade imbalance — lending overseas too much too long? Clearly not at the moment, when the domestic demand remains rather fragile.
Post written by Eiji Fujii.