Or, how ignorance sometimes invalidates a critique.
I am always amazed at how often people jump to the most paranoid interpretations. One case in point is this article by Evan Newmark entitled Mean Street: Obama's Big Fat Fibbing Budget on WSJ's Deal Journal:
Is the White House lying to the American public about the economy? Or, if not outright lying, is it being awfully stingy with the truth?


You have to wonder.



After all, the Obama economic team is full of very smart people. And they have to see the same things that you and I see.



They see April's lousy retail numbers and record foreclosure rate. They see unemployment at 8.9%, state tax revenues facing double-digit declines, and a 14% fall in home prices last quarter.



So how can National Economic Council boss Larry Summers, Council of Economic Advisers chief Christina Romer or Treasury Secretary Tim Geithner still believe in a 7.9% unemployment rate and 3.2% GDP growth for 2010, as the President budgeted in late February?



I have been struggling to answer this for weeks and the best theory I can come up with is, simply, they don't. As I figure it, the Obama economic team is biding time, slowly leaking the ugly truth about its flawed budget as quietly as possible.


…
(The subtitle of this article by Evan Newmark is "Mean Street", but maybe just plain "mean" is better).
Either Mr. Newmark didn't struggle very hard, or this is an incredibly disingenuous remark. Or this blogpost reflects an incredible degree of ignorance about how the U.S. government conducts the forecasting/budgeting process. If Mr. Newmark had bothered to ask a few people knowledgeable in the process, he would find out that the government makes two official forecasts per year, associated with the budget process. This has been true for years, and over different administrations of both political persuasions. In between, government analysts might have different views about the true state of the economy, but no new forecast is produced.
The reason why this is the case is that the forecasts are the outcome of a careful deliberative process conducted by the Troika of the Council of Economic Advisers (CEA), the Treasury and the Office of Management and Budget (OMB). These forecasts in turn form the basis for official budget numbers, and projections for agencies throughout the U.S. government. Because so many things depend upon these forecasts, everybody has to agree on the information set to be used (so you will see that the forecasts come with caveats indicating that the predictions are based upon data available at a certain date). From Economic Projections and the Budget Outlook (Feb. 28):
The Administration's economic assumptions were largely completed in early January and finalized on February 3rd. Therefore, the appropriate comparison is to other forecasts completed at the same time. The key summary variable for budget purposes is the rate of real GDP growth. Below we show comparisons to three alternative forecasts:
Another forecast comes out with the Mid-Session Review in late July, when the an update on the budget is mandated. Strangely, Mr. Newmark seems to know these constraints.
And by the summer, when the Office of Management and Budget revisits its budget assumptions, the Obama economic mess will be apparent to all.



…
Too bad he didn't incorporate this information in his thinking. This process of events outrunning forecasts happens all the time (think back to February 2004 when the employment growth forecasts came out and were out of date because the forecasts were finalized in end-November). It just happens that this year, the new information has been coming in fast and furious.
Speaking of which, here is a graphical depiction of the current situation, and the economic outlook as reported by the WSJ survey of forecasters.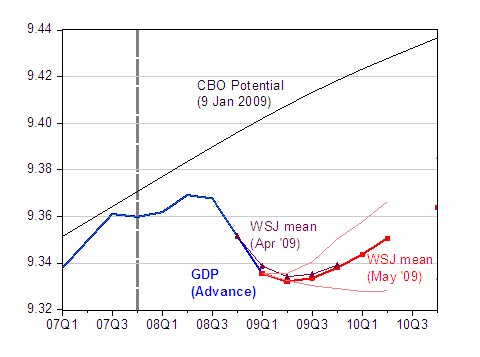 Figure 1:
Log real GDP for advance 2009Q1 (bold blue), for final 2008Q4 (teal), WSJ mean May forecast (red bold square), trimmed high and low (pink lines), WSJ mean April forecast (purple triangle). NBER defined recession start date gray dashed line. Top 5 and bottom 5 top 2009-10 forecasts (out of 55) trimmed. Source: BEA, GDP advance 2009Q1 release, 2008Q4 final release,
WSJ forecasts
, and NBER.
I'll note that despite the worse than expected 2009Q1 advance growth rate, forecasters in May on average seem to be anticipating that GDP will be at the same levels they expected it would be in 2009Q4 as of April.