John Fernald and Kyle Matoba of the San Francisco Fed have just released a utilization adjusted total factor productivity series (data here). The importance of this development is clearly laid out by the authors:
This Economic Letter looks at potential output from the perspective of growth accounting, which assesses some of the key supply-side factors determining sustainable, noninflationary potential output. Perhaps most importantly, we find that the underlying pace of efficiency improvements — "technological progress," broadly construed– has remained strong during the recession. This strength offers a reason for cautious optimism about potential output and the long-term health of the American economy. More immediately, stronger potential relative to the same observed output implies substantial slack in the economy.
Essentially, the authors have accounted for the fact that the utilization rate of the factors of production change over the business cycle. Succintly put:
Firms, for example, may hesitate to fire skilled workers they will need once the economy recovers, because they will lose valuable firm-specific skills and knowledge. Instead, firms are likely to reduce overtime (which reduces measured
labor input) and also, less obviously, the required effort of each worker (which is difficult to measure). At the same time that firms vary the intensity with which they use labor, they are also likely to vary capital utilization — that is, the intensity with which machinery and structures are used, most obviously the number of hours
per week the capital actually operates (e.g., Shapiro 1996).
Figure 2 compares the adjusted series to the conventionally constructed total factor productivity (TFP) series.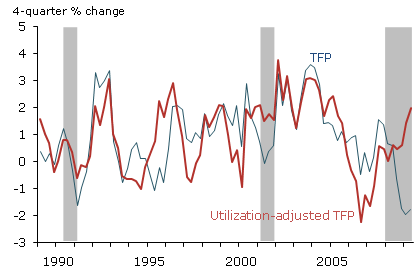 Figure 2 from Fernald and Matoba.
To make clear why the sustained growth rate in TFP is so critical to a discussion of macroeconomic stabilization policy, recall:
Y t pot = Φ t Kt 1-σ N t σ
Where Ypot is potential GDP, Φ is TFP, K is capital stock, N is labor stock. Taking logs and differentiating with respect to time leads to the standard growth accounting equation:
Δ y t pot = Δ φ t + (1-σ)Δ k t + σ Δ n t
So the growth rate of potential equals the growth rate of TFP plus the weighted average of growth rates of capital and labor (the weights are income shares assuming perfect competition and CRS).
This is important because, as discussed in previous posts [1] [2], the output gap is a difficult to measure object due in large measure to questions pertaining to the trajectory of potential GDP.
Output gap ≡ yt – ytpot
Where y ≡ log(Y).
This analysis suggests that potential GDP growth has not declined as might have been the case in previous instances (see the discussion here: [3] [4]).
If so, the output gap is sufficiently negative that we need not worry excessively about inflation rising as monetary and fiscal stimulus pulls the economy upward. Quiescent inflationary pressures are consistent with this view.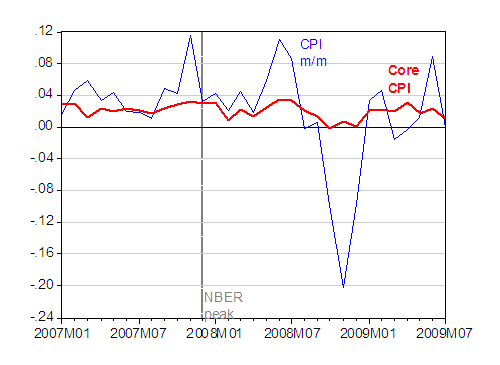 Figure 1: CPI month-on-month annualized inflation rate (blue), and CPI core (red). Both series calculated as log first differences. NBER defined peak at gray dashed line. Source: BLS via St. Louis Fed FRED II, NBER, and author's calculations.
According to the August Survey of Professional Forecasters, one year ahead expected CPI inflation is 1.8%, and the 10 year ahead is 2.5% — virtually unchanged from previous months.