My article with Jeffry Frieden and the decomposition of the 2001-07 change in the deficit discussed in The Lasting Legacy of the Bush Tax Cuts inspired lots of vigorous debate regarding the role of the Bush deficits in the current crisis. Here is the CBO's take on the cyclically adjusted budget balance: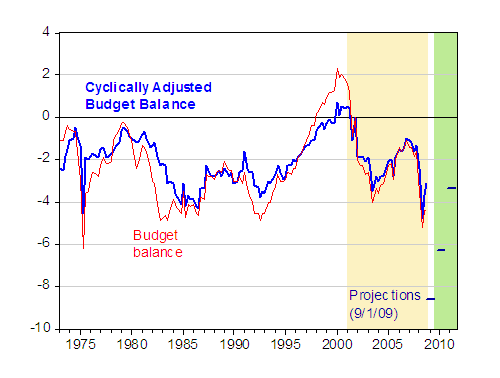 Figure 1: Cyclically adjusted budget balance (blue) and budget balance (red), in percent of GDP. Projections of cyclically adjusted budget balance (dark blue, by fiscal year). Tan shading indicates G.W. Bush years. Light green shading indicates projections. Source: CBO, Measuring the Effects of the
Business Cycle on the Federal Budget: An Update, September 1, 2009.

The cyclically adjusted budget balance, sometimes known as the full employment budget balance, is the budget balance that would obtain when GDP is at potential. In principle, the cyclically adjusted measure better measures the stance of fiscal policy, as it removes the endogenous components of spending and revenues.
The G.W. Bush budget balance averaged -2.23 ppts of GDP; the cyclically adjusted budget balance was -1.97 ppts. Keeping in mind the tax cuts of 2001 and 2003 — the FY2000 cyclically adjusted revenues-to-GDP ratio was 20.1 ppts; the FY2002 was 17.8 ppts. The FY2004 revenues ratio was 16.5 ppts.