By Willem Thorbecke
Today, we're fortunate to have Willem Thorbecke, Senior Research Fellow at Asian Development Bank Institute and a Consulting Fellow at Japan's Research Institute of Economy, Trade and Industry, as a guest contributor.
---
Asia's role in the propagation of the global recession has been a subject of study, but relatively little attention has been devoted to the interaction of exchange rates and production chains. The structure of East Asian production networks and the severity of the recession places a premium on policy coordination in the region.
Multinational corporations in East Asia have established value chains by slicing up production processes and allocating the production blocks across countries in the region based on relative endowments of capital, skill, labor, and infrastructure. As MNCs increase their tenure in developing Asia, they procure more from local firms. This leads to the formation of industrial clusters, and local engineers and skilled workers begin migrating among firms and sectors. They bring their accumulated human capital with them and disperse it across the economy, promoting technological assimilation and productivity growth.
For instance, Kraemer and Dedrick document that the lion's share of the international production of notebook PCs is produced in the Yangtze River Delta by Taiwanese Original Design Manufacturers (ODMs). These manufacturers form part of a network that includes branded firms such as HP, Apple, and Toshiba, suppliers of key parts and components, producers of basic industrial materials, and makers of operating systems and CPU. Local Chinese firms supply connectors, batteries, switches, and displays and are also active in molding, casting, forging, plating, and module-assembling. Both digital and human networks enable PC producers to react efficiently in real time to changes in consumer preferences and technology. Firms assembling the notebook PCs have also kept inventories lean by processing 98 percent of the orders within three days. Productivity growth within this value chain has been amazing.
The Achilles heel of Asian production networks, though, is its dependence on developed economies for final demand. As private demand in the U.S., Europe, and Japan fell during the crisis, exports produced within regional production networks collapsed. This in turn caused output and employment throughout Asia to plummet.
Signs are emerging that East Asian production networks are reviving. Figure 1 shows imports for processing into China and processed exports from China to the rest of the world. Imports for processing are goods that are brought into China for processing and re-export. Processed exports are final goods that are produced using imports for processing. The figure shows that imports for processing and processed exports both collapsed earlier this year. Since then, however, imports for processing have recovered 85 percent of their losses and processed exports 75 percent. Thus trade within East Asian production networks is recovering. This is the good news coming out of Asia.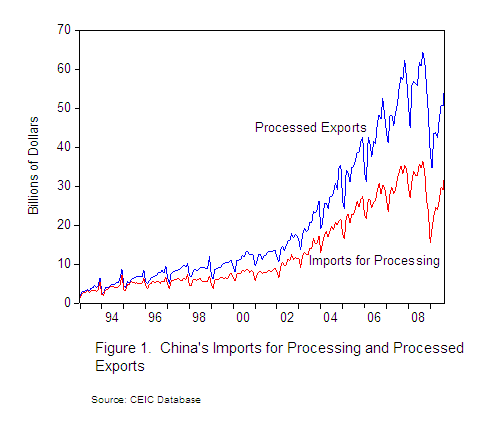 The not so good news is that exchange rate arrangements within the region may not allow this revival to be sustained. While many Asian countries have adopted greater exchange rate flexibility, China has returned to a de facto dollar peg. This implies that exchange rates between Asian countries have become very volatile (see, e.g., Figure 2). In general the effect of exchange rate volatility on trade is ambiguous. Within East Asian production networks, however, both theoretical and empirical evidence indicates that exchange rate volatility deters trade (see Thorbecke (2008) and Hiyakawa and Kimura (2009)). This effect arises because the service link cost for production blocks separated by national borders is an increasing function of risk and uncertainty, and exchange rate volatility increases risk and uncertainty. In a recent survey of Japanese MNCs, Professor Takatoshi Ito and his co-authors found that exchange rate stability between Asian currencies is essential for the uninterrupted flow of parts and components within regional production networks.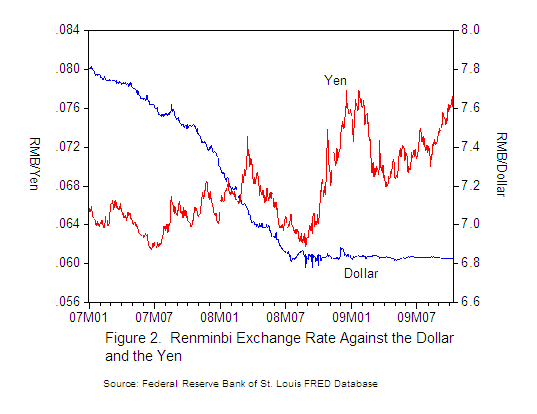 In addition, since Asian economies do not only cooperate within production networks but also compete in third markets, China's exchange rate peg puts pressure on other countries in the region to prevent their exchange rates from appreciating. Thorbecke and Smith (2009) reported that exchange rate appreciations across Asian supply chain countries are necessary to reduce global imbalances. If the renminbi is kept fixed, it becomes much harder for the huge surpluses generated within East Asian production networks to lead to a generalized appreciation of Asian currencies.
A solution to this impasse would be for China to abandon its de facto dollar peg and adopt a regime characterized by a multiple-currency, basket-based reference rate with a reasonably wide band. In this case, there would be more stability between the renminbi and other Asian currencies. In addition, exchange rates in the region would be able to appreciate together in response to regional trade surpluses.
This move would be difficult for China. Labor-intensive exports and thus employment in these industries are sensitive to exchange rate appreciations. On the other hand, exchange rate appreciations would reduce the need for Chinese and other Asian central banks to continue accumulating U.S. Treasury securities. Private and social rates of return are much higher for investments in education, healthcare, and clean water than for investments in U.S. government securities. An appreciation of the RMB would also allow Chinese consumers to purchase more of the final manufactured goods that were previously exported to developed markets (Thorbecke, 2009). A stronger renminbi would thus allow Chinese workers to enjoy more of the fruits of their labor while reducing their dependence on final demand in the West.
A good policy mix for Asia would thus involve relatively stable intra-regional exchange rates that could appreciate together in response to regional trade surpluses combined with more spending on human capital. Stable exchange rates would help to strengthen regional production networks. Joint appreciations would prevent unpleasant outcomes such as beggar-thy-neighbor policies and excessive reserve accumulation while also reducing global imbalances and encouraging production for domestic markets. Spending on human capital would facilitate technology transfer by allowing firms in developing Asia to become more involved in the engineering and design aspects of production. If Asian countries could climb the value chain in this way and focus on knowledge-intensive activities rather than assembly operations, not only would living standards in developing Asia rise but the region could become an engine of growth for the rest of the world.
---
This post written by Willem Thorbecke