President Obama's trip to China has returned to scrutiny the role of China's currency and macroeconomic policies in perpetuating global imbalances. [0] [1] [2]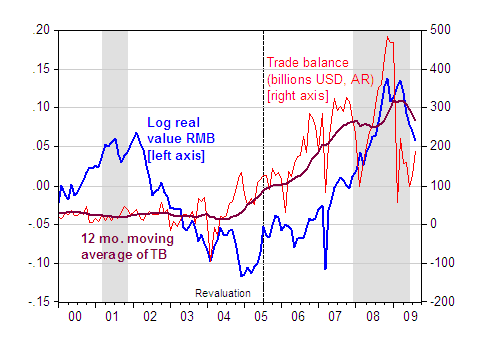 Figure 1: Log real value of RMB (blue, left axis), and Chinese trade balance in billions USD at annual rates (red, right axis) from Chinese statistical sources, and twelve month trailing moving average (maroon). Source: IMF, International Financial Statistics, ADB, NBER and author's calculations.

Various observers have continued to ascribe a central role to real RMB appreciation to effect global rebalancing. I think it's useful to remember that, given a Chinese trade balance in excess of 260 billion USD, appreciation can only have a certain impact. From Cheung, Chinn and Fujii (forthcoming):
…using a single equation error correction model, allowing for coefficient shifts with Chinese accession to WTO, leads to a statistically insignificant estimate of the price elasticity. In the 2000-06 period, the implied price elasticity is zero. Using this point estimate, then a 10% appreciation would actually lead to a shrinkage of the trade balance from 400.9 billion to 355.2 billion. This estimate of 45.7 billion (2000$) is somewhat less than the $88.6 billion current dollars reported in Marquez and Schindler (forthcoming) [working paper version].
The export equations take the form:
Δ exp t = θ 0 + ρ exp t-1 + θ 1 y* t-1 + θ 2 r t-1 + θ 3 k t-1 +
σ 1 Δ exp t-1 + 2 lags of first differenced right hand side variables + quarterly dummies + WTO dummy + v t
Where exp is log exports, y* is log RoW GDP, r is the real exchange rate, and k is the Chinese capital stock. The import equations take the form:
Δ imp t = β 0 + φ imp t-1 + β 1 y t-1 + β 2 r t-1 + γ1 Δ imp t-1 + 1 lag of first differenced right hand side variables + quarterly dummies + WTO dummy + u t
Where imp is log imports, y is log GDP.
Separate regressions are run for ordinary and processing trade, over the 1993Q4-07Q1 period. The adjusted R2's range from 0.77 to 0.92.
If we take the Goldstein-Lardy misalignment estimates of 20% to heart, then a 20% appreciation would lead to an approximately 91.4 billion (2000$) reduction in the Chinese trade balance. As best as I can tell, the export prices from China, and to China (as proxied by unit value indices for Hong Kong) have probably stayed constant relative to 2000; hence the nominal impact is around 90 billion USD (with considerable uncertainty surrounding this point estimate).
This leaves a large Chinese trade surplus in place, around 170 billion even before the rebound in the Chinese surplus anticipated as the world aggregate demand recovers. Now, to the extent that Chinese reserve accumulation is due to a current account surplus and capital inflows, one could hope that a revaluation would have an additional knock-on effect by deterring capital inflows (the argument would be revaluation would eliminate expectations of appreciation that would provide capital gains on holding RMB). That is, recall the balance of payments identity:
CA + KA + ORT ≡ 0
Where CA is the current account, KA is private capital account, and ORT is official reserves transactions.
Figure 2, drawn from Prasad and Sorkin (2009) shows that net inflows were not a major factor, at least in 2008.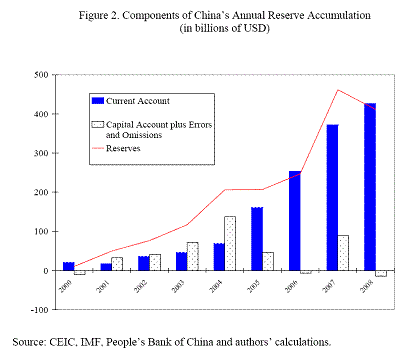 Figure 2
from
Eswar Prasad and Isaac Sorkin, "Sky's the Limit? National and Global Implications of China's Reserve Accumulation," mimeo (July 2009)
.
This suggests to me that rebalancing requires as much or more Chinese fiscal stimulus and a concerted effort to encourage private consumption via enhancing the social safety net, in addition to RMB revaluation. (This can be seen in a Mundell Fleming framework, as applied to China [3]). And it also requires determined action from the US side as well (see here). If only we'd conducted a sane fiscal policy in 2001-08 [4], our range of action would now be wider in this respect.