Casey Mulligan asks:
So a year later, in September 2009, after living through a year of "disaster," how did real consumption expenditure (one economists' favorite measures of living standards) compare to what it was in September 2008?
He observes that consumption (as well as disposable income) were higher than they were a year ago.
Since we're concerned with living standards, as opposed to economic activity, I thought it of interest to look at per capita consumption. Since population is available only on quarterly basis, I compare consumption per capita in 2009Q3 to that in 2008Q3.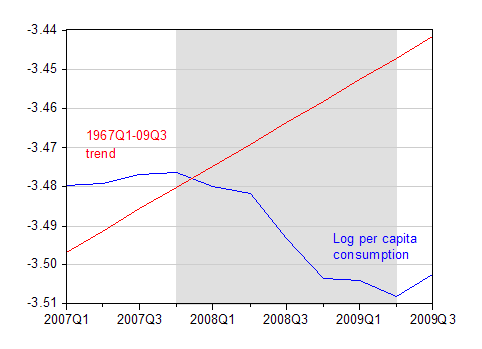 Figure 1:
Log personal consumption expenditure, in Ch.2005$ (blue) and linear time trend estimated over 1967Q1-2009Q3 period (red). NBER defined recession dates shaded gray, assuming recession ends in 2009Q2. Source: BEA, GDP 2009Q3 advance release, NBER and author's calculations.
Per capita consumption is 0.3 0.9 percent (in log terms) below the level in 2008Q3. Moreover, per capita consumption is 6.5 6.1 percent below the 1967Q1-09Q3 trend (which grows at 2.9 2.2 percent per annum). [Corrections made 1pm Pacific]
Is that a disaster? Maybe not. But one wonders how much lower per capita consumption would have been in the absence of the actions undertaken by fiscal and monetary authorities around the world.
Update, 1pm Pacific
Thanks to confused for pointing out the monthly population series. Here is a plot of log montly personal consumption expenditures, and analogous trend: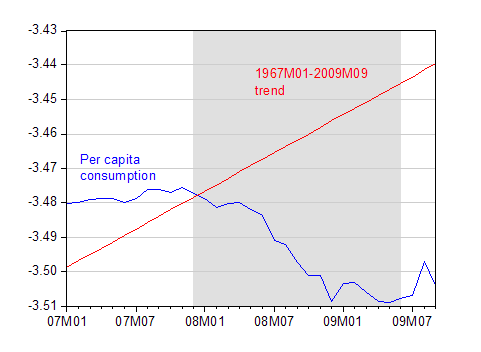 Figure 2:
Log monthly per capita consumption (blue) and 1967M01-2009M09 trend. NBER defined recession dates shaded gray, assuming recession ends in 2009M06. Source: BEA via FREDII, NBER, and author's calculations.
Note that relative to September 2008, consumption is 0.65 percent lower (in log terms), and is 6.4 percent lower than the time trend.