The Administration has committed itself to doubling exports in five years, via the National Export Initiative. Much of the journalistic coverage has focused on the regulatory, trade-credit financing, and export promotion measures being considered [0]. I wanted to take a macro oriented approach to the viewing the plausibility of this goal. Let me address this issue from a variety of perspectives.
The historical record
First, has a doubling of exports ever occurred in the past forty or so years? The answer is yes!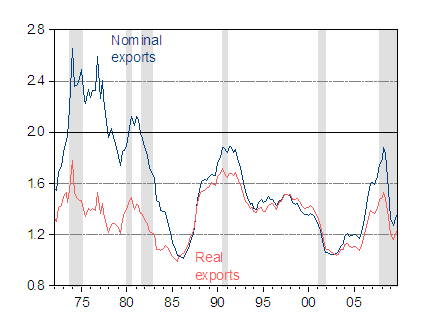 Figure 1:
Ratio of nominal exports to exports 5 years earlier (blue), and real exports (red). NBER defined recessions shaded gray; assumes last recession ended 09Q2. Source: BEA GDP 2009Q4 advance release, NBER, and author's calculations.
Notice that nominal exports certainly doubled in the mid-1970s and early 1980′s. Nominal exports also almost doubled by 1990 and 2008, approximately 5 to 6 years after peaks in the trade-weighted exchange rate. (Real exports seldom exceed a 50% increase).
Hence, the objective of doubling nominal exports is clearly possible. From a macro perspective, whether the doubling occurs depends upon (i) the price level of exports, (ii) the quantity of exports.
The price of exports
Clearly, the price of exports matters both directly (by affecting the price of each unit of exports) and indirectly (by affecting the quantity of exports) for nominal exports. First, we can examine the relationship of the price level to the exchange rate.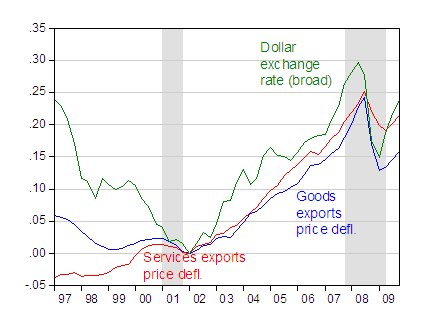 Figure 2:
Log price of goods exports (blue), of services exports (red), and log dollar exchange rate against a broad basket of currencies (green), all normalized to 0 at 2002Q1. NBER defined recessions shaded gray; assumes last recession ends 09Q2. Source: BEA GDP 2009Q4 advance release, Federal Reserve Board, NBER, and author's calculations.
Here, the implied pass through is substantially higher than import pass-through [1], but in line with the estimate of 0.75 reported by Vigfusson, Sheets and Gagnon [link fixed, 2/5 9am] for the US.
Hence, sustained dollar depreciation could aid in hitting the target in a direct fashion.
The quantity response
The quantity of exports depends on (1) rest-of-world GDP, (2) the real exchange rate, and (3) US supply of exportables. (1) and (2) enter into standard elasticities approach equations; (3) has been included in studies such as Helkie and Hooper (1988), as well as more recent studies by me [2]. Omitting the supply side artificially imputes to rest-of-world growth the supply side if the two variables co-trend.
For the moment, consider the basic specification omitting the supply side, as discussed in this post from last October, but estimated over the 1973Q1-2009Q4 period:
Δ exp t = θ 0 + ρ exp t-1 + θ 1 y* t-1 + θ 2 r t-1 + σ 1 Δ exp t-1 + σ 2 Δ y* t-1 + σ 3 Δy *t-2 + σ 4 Δ r t-1 + v t
Where exp is real exports of goods and services, r is the real exchange rate, and y* is the rest-of-world GDP. Note that the rest-of-world GDP variable is the export weighted real GDP calculated by the Federal Reserve Board, for 1970q2-07q4; the 2008q1-09q3 data I estimated using a regression of GDP on a current and four lags of industrial country industrial production, time trend, trend squared, and world GDP ex.-US.
(Data sources: BEA 2009q4 advance release for imports, exports, GDP; Federal Reserve Board for broad index of real dollar value; personal communication/Fed for rest-of-world export weighted GDP; and IMF International Financial Statistics for industrial country industrial production (nsa), and GDPs used to project rest-of-world GDP.)
The implied long run price elasticity is 0.82, and the long run income elasticity is 1.81. The price elasticity is higher than that obtained by DOLS in this paper, based on export data up to 2007, but the income elasticity is about the same. Hence, continued dollar depreciation would have a substantial direct impact on export quantity. But rapid rest-of-world growth could be even more important, given the high income elasticity. (The rest-of-world GDP variable is export-weighted, so this characterization pertains to US export markets.)
In my working paper, augmenting the basic specification with a supply variable (industrial production) halves the income elasticity. This complicates the issue; then one needs to know how the supply of exportables will evolve over time.
I am the first the confess that the measure I use for the supply of exportables is wanting. One could use a measure of the capital stock (as in Helkie and Hooper). But I think no measure is particularly satisfying, especially given the fact that over one-third of exports are in the form of services, and a full 15% are "private services", including business, professional and technical services.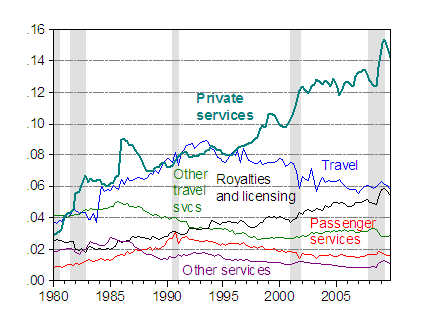 Figure 3:
Shares of total exports. NBER defined recessions shaded gray; assumes last recession ends 2009Q2. Source: BEA GDP 2009Q4 advance release, NBER, and author's calculations.
Complications: Vertical Specialization, etc.
In a number of posts [3] [4] [5], I've argued that vertical specialization — the use of imported inputs for subsequent exports — is important in thinking about how trade flows respond to exchange rates and incomes. While it's likely that the degree of vertical specialization is less for the US than other, smaller, developed economies, it's plausible that it's been increasing over time. If this is so, then measured exports could be rising at a noticeably higher rate than the value-added component of exports. In other words, I'm positing an upward trend in gross exports to GDP that is not as marked as the value added in exports as a share of GDP. This upward trend helps make the goal of a doubling of gross nominal exports more feasible.
Of course, this effect relies upon a continuation of "product fragmentation" or "globalization". That process might have been slowed by rising energy prices, or rising transactions (including credit) costs, as discussed here and here.
Bottom Line
So, if you didn't know it already, achieving the goal of doubling nominal exports depends upon exchange rate pass through, the extent of exchange rate depreciation, the rate of rest-of-world GDP growth, and the evolution of export supply (of both goods and services).