A couple days ago, I presented my views on the policy response to the financial crisis and the Great Recession in a UW Center for World Affairs and the Global Economy / UW CIBER / MITA and ICE sponsored event. The power point slides are here (big file, 1.3MB). I took the latitude as the invited speaker to expand the topic from the Obama Administration's measures to encompass the response to the crisis and recession from both the fiscal and monetary policy authorities.
One slide I generated for the talk is of particular interest, when thinking about the combination of monetary and fiscal policies — it is the plot of consumption and household net wealth.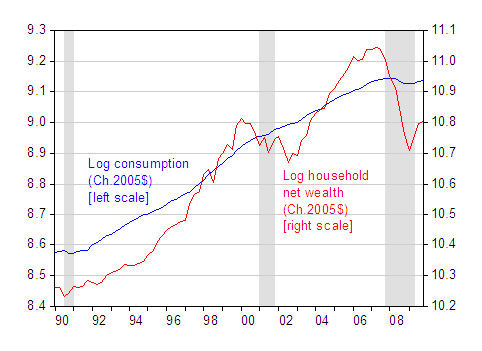 Figure 1:
Log consumption, Ch.2005$ SAAR (blue, left scale) and log househld net wealth (red, right scale), Ch.2005$, deflated using PCE. NBER defined recession dates shaded gray; assumes last recession ended 09Q2. Source: BEA, GDP 09Q4 2nd release; Federal Reserve Board, Flow of Funds, March 11, 2010.
What is quite remarkable is the fact that real consumption expenditures have been essentially flat for a year and a half — even at a time when population has grown. (Since 08Q2, consumption has fallen 0.6 while population has risen 1.3%.) One question is whether the rebound in net wealth will support a resumption in consumption growth even as disposable income growth remains lackluster.
Another slide, pertaining to the rebalancing issue, is an update of my net exports/real exchange rate graph.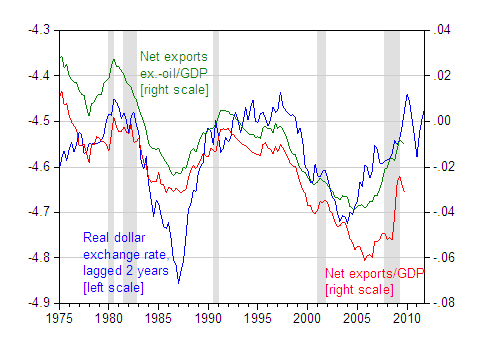 Figure 2:
Log US dollar real broad exchange rate, lagged two years (blue, left scale), net exports to GDP (red, right scale), and net exports ex.-oil to GDP (green, right). NBER defined recession dates shaded gray; assumes last recession ended 09Q2. Source: BEA, GDP 09Q4 2nd release; Federal Reserve Board; and NBER.
If previous patterns hold, then — to the extent that the 08Q4-09Q2 dollar appreciation was understood to be transitory — the trade balance (at least the ex-oil component) should not deteriorate substantially going forward. This conclusion is consistent with the October IMF WEO discussed in this post.
As I've mentioned before, continued progress in keeping the trade deficit relatively small depends in part upon the trajectory of consumption. A resumption of consumption growth would be — all else held constant — desirable, but would tend to worsen the trade deficit. An exogenous upward shift in US exports would relax that constraint (as would further dollar depreciation). This is why the Obama administration has stressed export promotion [1] [2].
On a slightly different matter, the IMF provided an interesting heat map summarizing growth across the G-20, in this Staff Position Note.
Figure
from
IMF Note on Global Economic Prospects and Policy Challenges, February 27, 2010 – Seoul, Korea
.
The map highlights the two-speed nature of the global recovery.
Update: 7:30am, Pacific
One of the graphs that didn't make it into the presentation is an elaboration of how certain fiscal measures — EGTRRA, JGTRRA, and the total cost of operations in Iraq — limited the fiscal space available to policy makers. In the absence of these measures, we would not have to worry so much about rising debt-to-GDP levels. In other words, deep recessions are the times to run deficits, not in non-recessionary times.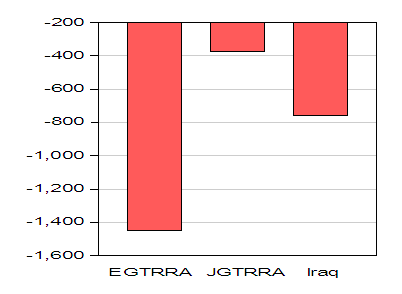 Figure 4:
Impact on budget balance, in billions of FY2010$, for EGTRRA; for JGTRRA; and budget authorization for operations in Iraq, FY01-FY10. Source:
CBO, Budget and Economic Outlook: An Update (August. 2001)
, Table 1-4;
CBO, Budget and Economic Outlook: An Update (August 2003)
, Table 1-8 (revenue implications only);
A. Belasco, The Cost of Iraq, Afghanistan, and Other
Global War on Terror Operations Since 9/11," Congressional Research Service report RL33110 (September 28, 2009), Table 3.
.
I first made this point about fiscal space (although I didn't use the phrase) in 2006 [3].