And on unavoidable spending, and debt crises, and on budget accounting…
From the Washington Post: comes this headline:
With health bill, Obama has sown the seeds of a budget crisis
Here's a choice excerpt:
Should the United States someday suffer a budget crisis, it will be hard not to conclude that Obama and his allies sowed the seeds, because they ignored conspicuous warnings. A further irony will not escape historians. For two years, Obama and members of Congress have angrily blamed the shortsightedness and selfishness of bankers and rating agencies for causing the recent financial crisis. The president and his supporters, historians will note, were equally shortsighted and self-centered — though their quest was for political glory, not financial gain.
Kinda weird — I thought that Obama was inaugurated in January 20, 2009, which is somewhat less than two years ago, by my count. Aside from time dilation, I thought it interesting that Mr. Samuelson neglected to mention how much of the upward jump in the debt-to-GDP ratio occurred before January 2009, as shown in this graph.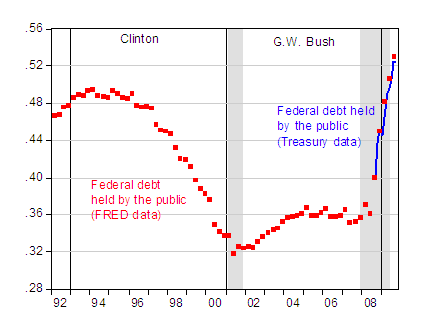 Figure 1: Federal debt held by the public as a share of GDP, from FREDII (red square), from Treasury (blue line). NBER defined recessions shaded gray; assumes last recession ended 09M06. Solid line at 2009M01. Sources: Series FYGFDPUN from St. Louis Fed FREDII, from December 2009 Treasury Bulletin, and Macroeconomic Advisers (Jan. 15 2010 release), NBER, and author's calculations.
Here is where Mr. Samuelson dismisses the entire budgeting process in Washington:
But the CBO estimate is misleading, because it must embody the law's many unrealistic assumptions and gimmicks. Benefits are phased in "so that the first 10 years of [higher] revenue would be used to pay for only six years of spending" increases, a former CBO director, Douglas Holtz-Eakin, wrote in the New York Times on March 20. Holtz-Eakin also noted the $70 billion of premiums for a new program of long-term care that reduce present deficits but will be paid out in benefits later. Then there's the "doc fix" — higher Medicare reimbursements under separate legislation that would cost about $200 billion over a decade.
The logical implication based upon this argument: Might as well close up CBO.
Interestingly, he doesn't mention Dr. Holtz-Eakin's other former role as Senator McCain's economic adviser. While this observation does not in itself invalidate the Holtz-Eakin critique, it does cast it in a different light. However, see [0]
I also like how Mr. Samuelson conveniently lumps certain spending as avoidable, and some unavoidable. I find in particular this passage from a 2006 WaPo article highly amusing (to say the least): "Some of Bush's spending increases (defense, homeland security) were unavoidable."
Here is a graph to put things in perspective.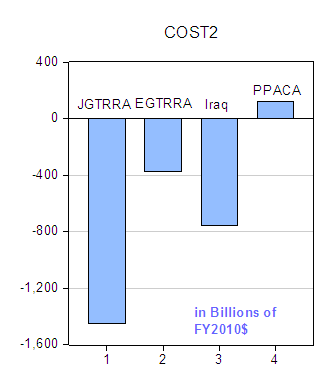 Figure 2: Impact on budget balance, in billions of FY2010$, for EGTRRA; for JGTRRA; for Patient Protection and Affordable Care Act; and cumulative budget authorization for operations in Iraq through FY2010, in billions of FY2010$, deflated using CPI. Source: CBO, Budget and Economic Outlook: An Update (August. 2001), Table 1-4; CBO, Budget and Economic Outlook: An Update (August 2003), Table 1-8 (revenue implications only); and CBO, "H.R. 4872, Reconciliation Act of 2010: Estimate of direct spending and revenue effects for the amendment in the nature of a substitute released on March 18, 2010," (March 18, 2010), Table 1; and Iraq costs from A. Belasco, The Cost of Iraq, Afghanistan, and Other
Global War on Terror Operations Since 9/11,
Congressional Research Services (Sep 09), Table 3: budget authorization for DoD, State, and VA Medical; for CPI, historical from FREDII, and forecasts/projections from CBO (January 2010).
So even taking Mr. Samuelson's misgivings about the implausibility of assumptions at face value, PPACA looks like a real paragon of fiscal rectitude by comparison with what preceded it in the previous Administration. And I haven't even mentioned the way in which Medicare Part D was funded (which to his credit, he did criticize elsewhere — although not in this particular article).
Nonetheless, overarching all this is a simple question. Why do we ascribe any credibility to a person with an undergraduate degree in political science (what is called Government at Harvard) in the area of economics (let alone accounting)? (The question is inspired by watching the debate between Professor Krugman and Mr. Samuelson on Fareed Zakaria GPS yesterday…)
Update: 2:25pm Pacific
Here's some fact-checking on Mr. Samuelson's column.
Here's some sensible (and still skeptical) analysis of the bill's impact on finances, from Donald Marron, who is not a wild-eyed liberal.