Or, "What would Rand Paul Ask at the Hearings of the Senate Un-American Activities Committee?". From AP:
"What I don't like from the president's administration is this sort of, 'I'll put my boot heel on the throat of BP,'" Paul said in an interview with ABC's "Good Morning America." "I think that sounds really un-American in his criticism of business."
Thinking about his comments on mine accidents, perhaps he will ask the various witnesses: "Are you now, or have you ever been, a member of the Mine Safety and Health Administration. [0]
Here's some visual context.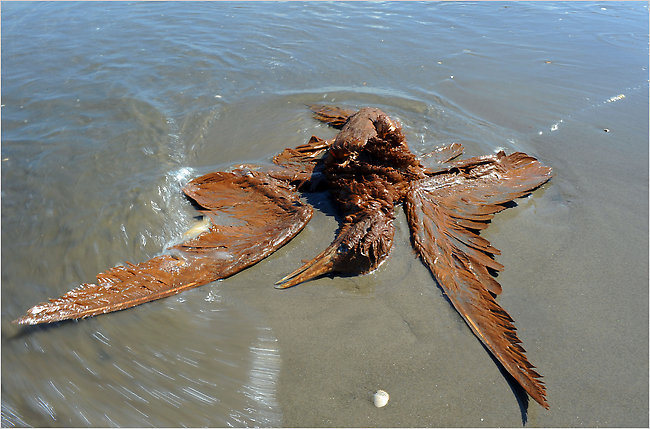 From
NYT
, "Public beaches were closed Friday in Grand Isle, La., as oil, dead fish and birds washed ashore. "Just under 70 miles of our coast have been hit by oil," said Gov. Bobby Jindal. "Let's make no mistake that what is at threat here is our way of life." "
The Flow Rate Technical Group has just released its estimates of the spill rate. Their estimates range between 2.4 and 3.8 times the original NOAA estimate of 5000 barrels per day. The cumulative estimated spill is depicted in the graph below.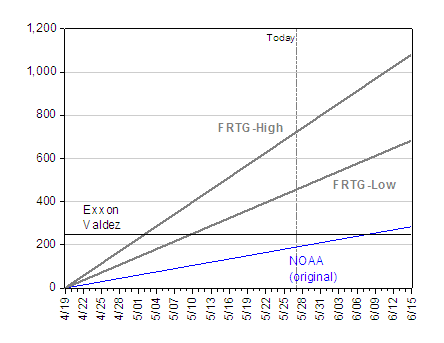 Figure 1:
Estimated cumulative oil spill, according to original NOAA estimate (blue line), and the Flow Rate Technical Group high/low estimates (gray lines), and Exxon Valdez spill (black line). Source:
Reuters
and author's calculations.
This range of estimates is substantially below the Wereley estimates reported in this post.