Recently, I had the pleasure of participating in a CES-ifo workshop on "The Evolving Role of China in the Global Economy," co-organized by Yin-Wong Cheung and Jakob de Haan. The conference agenda is here. The paper topics spanned issues ranging from monetary independence and integration into global financial markets, SOE access to credit and SOE efficiency, Chinese saving/consumption behavior, econometric models of China-global interactions, and the determinants of Chinese FDI in the rest-of-the-world.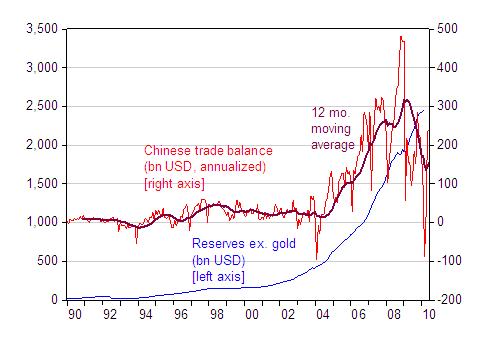 Figure 1: Chinese reserves ex.-gold (blue, in billions of USD), and annualized Chinese trade balance (red, in billions of USD), and 12 month trailing moving average (maroon). Source: IMF, International Financial Statistics; and ADB.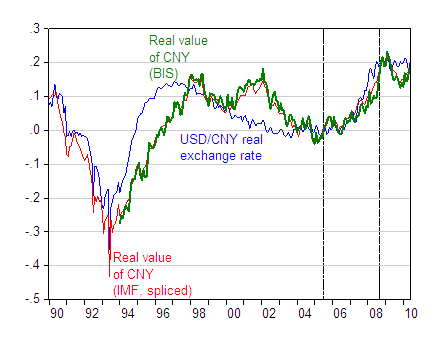 Figure 2: Log USD/CNY CPI deflated exchange rate (blue), log real trade-weighted value of CNY from IMF (red), log real trade weighted value of CNY from BIS (green), all normalized to 2005=0. Note, USD/CNY and IMF series adjusted to use swap rates pre-1994. Source: IMF, BLS, ADB, BIS, and author's calculations.

Listed here are the papers and abstracts (for those online):
This last paper is not yet online. The authors use a panel data set on approvals by the Chinese government of outward FDI. They implement a two stage approach allowing accounting for selection bias; they use economic (GDP, per capita GDP, GDP growth), geographic variables, and political variables to model FDI flows, and find that political variables are important. (This is my interpretation of the paper).