One of the big issues facing policymakers around the world is the evolution of the pattern and volume of international trade flows. I recently participated in a very useful conference that included a number of papers that shed light on this important question. The conference, "Trade Costs and International Trade Integration — Past, Present and Future," organized by Dennis Novy (Warwick University), David Jacks (Simon Fraser University), and Christopher Meissner (University of California, Davis), and sponsored by the UK's ESRC, and the University of Warwick's CAGE.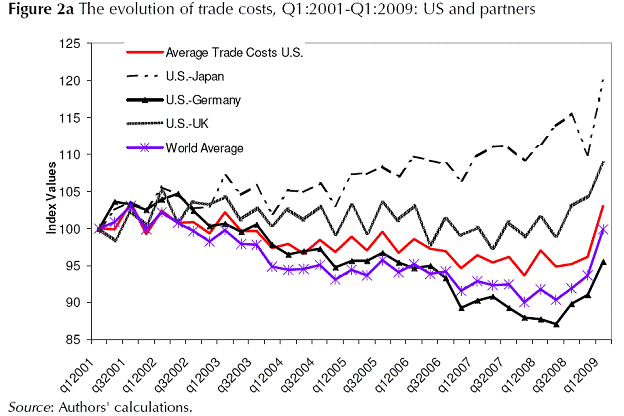 Figure 2a, estimated trade costs, from Jacks, Meissner, Novy, "The role of trade costs in the great trade collapse," in R. Baldwin The Great Trade Collapse (VoxEU/CEPR, Nov. 2009).

The links to the papers are here. The program is below:
Session 1: Trade Costs in Emerging Economies
Session 2: New Empirical Methods
Session 3: The Dynamics of International Trade and Trade Costs
Session 4: Trade Policy
I won't discuss each of the papers, but they're all very interesting, and helped me catch up on the trade literature. Instead I'll focus on the macro implications. As I discussed in this post, I've been thinking about how trade costs, vertical specialization and supply side effects can be incorporated into macroeconomic models of trade flows. Some of those econometrically oriented thoughts have been traced out in this paper, presented at the conference.
Several of the papers presented were directly related to this issue. The Simonovska-Waugh paper provided a potential reconciliation for the finding of low aggregate price elasticities derived from aggregate data-based regressions such as in Chinn (2010), and the high rates of substitutability (which are consistent with high price elasticiities), such as in the Eaton-Kortum model.
In addition, James Anderson pointed out that changing measured income elasticities are consistent with constant trade costs, but changing home bias as some countries experience faster productivity growth than others. In other words, the multilateral resistance indices change over time. In fact, according to the Anderson-Yotov estimates, the decline in the US inward multilateral resistance index is the third highest of all countries in their sample.
While not relevant to the issue of trade elasticities, I thought Keith Head's estimated impact of the separation between metropole and colony of interest — particularly the divergent impacts of amicable versus hostile breakups.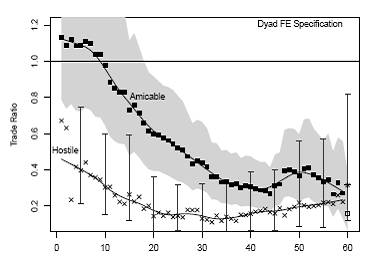 Excerpt from Figure 6
from
Keith Head (2010)
.
The most interesting finding in my mind is that about 60 years after gaining independence, a colony has about the same trade with its former colonizer (as a proportion of trade at independence) regardless of whether the breakup is amicable or not.