Or, what if the Accelerationist hypothesis doesn't hold. I'm sure this question will drive some apoplectic — but I think it a reasonable question. First, let's look at the empirical evidence on what happens to inflation in the wake of persistent large output gaps. Fortuitously, Andre Meier has just written on this subject, in Still Minding the Gap:
This paper studies inflation dynamics during 25 historical episodes in advanced economies where output remained well below potential for an extended period. We find that such episodes generally brought about significant disinflation, underpinned by weak labor markets, slowing wage growth, and, in many cases, falling oil prices. Indeed, inflation declined by about the same fraction of the initial inflation rate across episodes. That said, disinflation has tended to taper off at very low positive inflation rates, arguably reflecting downward nominal rigidities and well-anchored inflation expectations. Temporary inflation increases during episodes were, in turn, systematically related to currency depreciation or
higher oil prices. Overall, the historical patterns suggest little upside inflation risk in advanced economies facing the prospect of persistent large output gaps.
Empirical evidence
The author defines an episode of persistent large output gap (PLOG) as at least eight consecutive quarters of negative output gaps
greater than 1.5 percent in absolute terms.
Figure 3 from the paper shows the impact of persistent, large output gaps on inflation.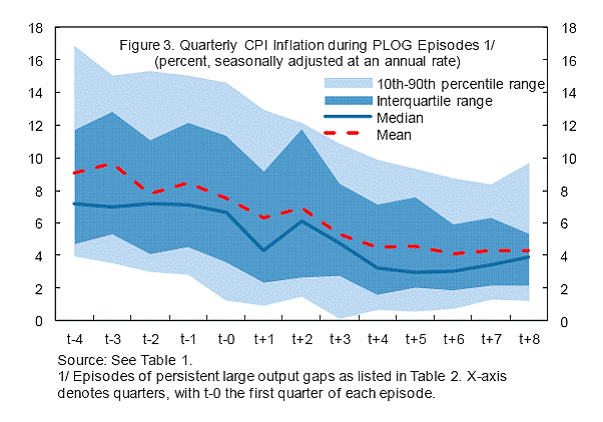 Figure 3 from Meier (2010).
One of the differences between the 1980s and 1990s (and now the 2000s), is that the initial level of inflation is typically lower. That is, in the current episode, we are hitting the zero inflation rate threshold. [0] Figure 9 (in the paper) presents evidence that the extent of disinflation is less during the 1990's, which could be consistent with either greater central bank credibility, globalization, or nominal/real rigidities. I'll pursue this last line further (although the globalization hypothesis has been examined here).
Theory, and the World at Near Zero Inflation
Does crossing the threshold from disinflation to deflation change matters, and why? I think so, and here I'm guided in part by an important paper by (Nobel laureate) George Akerlof, Bill Dickens, and George Perry, entitled "The Macroeconomics of Low Inflation,"
Brookings Papers on Economic Activity 1996(1), pp. 1-76.
We demonstrate the prevalence of downward wage rigidity in the U.S. economy and model its significance for the economy's performance. Downward rigidity interferes with the ability of some firms to make adjustments in real wages, leading to inefficient reductions in employment. With trend growth in productivity near recent rates, as the rate of inflation approaches zero, the number of firms constrained and the degree of their constraints increase sharply, as does this inefficiency and shortfall in employment. The difference in the sustainable rate of unemployment between operating with a steady 3 percent inflation rate and a steady zero percent inflation rate is estimated as 1 to 2 percentage points in our simulation model, and 2.6 percentage points in the empirical time-series model. The main implication for policy-makers is that targeting zero inflation will lead to a large inefficiency in the allocation of resources, as reflected in a sustainable rate of un- employment that is unnecessarily high.

Some might argue that the behavior that we model characterizes a regime that will change, that a determined zero inflation policy would break down wage rigidity. We have several thoughts about this. We suspect that wage rigidity is deeply rooted, not ephemeral or characteristic of a particular set of institutions or legal structures, although these may well help to codify it and expand the relations to which it applies. The psychological studies that we cite treat as fundamental the notions of fairness and worker morale that appear to underlie nominal rigidity. Historical studies find downward rigidity present well before the existence of modern labor market laws and institutions, although whether to the same degree cannot be established from the available evidence. We observe that rigidity breaks down at the firm level when firms are under extreme duress, a condition that employees can observe and are willing to respond to; and we account for this behavior in our model. But this does not imply that rigidity in the aggregate is susceptible to a permanent regime change following analogous macroeconomic conditions. In the Great Depression, when extreme duress became widespread, downward rigidity initially gave way, but it did not break down permanently. Eventually laws and institutions were strengthened to reinforce downward rigidity. The idea that rigidity represents a particular regime that will disappear if the appropriate policies are sustained would seem to have the sign wrong.

…
In other words, those who think that once people just believe that wages and prices can fall, then wages and prices will miraculously become flexible, and the world will approximate a flex-price New Classical model, might be disappointed.
Even if one doesn't believe the Akerlof-Dickens-Perry model is relevant, the observed historical correlations in the Meier paper suggest that near term inflation is not the thing we should be worried about.
Are Things Different This Time Around?
What about the disappearance of central bank credibility, with large scale asset purchases? Does that qualify these conclusions? Meier writes:
The above considerations leave open how much longer disinflation might continue in the
period ahead, but at least suggest limited upside inflation risk. Against this, one could argue
that the current episodes feature some unique characteristics that might generate inflationary
pressures beyond what has been observed in historical precedents. One often-cited argument
relates to central bank credibility in times of unconventional monetary policies and strained
public finances. Its proponents question the optimistic view of Dwyer et al. (2010), whereby
monetary policy has reached a unique degree of credibility that will keep inflation closely
aligned with official targets. Instead, they argue that central banks have lost credibility of
late. The claim is closely linked to the large-scale asset purchase programs launched by
several advanced country central banks over the last two years. Indeed, with disruptions in
many financial markets and policy rates exceptionally low compared to most historical
PLOG episodes (Figure 18) — and often constrained by the zero bound on nominal rates —
unconventional monetary policies have become commonplace.
Some critics of these policies argue that, by
expanding their balance sheets and issuing
large amounts of base money, central banks
have sowed the seeds of future inflation; see
Meltzer (2010). In and by itself, this
contention is not very convincing, as there is
no obvious, let alone automatic, link from
higher base money to inflation, provided that
central banks maintain control over policy
rates.19 Consistent with this, empirical studies
have found central bank asset purchases to
have had a positive effect on asset prices,
while broad money growth has remained
very subdued (Figure 16) and medium-term inflation expectations have shown no signs of
becoming unhinged; see Gagnon et al. (2010) and Meier (2009).
There is, however, one important caveat to this benign view. Even if unconventional policies
should work only through rather standard channels, providing no magical short cut to either
full employment or high inflation, there is a tail risk that the public might develop a different
perception. As Borio and Disyatat (2009) put it, "market expectations and beliefs [are not
necessarily] consistent with the underlying transmission mechanism." Inflation expectations
could rise sharply, in particular, if the public suddenly lost trust in the central bank's capacity
or commitment to maintain price stability, causing a self-reinforcing currency crisis.
At this juncture, I'll just note that the five year implied inflation rate (drawn from Treasury and TIPS yields) is declining. [1]
Another caveat is that we can't measure the output gap well. I think that is a challenge to the empirics (as noted in the paper), although I doubt using a different, conventional, measure of the output gap would overturn the results. For more on the issue of measuring output gaps, see: [2] [3] [4].