With the consumer in the doldrums, residential investment unlikely to rebound in the near future, and government stimulus constrained by political gridlock, it's hard to see where the sources of aggregate demand will be. I'm going to extend Jim's search for silver linings in the latest GDP release.
A Growth Decomposition
One possibility is that domestic investment will take up some slack. As several observers have noted, corporations have been making substantial profits and have the wherewithal to invest, and yet are not. Of course, depressed investment in plant and equipment was true before the recession, in 2006 and 2007, so it's unclear why it should take the lead now.


One reason to think that nonresidential investment would take off is that gross investment is rising (17.6% q/q SAAR, roughly twice what MA forecasted back on 8/12), and contributed 2 ppts to GDP growth. Before anybody thinks this is some pollyana-ish prediction, I'll note that the rise only makes sense given the catastrophic and persistent decline in this category during the recession. Given depreciation, the real private nonresidential capital stock has probably been flat (recently released BEA data indicates that this series was flat going from 2008 to 2009, which is pretty remarkable). This observation links up with the negative (mechanical) contribution of imports on GDP growth that has been remarked upon.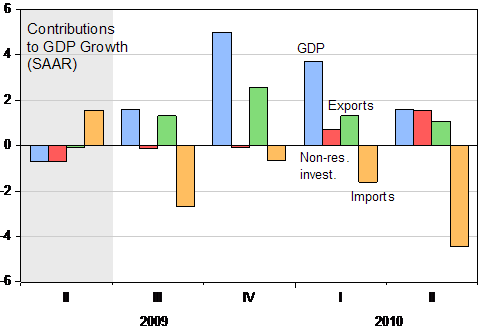 Figure 1: Real GDP growth (blue), and contributions of Non-residential investment (red), exports (green) and imports (orange), SAAR, in percentage points. Source: BEA, GDP 2010Q2 2nd release.

The Composition of Imports and the Prospects for Exports

I think it's of interest to examine the components of the growth in imports since the trough, and what that implies for future growth. As I pointed out in a previous post, a large share of increase in imports is in the capital goods category.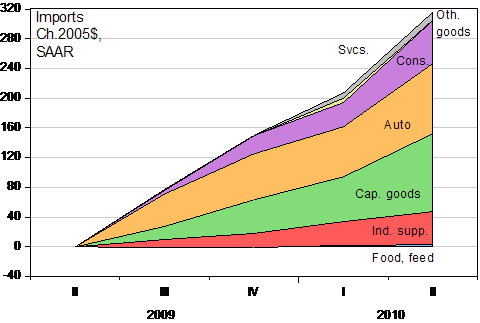 Figure 2:
Change in imports since 200Q2, in billions of Ch.2005$, SAAR. Source: BEA, GDP 2010Q2 2nd release, and author's calculations.
Most observers focused on the surge in consumer goods imports, but considering slightly longer term trends, one sees a larger component associated in investment, presumably to build future production capacity.

Another observation is that exports have been contributing (once again, in a mechanical sense) to growth since the end of the recession (which I am assuming occurred at 2009Q2), although given vertical specialization, it's unclear how much.


What are the prospects for continued growth in exports? I use a standard error-correction specification:

Δ exp t = β 0 + φ exp t-1 + β 1 y t-1 + β 2 r t-1 + γ 0 Δ exp t-1 + γ 1 Δ exp t-2 + γ 2 Δ y *t-1 + γ 3 Δ y *t-2 + γ 4 Δ r t-1 + γ 5 Δ r t-2 + u t
Where exp are log real exports of goods and services, y* is log foreign real GDP, and r is the log real trade weighted value of the dollar. The real foreign GDP variable is export weighted, through 2009Q4. I extended the series for 2010Q1-Q2 using GDP growth rates from the Economist and trade weights accounting for over 80% of US exports. The dollar index is the Fed's broad index, deflated by CPI. This specification is discussed in greater detail in this post.
Estimating this over the 1973Q4 to 2010Q2 period, one obtains a specification with an adjusted R2 of 0.35, SER = 0.020. The implied long run income elasticity is 1.81, the long run price elasticity is unity, while the rate at which errors correct is approximately 8.3% per quarter. All the long run coefficients are statistically significant, using Newey-West standard errors. Box Q-statistics for 4 and 8 lags fail to reject the no serial correlation of residuals null.

I use the estimated specification to forecast starting 2010Q2, out to 2010Q3. The actual and forecasted (log) values are shown in Figure 3: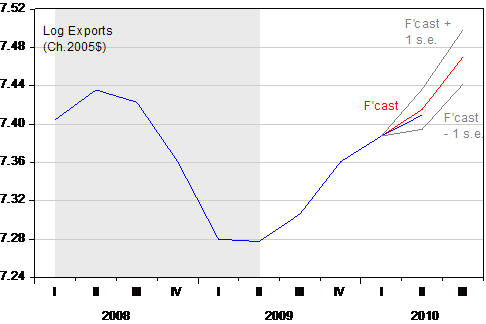 Figure 3:
Actual log exports of goods and services, Ch.2005$, SAAR (blue), forecast (red), and plus/minus 1 standard error band. NBER defined recession dates shaded gray, assumes trough at 2009Q2. Source: BEA, GDP 2010Q2 2nd release, and author's calculations.
This forecast is consistent with exports contributing about 2.8 percentage points (SAAR) to overall growth in 2010Q3. The increase in real exports is 24.4% q/q on an annualized, substantially above Macroeconomic Advisers' forecast of 12.2% (8/12/2010). The predicted growth is being driven by the close correlation between the growth rates of exports and rest-of-world GDP, illustrated below.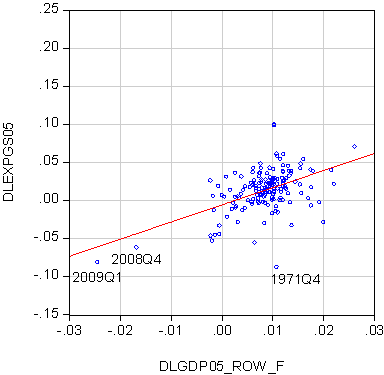 Figure 4:
Scatterplot of log first differences of real exports against rest-of-world GDP, 1970Q3-2010Q2. Source: BEA, GDP 2010Q2 2nd release, Federal Reserve Board (70Q3-2009Q4), and author's calculations.
The adjusted R2 for this simple bivariate relationship is 0.23.
I don't want to make too much of this specific estimate based on the estimated ECM; the one standard error bound encompasses a 13.8% increase, close to the MA number.
What about the longer term? Clearly, in a time of tremendous uncertainty regarding growth prospects, it's foolhardy to try to project further into future. But one can see what firms abroad anticipate, by looking at what they're importing from us (i.e., what we're exporting). Figure 5 depicts the increases since 2009Q2.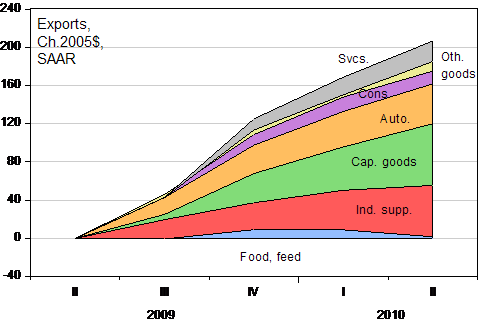 Figure 5:
Change in exports since 200Q2, in billions of Ch.2005$, SAAR. Source: BEA, GDP 2010Q2 2nd release, and author's calculations.
The substantial increase in capital goods exports suggests to me that foreign producers are ramping up investment in anticipation of renewed growth. Of course, those expectations could very well prove very wrong (i.e., I have no slavish adherence to rational expectations).
Policy Implications
None of the foregoing should be construed to mean I think we're not in a rough patch. [0] In particular, there's not much to indicate resumed consumption growth, and government spending on goods and services is stagnant (real state/local spending 2.3% less than peak at 08Q3, even while population has risen 1.5% in log terms). (I.e., "fiscal mindlessness" persists) At the same time, monetary policy authorities are strangely reluctant to further extend expansionary monetary policy even as deflation appears more likely. [1] [2] So while the international economy might add some pluses, consumption behavior and policy [3] is exerting contractionary forces on the economy. Finally, returning to domestic (nonresidential) investment, aggregate demand has to be sustained in order to keep investment spending up; I'm pretty dubious tinkering with the user cost of capital will do the trick (see here).
Interesting side fact: The magnitude of the (absolute value of the) contributions of exports and imports to GDP is unprecedented in the past forty years. That outcome is consistent with increasing vertical specialization, discussed here and here.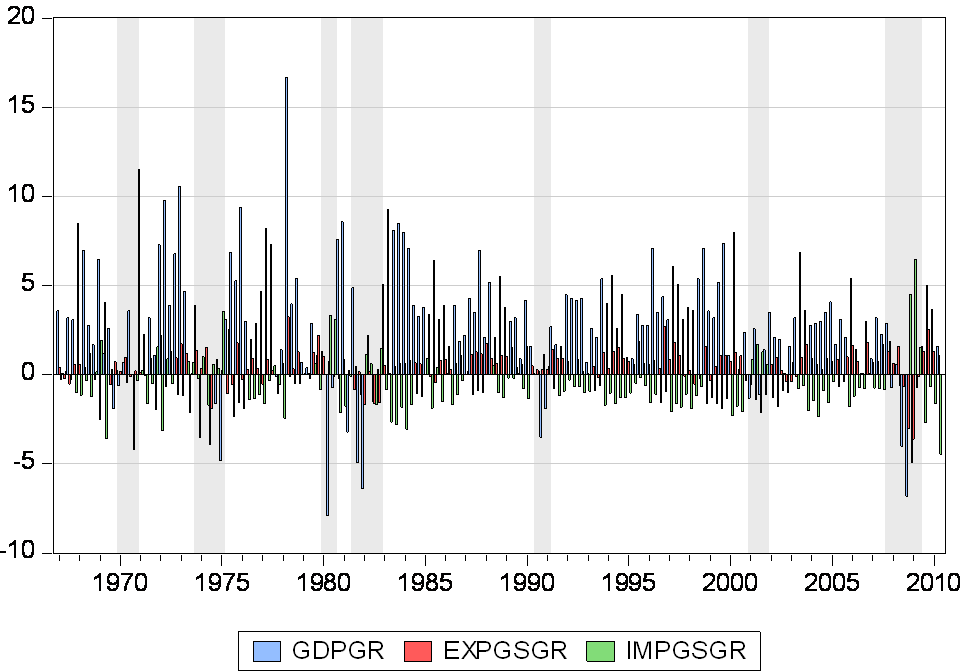 Figure 6:
GDP growth (blue), and contributions of exports (red) and imports (green), in percentage points. NBER defined recession dates shaded gray, assumes trough at 2009Q2. Source: BEA, GDP 2010Q2 2nd release.