If (1) one is a concerned about budget deficits over the longer term, but (2) is concerned that a reversion to pre-2001 tax rates would hurt short term growth, then one should favor the partial extension of EGTTRA/JGTRRA for only those earning less the $250K ($200K for singles).
First, consider the impact of full extension versus only partial extension, according to Macro Advisers. Full extension has only minimal additional impact on GDP relative to partial extension.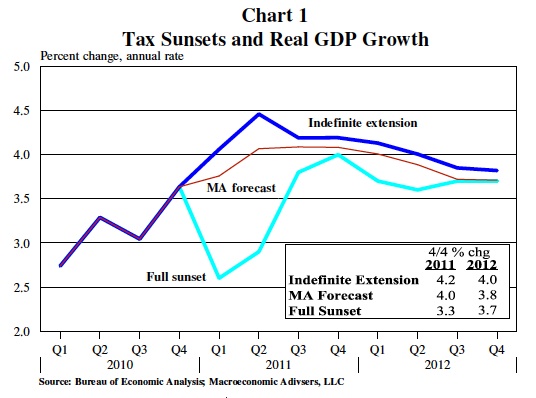 Source: Macroeconomic Advisers (August 2010).
Clearly, the dark blue line is only slightly above the brown line.
At the same time, full extension is pretty expensive, in terms of its impact on the budget deficit, particularly in the out years.

Figure 1: Deficit as a share of GDP, actual (black), under CBO baseline (red), under President's tax proposals for EGTRRA/JGTRRA and modification of AMT (blue) and extension of EGTRRA and JGTRRA and indexing AMT for inflation (green), by fiscal years. Shaded area is projected. Source: CBO, Budget and Economic Outlook: An Update (August 2010); CBO, An Analysis of the President's Budgetary Proposals for Fiscal Year 2011 (March 2010), CBO Historical Statistics, and author's calculations. [graph corrected 10/4/10]
These are not new points, but they bear repeating as the debate over the proper course for putting the Federal government's finances, while maintaining support for the macroeconomy, heats up.
While I hear $700 billion associated with a full extension vs. partial extension, this difference surely must depend on what other things are lumped in with the extension. Working off figures in this post, comparing partial extension with AMT indexation against full extension with AMT indexation, I get a difference over FY2011-20 of about $1.6 trillion (including associated debt service). Just comparing the difference solely coming from full vs. partial extension, I get a figure something on the order of $500 billion (not including associated debt service).
Just to add something new, here's Macroeconomic Advisers' take on the impact on unemployment.

Source: Macroeconomic Advisers (August 2010).
Obligatory caveat: If you don't believe in neoclassical synthesis (short run price stickiness, Hicksian decomposition, long run classical AS curve), then the first and third figures are not for you.
Update and Extension: Thursday, 9/16, 2pm Pacific.
A knowledgeable Econbrowser reader sends the following:
Using the CBO "revenue" estimate of the President's proposals regarding the 2001/2003 tax cuts omits significant "outlay" effects from refundable credits. See the JCT publication for the total revenue/outlay effect: http://www.jct.gov/publications.html?func=startdown&id=3665
This will give you a total cost of the President's extension of $3.049 trillion vs full extension $3.893 ($850 billion difference excluding debt service). (Not exactly comparable because of different economic assumptions between March and August but closely comparable.) Note the outlay effects are combined in the main JCT table (which you want combined), but the outlays are also shown separately on the last page.
Further, I don't believe anyone is talking about permanent extension of the repeal of the estate tax which is assumed in the higher full extension number. I suspect omitting this cost will get the cost of the income extension into the $700 billion range (before debt service) in CBO's numbers.
Treasury estimates $678 billion as the cost of the upper income provisions (See page 152 – http://www.treas.gov/offices/tax-policy/library/greenbk10.pdf).