Jian Wang had an interesting article on the Chinese rebalancing issue, and how renminbi revaluation would fit in. One point he raised pertained to exchange rate pass through. That inspired me to check the literature on this subject.
Figure 1 shows the yuan/dollar exchange rate (number of USD per CNY [fixed 1/28, 7:40am] CNY per USD), and the price of Chinese goods imports into the US.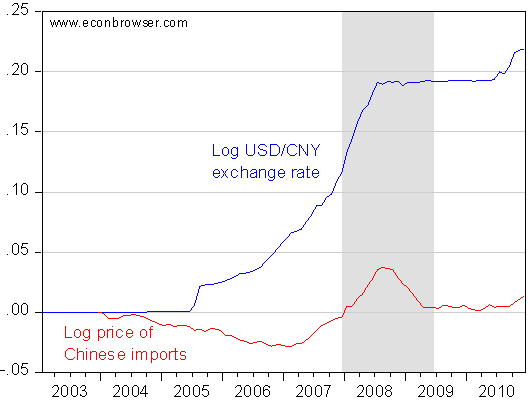 Figure 1:
Log nominal bilateral USD/CNY exchange rate (blue) [up is CNY appreciation], and log price of Chinese goods imports into the US, both rebased to zero at 2003M12. NBER defined recession dates shaded gray. Source: St. Louis Fed FREDII, BLS, NBER and author's calculations.
It is interesting the price of Chinese imports kept on decreasing even after the CNY began appreciating against the dollar. This graph points out the hazards of bivariate comparisons; the omitted variable (or at least one) is the cost of production. In principle, one would want unit labor costs for Chinese exports to the US as an additional variable (page 19 IMF Article IV on China has a graph of the Chinese real exchange rate deflated by unit labor costs). (More on pass-through in general: [1], [2] [3]).
What can be gleaned from the data at hand? A very quick and dirty regression of the first difference of log price of imports on first differences of the exchange rate, the output gap, and Chinese CPI (lags of 0 to 3, 0 to 7, and 1 to 7) and monthly dummies yields an exchange rate pass through coefficient of 0.52. The adjusted R2 = 0.62, and SER = 0.0019, for a sample of 2005M07-2010M12. Here, I've used the deviation from HP trend of log US industrial production as a proxy for domestic demand conditions, and the Chinese CPI as a proxy for Chinese production costs.
Since the regression I ran is only a first cut, it pays to look for more careful analyses. I found two interesting studies on the subject, both out of the HKMA. Regarding Chinese exports, Cui, Shu, and Chang (2009) conclude:
… a 10-per cent appreciation in the NEER will lead to a 5 per cent fall in export prices denominated in domestic prices, while the other 5 per cent adjustment will take place in the foreign-currency price. On average, most of the adjustments will be on the exporters' profit margins, which would be compressed as the exporters cannot pass on the full impact of the exchange rate to overseas buyers. A modest proportion of the adjustment (around 0.6 percentage points out of the five-percentage-point adjustment) reflects the decline in marginal cost due to the exchange-rate changes. The estimated coefficient for the marginal cost variable is positive and highly significant.
The conclusion is based on data over the January 2005-March 2009 period, and a pricing to market equation estimated in first differences.
Shu, Su, and Chow (2008) write about imports into mainland China:
With persistent inflationary pressures since the second half of 2007 in Mainland China, renminbi appreciation has been increasingly advocated as a means to curb inflation. The effectiveness of appreciation in controlling inflation depends on the impact of exchange rate movements on import and domestic prices. Our analysis finds fairly large and speedy exchange rate pass-through (ERPT) to import prices, with 50% of an exchange rate change passed onto import prices immediately, and 60% over a year. The degree of ERPT decreases along the price chain from upstream to downstream prices. ERPT for consumer prices — the most downstream prices — is much milder and has substantial lags. A 10% rise in the nominal effective exchange rate will dampen consumer prices by 1.1% within a year with limited pass-through in the first half year, and 2.0% over two years.
These estimates are based on an exchange rate pass through equation, with import prices on the left side, and lagged import prices, the exchange rate, foreign prices, commodity prices, and domestic demand, all in first differences, starting monthly from 2005 for import prices.
Taken together, these results suggest to me that it Chinese exchange rate pass through coefficients are higher than those reported for the US. This conclusion is consistent with my findings of relative high price elsaticities for at least Chinese exports, recounted here.