From Reuters:
A coordinated move by central banks of rich nations to stabilize the yen's value appeared to be having a decisive effect on Friday, after a sharp rise in the yen after Japan's devastating earthquake and nuclear crisis raised fears about the global economy.
The action by the Group of Seven, in which they poured billions of dollars into markets, was the first joint intervention in currency markets since the G7 came to the aid of the newly launched euro in 2000.



The U.S. dollar surged two full yen to as much as 81.98 yen in response, up from a record low of 76.25 hit on Thursday. Traders estimated the Bank of Japan alone bought more than $25 billion, paying with yen to effectively weaken the currency's value by boosting the supply.


…
The impact on the USD/JPY exchange rate is shown in Figure 1 (down is an appreciation of the Yen against the dollar).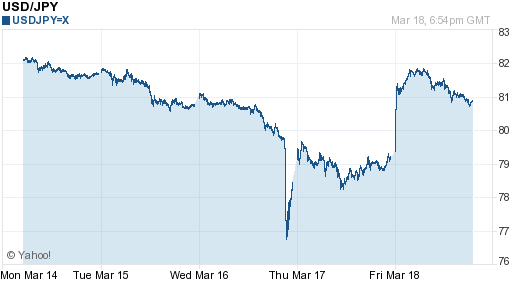 Figure 1:
JPY per USD, past five days. Source:
Yahoo finance
.
Previous posts on the efficacy of forex intervention: [1] [2] [3].