From a new IMF working paper by Prakash Loungani:
We document information rigidity in forecasts for real GDP growth in 46 countries over the past two decades….
We investigate: (i) if rigidities are lower around turning points in the economy, such as in times of recessions and crises; (ii) if rigidities differ across countries, particularly between advanced countries and emerging markets; and (iii) how quickly forecasters incorporate news about growth in other countries into their growth forecasts, with a focus on how advanced countries' growth forecasts incorporate news about emerging market growth and vice versa.
Figure 6 from the paper shows how fast news is incorporated.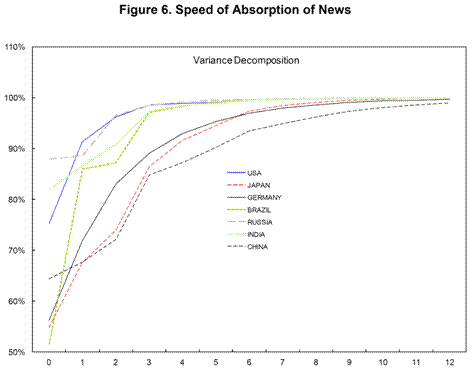 Figure 6
from
Loungani (2011)
.
More on informational rigidities by Coibion and Gorodnichenko (2009, 2010), and Gorodnichenko (2010).