I thought it of interest to see the evolution of Federal debt held by the public, and exactly what Administrations were the most spendthrift.
Figure 1 highlights the fact that debt-to-GDP began its startling rise in 2008Q2.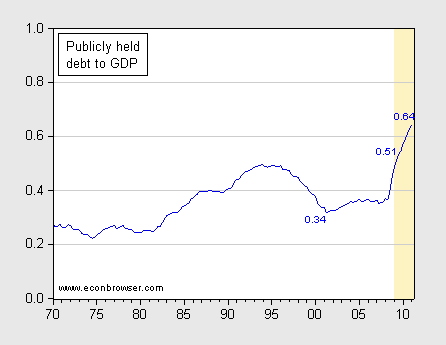 Figure 1: Publicly held Federal debt (end of quarter) divided by nominal GDP (SAAR) (blue). Figures are shares at 2001Q1, 2009Q1, and 2011Q1. Tan shaded area corresponds to Obama Administration (2009Q1-11Q1). Source: BEA, 2011Q1 3rd release, Treasury via FREDII, and author's calculations.
Note that from 2001Q1 (the beginning of the G.W. Bush Administration) to 2009Q1 (the beginning of the Obama Administration), debt-to-GDP rose 17 percentage points. From 2009Q1 to 2011Q1, a period encompassing the worst recession in the post-War era, that figure rose 13 percentage points.
The accumulation of debt incorporates the effects of automatic stabilizers, such as the reduction of tax receipts as employment and wages and corporate profits decline, and the increase of transfers as unemployment rises. What about discretionary changes? The next figure is illuminating.

Figure from "How the Deficit Got This Big," NYT (24 July 2011).
Neither of these points rebuts the challenge of rising debt-to-GDP, especially as entitlements costs accelerate their expansion starting after the next decade. But the breakdown in the second figure highlights the fact that Bush tax cuts of 2001 and 2003 are a not-inconsequential component of the trouble we are in now. (See the previous post on where tax revenues to GDP are right now.