With an application to accurately counting stimulus effects, for the benefit of the numerically challenged
Here I try to explain why dividing a number at a point in time by a cumulative number does not make sense (Warning: some understanding of calculus helpful). Reader Manfred defends the Weekly Standard's calculation of dividing net jobs created at an instant in time by cumulative spending to obtain a dollars/job figure. Specifically:
What is a stock is the amount of jobs in an economy at a certain point in time. But the 3.5 million figure is the *change* in the stock; this is the amount that the stimulus fans said that would be created new during a certain period of time; thus, it is a flow, not a stock.
A similar calculation was undertaken by Professor Mulligan (rejoinder here).
So, in order to illustrate the oddities of such a calculation, let's consider two variables, y-hat and x-hat, which are deviations of the variable y from baseline, and x from baseline respectively. I plot these two series below: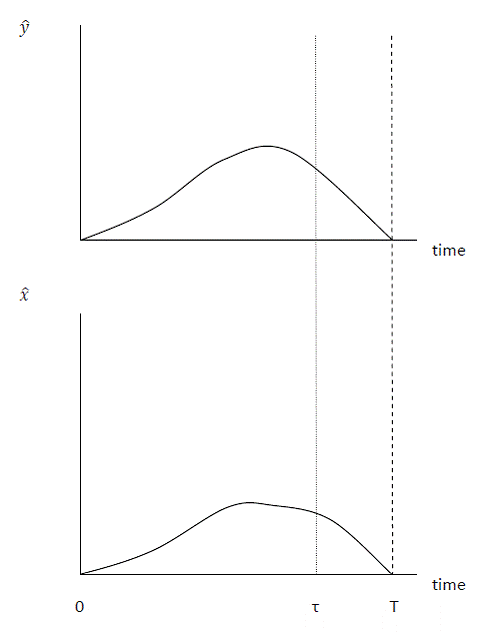 Now, Manfred would like to divide the cumulation of x-hat by y-hat. That is, divide the area under the curve x-hat up to a given instant, say τ, by the height of y-hat at τ. Technically, divide the integral of x-hat from 0 to τ by y-hat at τ. As my teacher used to say, nothing stops one from doing that. In this case, I'd just say common sense would stop you. Consider if one did the same calculation after time T. Then with a value of y-hat equal to zero, the number one obtains would be infinity.
I would say a more reasonable calculation is the integral of x-hat from 0 to τ divided by the integral of y-hat from 0 to τ. Formally:


Translate this into the issue at hand: Let y-hat be employment-years, and x-hat be dollars of spending per year. Divide the cumulative number of person-years of employment by the cumulative dollars spent to get dollars per year of employment. Then do Manfred's and Weekly Standard's preferred calculation, to obtain employment at time τ per cumulative dollars spent. Which object is of greater interest? I think the former
A short cut (that I learned in high school physics): Always keep track of the units the variables are measured in, to determine what it is that one is getting when dividing or multiplying.
See this post for the correct calculation of employment-years per dollar spent up to 2011Q1.