Some groups have overstated the need for immediate fiscal retrenchment in order to push an agenda spending cuts, when in fact we face more serious problems of medium and long term spending growth and lagging tax revenues, and overall increasing indebtedness to the rest-of-the world. That second point (which I first made in 2005 [0] ) has been somewhat neglected in the (misplaced) focus on reining in spending at the short horizon.
So it seems an appropriate time to revisit the issue of whether the US economy – private and public — is shifting away from borrowing from abroad, and producing more than we consume. My three observations:


Dollar depreciation is supporting adjustment toward a smaller non-oil trade deficit.

Exchange rate pass through into import and export prices is one channel by which this adjustment is occurring.

The relative price of exported goods is rising, while the trend in imported goods prices has changed.

Dollar Depreciation and the Trade Balance
First, I reprise a graph that tracks the trade balance, and the dollar exchange rate, lagged two years, to take into account the fact that adjustment to changes in relative prices take time.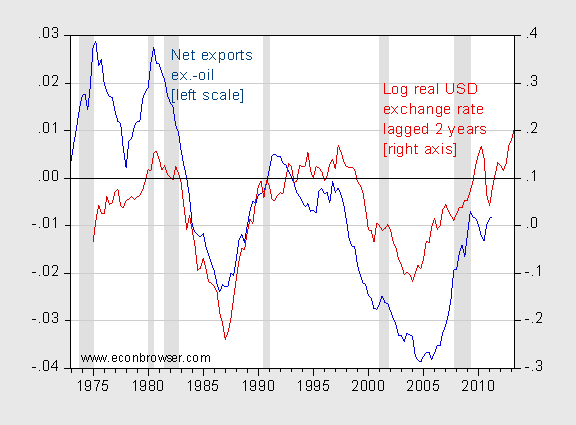 Figure 1:
Net exports ex.-oil (blue, left scale), and log USD real exchange rate against broad basket of currencies, lagged two years (red, right scale); up is depreciation. NBER recession dates shaded gray. Source: BEA, 2011Q2 2nd release, Federal Reserve Board, NBER, author's calculations.
Note that the improvement in the trade balance was interrupted by the financial crisis, and the safe-haven appreciation of the dollar. Now, with the dollar resuming its downward course, holding all else constant, the trade balance should continue its improvement. However, extended improvement depends on future dollar depreciation (which is in doubt [1]) and vibrant rest-of-world growth. The IMF's Article IV on the US forecasts a reduction in the overall trade balance to GDP ratio. Deutsche Bank also predicts a stabilization in the current account.
Exchange Rate Pass-Through, Again
This improvement has occurred as exchange rate changes have fed through into import and export prices. It's of interest to compare the changes in the price of imports and exports against the dollar change. Import pass through appears lower than export, which is in line with the literature. [2] [3].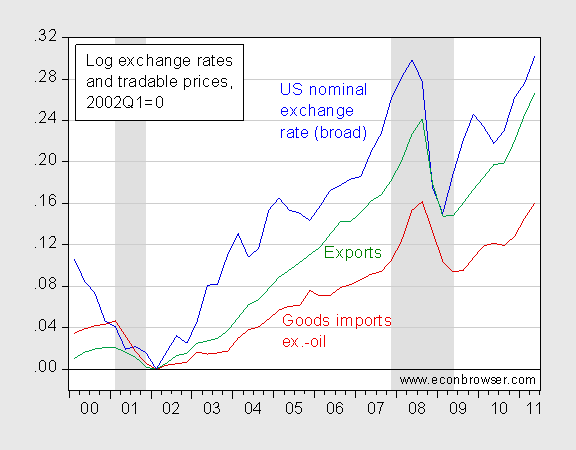 Figure 2:
Log USD nominal trade weighted exchange rate against broad basket of currencies (blue), goods imports prices ex.-oil (red) and exports prices (green). NBER recession dates shaded gray. Source: BEA, 2011Q2 2nd release, Federal Reserve Board, NBER, author's calculations.
The Internal Exchange Rate
The trade weighted USD exchange rate is an external relative price. There is an internal one as well. Rebalancing the US economy requires greater production of tradable goods, and less nontradable, so the relative price of tradables versus nontradables is relevant. I proxy nontradables prices with the price of services consumption.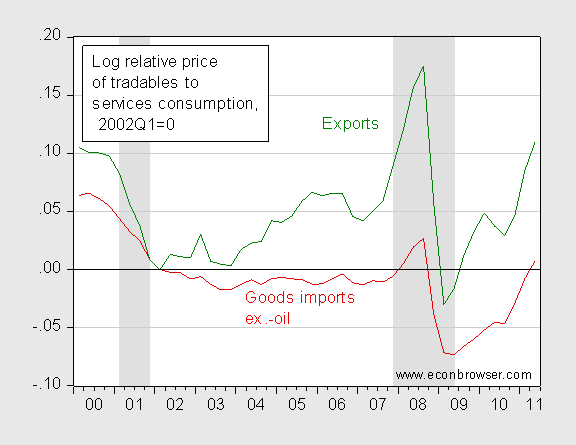 Figure 3:
Log relative price of exports to services consumption (green), and log relative price of non-oil goods imports (red). NBER recession dates shaded gray. Source: BEA, 2011Q2 2nd release, NBER, author's calculations.
Figure 3 illustrates that on the eve of the Great Recession, the relative price of tradable goods was rising (or that of nontradables was declining). The collapse in tradable prices was due to the dollar's rise post-Lehman. With the resumption of global growth tradables prices have resumed their rise.
What Could Slow Rebalancing?
The foregoing discussion might lead people to think that all that is required for further rebalancing of the US economy is continued dollar depreciation. That is far from the truth; here it's important to think in terms of an interlinked, multi-country global economy. In particular, working off a one country (textbook) model, one might conclude fiscal contraction would accelerate rebalancing. However, if the fiscal contraction is rapid, and is mirrored in the rest-of-the-world, the economic contraction is propagated, and the end effect is economic contraction exceeding that obtained in a one-country model, and with less trade deficit reduction. This, I think, is part of the reason why IMF Managing Director Lagarde so forcefully argued at Jackson Hole against overly aggressive fiscal consolidation based on near term spending cuts. (Obviously, what happens in China and other surplus countries matters as well. [4])
Just to place in context the amount of economic slack in the US economy, I present in Figure 4 the output gap, based on the latest GDP release and estimates of potential GDP, and the August WSJ mean forecast.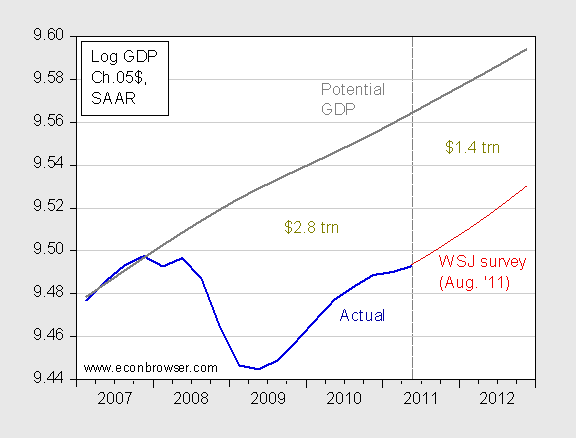 Figure 4:
Log GDP (blue), potential GDP (gray) and forecasted GDP according to mean of August WSJ survey (red), all in Ch.2005$, SAAR. Cumulative losses 2008Q1 up to 2011Q2, and implied losses 2011Q3 up to 2012Q4. Source: BEA, 2011Q2 2nd release, CBO
Budget and Economic Outlook: An Update
(Aug. 2011), WSJ (August survey), author's calculations.
Some estimates of spillover effects are here (Table 3).