When I click on the link on the website for The Real American Jobs Act (officially, "Jobs Through Growth Act"), this is what I get: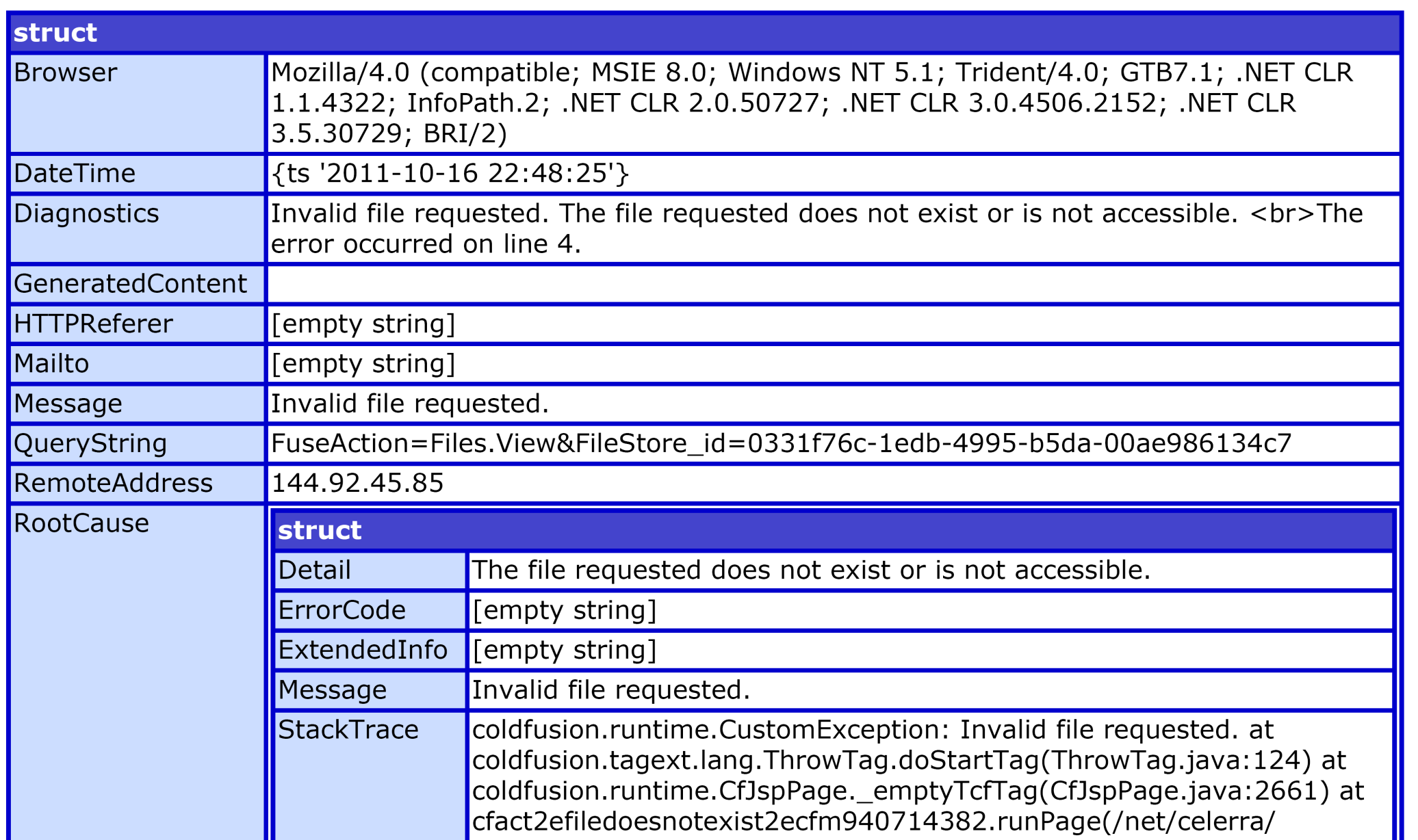 Perhaps this is emblematic. Fortunately, the "bill" is also available directly on Sen. McCain's website. Below is an annotated copy:
THE JOBS THROUGH GROWTH ACT

The Republican Plan To Put Americans Back To Work

SPENDING REFORM

Require a Balanced Budget Amendment to the Constitution – (S.J.Res.10, Sen. Hatch)

Limit the ability of Washington to raise taxes to pay for runaway spending and would enshrine firm tax and spending limitations in our Constitution. Job creators will have certainty that Washington will not continue to grow unchecked and consume more and more resources that would otherwise be available to fuel job creation.

Enact Enhanced Rescission Authority – (S.102, Sens. McCain & Carper)

This bipartisan proposal would give the President the statutory line-item veto authority to reduce wasteful spending. This is an important tool to ensure that tax dollars are spent wisely and efficiently. Congress would vote up-or-down on proposed spending cuts.
A constitutional amendment for a balanced budget sounds just fine for the campaign. If it were passed, it would have to be approved by a majority of states. How long would that take. I must say that incorporation of economic requirements into constitutions have not always worked out; Argentina's convertibility law showed that it wasn't a cure all for political gridlock.

TAX REFORM

Reduce and Reform Individual, Small Business and Corporate Taxation


A simplified tax system will keep more money in the hands of consumers, small businesses and job-creators. Reduce individual income tax rates to a maximum of 25 percent with two marginal rates. Within 90 days, the Senate Finance Committee will report back on recommended changes in credits and deductions to make this revenue neutral.
Reduce the top corporate tax rate to no more than 25%. Within 90 days, the Senate Finance Committee will report changes in credits, deductions and subsidies, with priority given to eliminating all industry-specific provisions and revenue neutrality.

Repatriation and Territorial Reform


Our current corporate tax code is outdated and is a major reason why there is up to $1.4 trillion in foreign earnings trapped overseas in countries where U.S.-based multinational companies do business. Under a reformed territorial system of corporate taxation, this plan would create a permanent incentive for companies repatriating foreign earnings to the U.S. economy.


Withholding Tax Relief Act – (S. 164, Sens. Scott Brown, Olympia Snowe, David Vitter)


Removes the undue burden on businesses of all sizes by repealing the provision in the tax code requiring federal, state and local governmental entities to withhold 3% of payments due to private vendors who supply their goods and services.
In Lost Decades, Jeffry Frieden and I argue for tax reform that includes elimination of many tax expenditures. It is unclear to me whether there is any reason to believe that the rates indicated would raise sufficient revenue, given that the bill does not specify which tax expenditures would be eliminated (see this post for amounts). Moreover, I find it remarkable in an era of increasing income inequality, this proposal seeks to increase the regressivity of the tax system.
The decrease in the corporate tax rate should, in some models, decrease the user cost of capital, and hence raise investment. Presumably, this would increase employment — although the answer surely depends in part upon whether capital and labor (and what types of labor) are complements or substitutes.
Now, there seems to be some belief that the effective corporate tax rate in the United States is much higher than in the rest-of-OECD. This view is cast in doubt by this CBO study. I also wonder at the time frame in which a reduced corporate tax rate would induce either more rapid employment growth (which is not guaranteed, if one thinks about relative after-tax costs of labor versus capital) or income (think about the time horizon in these supply side models examined by the Bush Treasury)[0].
The most reprehensible of proposals is the holiday on tax repatriations. As I noted in this post regarding the effects of the 2005 experiment, a repeat of this policy is highly unlikely to spur lots more R&D spending, or capital investment. We can expect lots more dividend payouts (to the wealthier households who hold the bulk of shares directly). So if we want to boost the higher income households' after tax income, then this is a way to proceed. But don't look for a big immediate boost in employment. For more detail, see the forthcoming Journal of Finance paper on the topic, by Dharmapala, Foley and Forbes:
Repatriations did not lead to an increase in domestic investment, employment or R&D—even for the firms that lobbied for the tax holiday stating these intentions and for firms that appeared to be financially constrained. Instead, a $1 increase in repatriations was associated with an increase of almost $1 in payouts to shareholders. These results suggest that the domestic operations of U.S. multinationals were not financially constrained and that these firms were reasonably well-governed.
Returning to the bill:

REGULATION REFORM

Repeal the Job-Killing Health Care Law Act – (S.192, Sen. DeMint)


Repealing and replacing Obamacare will remove over $550 billion in new taxes, over $300 billion in higher health care costs, and $2,100 in increased family insurance premiums from employers and workers. The job-destroying policies of Obamacare are estimated to cost the economy at least 800,000 jobs and hit small businesses especially hard. Studies have demonstrated Obamacare – not yet fully implemented – is a huge driver of unemployment. Economists have referred to the passage of Obamacare as a "structural break in job growth," an economic term describing the correlation between a single event and resulting job-loss. Obamacare ruined our 2010 recovery slowing private sector hiring to one-tenth of its previous clip, down to just 6,500 jobs per month. In addition, nearly 80 percent of small businesses and 70 percent of all businesses may be forced to drop their current health care plans.
Wow — talk about the correlation is not causality rule being discarded. I wondered what economist was being quoted. It was The Heritage Foundation's James Sherk. Literally, the proof is a graph with two lines drawn through employment data. I could eyeball a break that was before the passage of PPACA. Here's the graph:

Figure 1 from Sherk (2011).
Well, it's always scary to see regressions (either statistical or "ocular") from the Heritage Foundation, and this time is no different. I estimate over the same sample starting in 2009M01 the regression of net change of private payroll employment on a constant (which is appropriate since the series appears to be difference stationary). I find a Chow test does reject the no break at 2010M05. It also does at 2010M04, and 2010M03 and 2009M05 and … I also plot formal structural break tests, CUSUM and one step-ahead recursive residuals.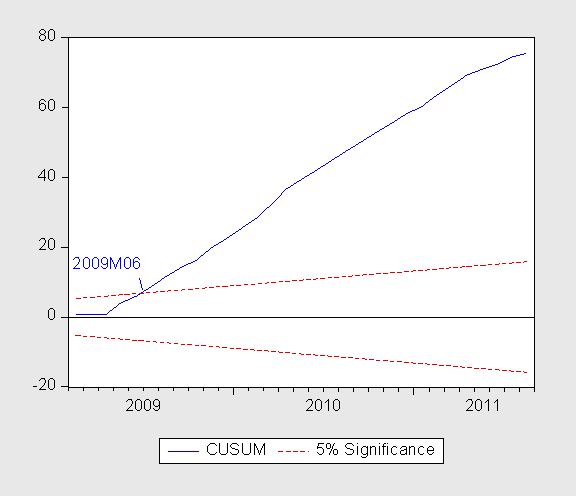 Figure 1: CUSUM test for regression of first difference of private employment on constant, 2009M01-2011M09. Source: Author's calculations based on BLS data (September release).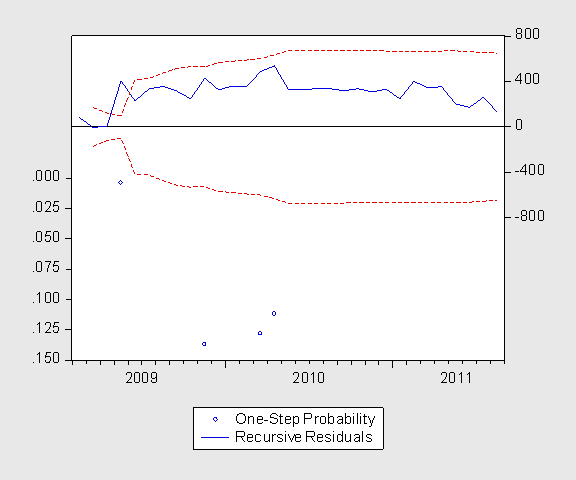 Figure 2: One step ahead recursive residuals test for regression of first difference of private employment on constant, 2009M01-2011M09. Source: Author's calculations based on BLS data (September release).
So, one can find a lot of evidence for different break points; and in any case…correlation is not causation.
(And of course, we must remember it was Heritage which brought us the hysterically funny "analysis" of the Ryan plan, discussed before [1] [2] [3] [4]. I miss Bill Beach!)
Is uncertainty important? I think so, but I think it is not so clear cut that the measures the Republicans propose would address it (see Greg Ip). In fact, I would argue a much better case is for macroeconomic policy uncertainty to be important; see Baker, Bloom and Davis (2011) attempt to measure the impact. Overarching this is the fact that surveys of small businesses indicate that deficient demand, rather than regulatory burdens, are cited as the most important negative factor facing such firms.

Medical Malpractice Reform – (S. 197 – The Medical Care Access Protection Act)

Medical malpractice abuse in the US health care system is out of control. Junk lawsuits drive up the cost of health care and the system must be reformed. Reform Medical Malpractice law based on Texas "stacked caps" to improve patient access to health care and provide improved medical care by reducing the excessive burden the liability system places on the health care delivery system.


Financial Takeover Repeal – (S.712, Sen. DeMint)
We need to lift the burdens the Dodd-Frank bill placed on community banks and the small businesses that depend on them for financing, from oppressive new regulations to the resulting uncertainty that prevents growth. Repealing Dodd-Frank will also significantly reduce financing costs for consumers and businesses, as well as reduce costs to manufacturers in hedging their risks in the financial markets. Research compiled by the Financial Services Roundtable indicates that the cumulative weight of new financial rules, from Dodd-Frank to similar efforts abroad, could cost the U.S. economy 4.6 million jobs by 2015.


Regulations from the Executive In Need of Scrutiny (REINS Act) – (S.299, Sen. Paul)


The REINS Act would require Congressional approval by joint resolution of any federal rule that would cost the economy $100 million or more.


Regulation Moratorium and Jobs Preservation Act – (S.1438, Sen. Ron Johnson)

Prohibits any federal agency from issuing new regulations until the unemployment rate is equal to or less than 7.7 percent (the unemployment rate in January 2009).


Freedom from Restrictive Excess Executive Demands and Onerous Mandates Act – (S.1030, Sens. Snowe and Coburn)

Streamlines and strengthens the Regulatory Flexibility Act by requiring regulators to include "indirect" economic impacts in small-business analyses, requiring periodic review and sunset of existing rules, and expanding small business review panels as a requirement for all federal agencies, instead of just the Environmental Protection Agency (EPA) and the Occupational Safety and Health Administration (OSHA).


Unfunded Mandates Accountability Act – (S. 1189, Sen. Portman)


Requires agencies specifically to assess the potential effect of new regulations on job creation and to consider market-based and non-governmental alternatives to regulation; broadens the scope of Unfunded Mandate Reform Act to include rules issued by independent agencies and rules that impose direct or indirect economic costs of $100 million or more; requires agencies to adopt the least burdensome regulatory option that achieves the goal of the statute authorizing the rule; creates a meaningful right to judicial review of an agency's compliance with the law.


The Government Litigation Savings Act – (S.1061, Sen. Barrasso)


Reforms the Equal Access to Justice Act (EAJA) by disallowing the reimbursement of attorney's fees and costs to well-funded special interest groups who repeatedly sue the federal government. The bill retains federal reimbursements for individuals, small businesses, veterans and others who must fight in court against a wrongful government action. By eliminating taxpayer-funded reimbursement of attorney's fees for wealthy special interest groups, the legislation helps eliminate repeated, procedural lawsuits that delay permitting, exploration and land management.


Employment Protection Act of 2011 – (S.1292, Sen. Toomey)
Requires the EPA to analyze the impact on employment levels and economic activity before issuing any regulation, policy statement, guidance document, endangerment finding, or denying any permit. Each analysis is required to include a description of estimated job losses and decreased economic activity due to the denial of a permit, including any permit denied under the Federal Water Pollution Control Act.


Farm Dust Regulation Prevention Act – (S.1528, Sen. Johanns)


Prevents the EPA from regulating dust in rural America, while still maintaining protections to public health under the Clean Air Act. The EPA is currently considering a dust standard that would, by the agency's own admission, double the number of counties that are in nonattainment status and put activities like tilling soil, harvesting crops and driving down unpaved roads under the purview of federal regulations. Under this bill, the EPA would still be allowed to regulate dust, but only after demonstrating scientific evidence of substantial adverse health effects of farm dust.


National Labor Relations Board Reform – (S.1523, Sen. Graham)
From back-door card-check, to threatening jobs in South Carolina, the out-of-control National Labor Relations Board (NLRB) is paying back union officials at the expense of worker rights and jobs. To create more jobs, legislation prohibiting the NLRB from stopping new plants and legislation to prevent coercive, quick-snap union elections should be passed.


Government Neutrality in Contracting Act – (S.119, Sen. Vitter)

Repeals the President's order requiring government-funded construction projects to only use union labor. This would reduce costs of federal jobs projects by as much as 18 percent.


Financial Regulatory Responsibility Act – (S. 1615, Sen. Shelby)

Requires financial regulators to conduct consistent economic analysis on every new rule they propose, provide clear justification for the rules, and determine the economic impacts of proposed rulemakings, including their effects on growth and net job creation.


Regulatory Responsibility for our Economy Act – (S. 358, Sen. Roberts)

Codifies and strengthens President Obama's January 18th Executive Order that directs agencies within to review, modify, streamline, expand, or repeal those significant regulatory actions, that are duplicative, unnecessary, overly burdensome or would have significant economic impacts on Americans. It directs meaningful review and possible revocation of regulations counter to our nation's economic growth.


Reducing Regulatory Burdens Act – (H.R. 872, Rep. Bob Gibbs)

Eliminates a new duplicate EPA regulation that will cost millions of dollars to implement without providing additional environmental protection. The current rules for pesticides, which have been in place for decades, will remain in force.
Certainly, regulations can in certain cases reduce economic activity. Sometimes dead weight losses are incurred. Of course, in markets with monopoly power, or asymmetric information, one can over- production of certain goods and services. So, perhaps in order to maximize GDP, more mountaintop removal mining of coal would be optimal. That doesn't necessarily mean welfare would increase. But the real question for purposes of this post is: Over what horizon one expects elimination of all farm dust regulations to noticeably affect employment, if ever?

DOMESTIC ENERGY JOB PROMOTION



The Domestic Jobs, Domestic Energy, and Deficit Reduction Act – (S.706, Sen. Vitter)

Will require the Interior Department to move forward with offshore energy exploration, and create a timeframe for environmental and judicial review.


The Jobs and Energy Permitting Act – (S.1226, Sen. Murkowski)

Eliminates confusion and uncertainty surrounding the EPA's decision-making process for air permits, which is delaying energy exploration in the Alaskan Outer-Continental Shelf (OCS). It will create over 50,000 jobs and produce one million barrels of oil a day.


The American Energy and Western Jobs Act – (S.1027, Sen. Barrasso)

This bill streamlines the preleasing, leasing and developmental process for drilling on public land and requires this Administration to create goals for American oil and gas production.


Mining Jobs Protection Act – (S.468, Sens. McConnell, Inhofe, Paul)

Requires the EPA to "use or lose" their 404 permitting review authority. Under this bill the EPA will have 60 days to voice concerns about a permit application, or the permit moves forward. Any concerns voiced by the EPA would need to be published in the Federal Register within 30 days.


Energy Tax Prevention Act – (S.482, Sen. Inhofe)

Prohibits the EPA from using the Clean Air Act to regulate greenhouse gases. It is estimated that greenhouse gas regulation could result in a loss to the economy of as much as $75 billion and 1.4 million jobs by 2014.


Repeal Restrictions on Government Use of Domestic Alternative Fuels

Repeal Section 526 of the Energy Independence and Security Act of 2007, which prohibits federal agencies from contracting for alternative fuels, such as coal-to-liquid fuel. This provision stifles the coal industry and puts our national security at risk by limiting the Pentagon's ability to get its fuels from domestic sources.


Public Lands Job Creation Act – (Sen. Heller)

Eliminates a burdensome and unnecessary delay in approval of projects on federal lands by allowing the permitting process to move forward unless the Department of the Interior objects within 45 days. This will streamline the permitting process for domestic energy and mineral production on BLM lands without compromising environmental analysis.
The increases in jobs that are cited (I'll take their word on the count) would occur years from now. While non-negligible, they pale in comparison to the 140 million currently employed.

EXPORT PROMOTION



Renew Trade Promotion Authority – (S. Amdt. 626, Sen. McConnell)

Provide the President with fast-track authority to negotiate trade agreements that will eliminate foreign trade barriers and open new markets for American goods.
I'm for free trade. If free trade agreements do in fact liberalize trade (and yield greater trade creation than trade diversion — see a trade textbook for explanation), then this would be a good thing, when coupled with policies to help those dislocated by trade. But even estimates of 70,000 jobs created by the S.Korea-US FTA are for the long run, years in the future, and are small relative to the labor force.
Really, it is macroeconomic policies that are essential for increasing employment in a noticeable fashion. And to the extent that uncertainty is a drag on the economy, the Republicans can help by avoiding further intransigence when it comes issues like the debt ceiling debate.
Update, 9:42Pacific: From Politico:
At a press conference with 11 GOP senators on Thursday, Republicans cited the conservative Heritage Foundation to claim that the plan would create 1.6 million private sector jobs. They said they did not yet have an official cost estimate.
I could not find any reference on the Heritage website to this estimate.