Today, we are fortunate to have Jay C. Shambaugh of the McDonough School of Business at Georgetown University as a guest contributor.
---
There has been considerable debate lately about why the U.S. economy continues to struggle. Some — notably economists on the right and some Federal Reserve Bank Presidents — have argued that concerns about future taxes and regulation are preventing American businesses from investing and hiring. Other economists have argued that we have inadequate aggregate demand in the economy and that explains slow GDP and employment growth — not fear of future government policy.
The case that inadequate aggregate demand is holding back the economy and job creation has received ample support in the blogosphere, some of that argued or linked to on this site over the last 12 months. Additional evidence comes from something Menzie posted about last week: the strong performance of U.S. exports. One way to sort out the competing explanations is to see what happens when there is substantial demand for U.S. products. In foreign markets where economies are growing quickly, U.S. exports are rising fast. American businesses do not seem to be held back by fear of taxes or regulation; they are hiring and increasing production for sale where there are customers.
Export surge:
U.S. exports have surged since the end of the recession. Real exports are up 23% in the 9 quarters since the recession ended (a better performance following a recession than any of the last 3 recessions including the strong early 1980s recovery). Nominal exports are up even more as the price exporters can get on world markets has been rising.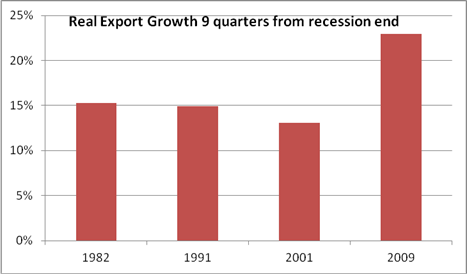 Figure 1. Source: BEA data, and author's calculations.
During the recession, exports fell sharply — even faster than GDP – but they have rebounded as the world economy recovered. The recent growth, though, is not simply bouncing back from the crash. Real exports are also 10% above where they were before the recession started — better than any other major component of GDP. The overall economy just surpassed its pre-crisis peak in the 3rd quarter of 2011, but exports bounced out of the recession faster and have continued to grow. Consumption is just 1% above its pre-recession level, and even though investment in equipment and software has grown rapidly recently, it fell more than exports during the recession and thus is now just over 2% above its pre-recession level.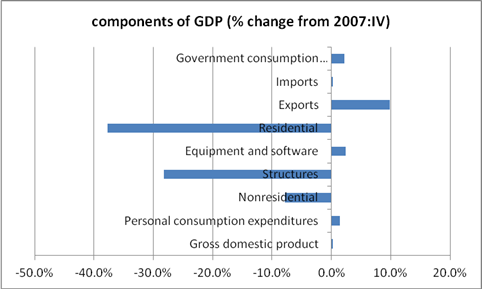 Figure 2. Source: BEA data, and author's calculations.
If the problems in the U.S. economy came on the supply side – fear of regulation, inadequate workers, etc. – there would be no reason to expect production for exports to grow any more rapidly than any other component of GDP. But, exports have outperformed the economy – the key difference being demand for U.S. products abroad.
Demand Abroad:
U.S. exports have always been largely driven by world growth and relative prices of U.S. versus foreign goods (see Chinn 2010 and IMF 2007). Numerous posts on this site and many papers by Menzie have made this clear.
We can learn more looking at where across the globe the exports are going. Quite simply, U.S. exports are going where the demand is. China's economy has been growing rapidly, and U.S. nominal exports to China have soared 49% since the recession ended (only nominal export data are available for individual countries, data through 2011:Q2). The euro area's economy has grown slowly, and U.S. exports are up only 17%. Exports to Mexico are up 53% while exports to the more sluggish Japanese economy are up 29%.
Figure 3 shows the relationship between nominal goods export growth and foreign real GDP growth across major trading partners of the United States in the year following the recession, (borrowed from the 2011 Economic Report of the President). Where there is demand for U.S products, the U.S. typically is able to sell more.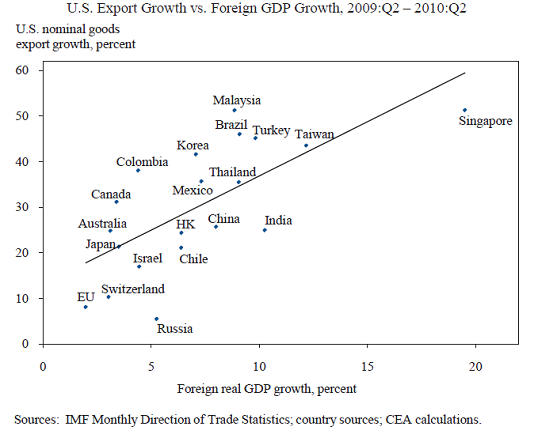 Figure 3. Source: CEA (2011).
Some might argue that exports are up to certain destinations simply because the dollar has weakened against those currencies. But, the patterns noted above do not match where the dollar has moved. Since the recent dollar peak in March of 2009 until the end of the third quarter, the dollar weakened 7% against China's currency, but 10% against the euro. It slid less than 20% against Mexico's peso but 27% against the yen.
The ability of U.S. firms to increase production and sell to markets where demand is growing is just more evidence that the U.S. economy is not fundamentally flawed or broken. Firms can find workers and increase output where they have customers. Yet while exports to growing foreign markets have been soaring, at home, residential construction has collapsed, structures investment by firms has collapsed, and state and local government spending has declined. All of these are a serious brake on demand. Compounding all this is the fact that real Federal Government consumption expenditures and gross investment in the third quarter was 2% below that of a year ago. This acts as a further brake on growth in output and employment.
Some businesses may complain about fear of regulation (though in surveys their number one complaint is lack of customers) and some commentators may worry about structural unemployment and a lack of appropriate skills amongst the U.S. work force. There is plenty of reason to always make sure that supply side policies are sensible and worker training and education is adequate. But these do not seem to be the problems of today. Based on exports, the evidence shows that where there is demand for their products, American firms are more than ready to produce and to sell.
Exports cannot solve all the economy's woes, though. The U.S. economy is huge, and exports only a relatively small part. World demand alone cannot lift us out of a slow recovery. Furthermore, persistent slow growth in Europe –- with a possible recession looming or underway –- and slowing growth in other regions suggest that export growth could slow in the near term. If it does, it will simply be one more piece of evidence that when the economy is drastically below its potential, demand is a major determinant of output.
---
This post written by Jay Shambaugh.