By Xingwang Qian and Andreas Steiner
Today, we're fortunate to have Xingwang Qian, Assistant Professor of Economics at SUNY Buffalo State and Andreas Steiner, Assistant Professor at University of Osnabrück
,
as Guest Contributors.
---
During the current tough economic situation in the industrial world, including the US and the Euro Zone, the global economic outlook increasingly depends on the performance of emerging economies: Their economic growth might propel the global economy out of a possible double-dipping recession. This hope is supported by the recent decoupling-recoupling debate, which argues that emerging economies' business cycles might have become more independent of the economic situation in the industrial world.
Historically, one of the key factors that negatively affect emerging economies are financial crises caused by a sudden stop of short-term cross-border capital inflows. Prominent examples include the Mexican debt crisis in 1994 and the East Asian financial crisis in 1997. A financial crisis with self-fulfilling mechanism can lead to a large-scale capital reversal even in the absence of a shock to economic fundamentals (Caballero and Krishnamurthy, 2001). Thus, policies aiming at securing the stability of short-term capital inflows and maintaining a good investment environment in emerging markets seem to be among the key elements for both emerging economies themselves and the global economy as a whole. The hoarding of large stocks of international reserves might be instrumental to reach these goals.
Emerging economies hoard an incredibly large amount of more than 7 trillion USD of international reserves. Reserves increasingly have become a policy tool to stabilize the exchange rate and to self-insure the economy against financial crises. Research on international reserves has been quite active in recent years. However, many papers focus on explaining what determines the extraordinary reserve hoarding behavior in emerging markets.
In our study entitled "International Reserves and the Composition of Equity Capital Inflows", rather than trying to explain the level of international reserves, we illustrate how the historically high level of international reserves in emerging economies may affect the global economy. More precisely, we focus on the effect of international reserves on the composition of equity capital inflows to emerging markets and the consequent implications for emerging markets and the global economy. Equity inflows, which comprise foreign direct investment (FDI) and portfolio equity investment (PEI), are the most important source of external financing for emerging markets; they accounted for 63% of total capital inflows to emerging markets over the period 2000 – 2010 (McKinsey Global Institute, 2011).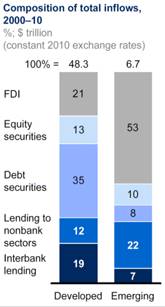 Figure 1: The composition of total capital inflows. Figure is copied from McKinsey Global Institute (2011).
FDI is relatively stable and resilient to financial crisis (Krugman, 2000), while PEI is volatile as investors can withdraw it easily and at low cost when expectations worsen. Hence, PEI is pro-crisis in the sense that more PEI inflows may imply a higher crisis probability and a deeper crisis if it materializes. International reserves, in turn, can insure against such sudden stops and mitigate their damage to economic growth (Aizenman and Marion, 2004; Frankel and Saravelos, 2010; Obstfeld et al., 2009). There seems to exist a dilemma: while international reserves are accumulated as an insurance against financial crises, they may attract more volatile PEI relative to stable FDI. Thus, for any emerging economy it is a pivotal policy question how to strike a balance between international reserves and capital flows and how to benefit most of them.
We use a simple theoretical model in which a risk-averse international investor has the choice between three different investment opportunities: an investment in FDI or PEI in an emerging economy or in the risk-free asset provided by the rest of the world. The result indicates that higher international reserves reduce the risk premium of PEI in an emerging economy, therefore making PEI a more attractive form of investment than FDI. In other words, theoretically, we can hypothesize that larger international reserves increase the share of PEI in total equity capital inflows.
We then check the empirical relevance of our theoretical finding using annual data of 23 emerging markets for the period from 1980 to 2007. FDI and PEI data are stock (or position) data from the EWN II data set of Lane and Milesi-Ferretti (2007). We first use data averaged across time for each country and data of two representative countries to visualize the bivariate relationship between international reserves and the ratio of PEI to FDI (see Figure 2). The graphs show a clearly positive correlation between international reserves and the ratio of PEI to FDI.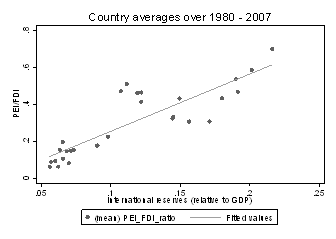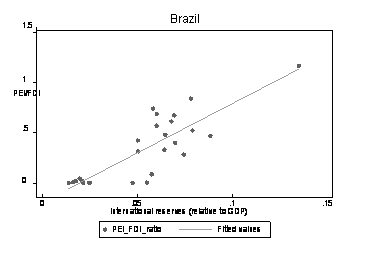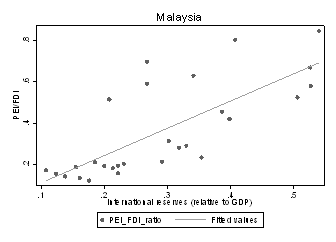 Figure 2: International reserves and the ratio of PEI to FDI.
We then use both static and dynamic panel regression methods. Our hypothesis is confirmed by the data: After controlling for other possible factors that might affect the composition of equity capital inflows, e.g. institutional quality, trade openness, capital controls, etc. we find a positive and significant effect of reserves on the ratio of PEI to FDI. The results are robust across different model specifications including alternate sets of control variables and across estimation procedures.
Our results have two major policy implications: On the one hand, central banks' reserves offer benefits disregarded so far: By attracting PEI, they contribute to the development of domestic financial markets and facilitate domestic firms' access to external financial resources. On the other, the findings reveal a possible dilemma for central banks: while their international reserves are intended to reduce crisis vulnerability, they attract precisely those capital flows that are crisis-prone.
References
Aizenman, Joshua and Nancy Marion (2004), "International reserve holdings with sovereign risk and costly tax collection", Economic Journal 114: 569-591.
Caballero, Ricardo J. and Arvind Krishnamurthy (2001), "International and domestic collateral constraints in a model of emerging market crises", Journal of Monetary Economics 48(3): 513-548.
Frankel, Jeffrey A. and George Saravelos (2012), "Are leading indicators of financial crises useful for assessing country vulnerability? Evidence from the 2009-09 global crisis", Journal of International Economics, forthcoming.
Krugman, Paul (2000), "Fire-Sale FDI," in: Paul Krugman, Capital flows and the emerging economies: theory, evidence and controversies, Chicago, pp. 43-60.
Lane, Philip R. and Gian Maria Milesi-Ferretti (2007), "The external wealth of nations mark II: Revised and extended estimates of foreign assets and liabilities, 1970–2004″, Journal of International Economics 73, November: 223-250.
McKinsey Global Institute (2011), "Mapping global capital market 2011", McKinsey and Company.
Obstfeld, Maurice, Jay C. Shambaugh and Alan M. Taylor (2009), "Financials instability, reserves, and central bank swap lines in the panic of 2008″, American Economic Review: Papers and Proceedings, Vol. 99(2): 480-486.
Qian, Xingwang and Andreas Steiner (2012), "International Reserves and the Composition of Equity Capital Inflows", Institute of Empirical Economic Research Working Paper No. 90, University of Osnabrueck.
---
This post written by Xingwang Qian and Andreas Steiner