Updated 5/27 — added Figure 2 showing Wisconsin's poor performance vis a vis US as measured by coincident indices.
Governor Walker has been touting on numerous (!) radio and television ads employment gains using the Quarterly Census of Employment and Wages (QCEW) based figures [0], and (apparently) adding on reported changes in employment, as recorded by BLS. I wanted to highlight exactly how lackluster the record looks even with Governor Walker's preferred numbers.
First note that Walker cites the 23,321 increase over 12 months ending in December (so, starting before Governor Walker's inauguration in January), and adds to it the BLS estimate of NFP employment growth from December 2011 to April 2012 of 12,200, to obtain a 33,000 total increase [1] (I actually can't figure out how they get that number, but close enough…).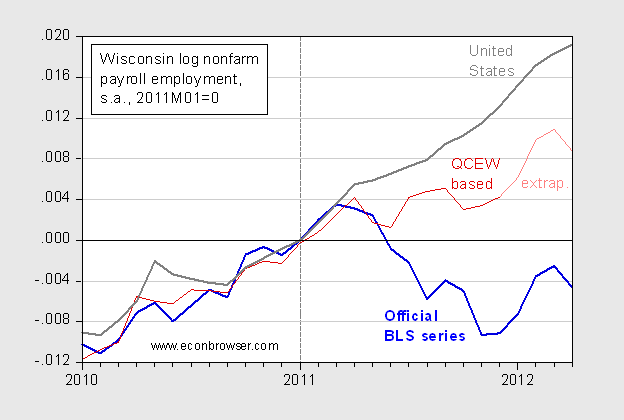 Figure 1:
Official BLS Wisconsin log nonfarm payroll employment series (blue), US log nonfarm payroll employment series (gray), and QCEW-based estimates of NFP, see
text
(red), and spliced BLS series from Jan-Apr (salmon), all normalized to 0 at 2011M01. Dashed line at 2011M01. Source:
BLS
(April release), BLS (April release) via FRED,
author's calculations
.
From April through December 2011, Wisconsin seemed detached from the national trend, even using the QCEW-based figures, such that by 2011M12, Wisconsin cumulative employment growth was almost a percentage point below the nation's. Splicing the BLS series to the QCEW-based series, one notes that in April employment is declining, so that cumulative Wisconsin employment growth is now over 1 percent below that of the nation's (in log terms). So if one thought US employment growth was lackluster, how to characterize Wisconsin's?
And, as noted previously [2] [3], Wisconsin employment is lagging far, far behind the smooth path implied by Governor Walker's 250,000 increase in private employment.

Further note that the DWD figures Governor Walker repeatedly cites (October-December 2011) have not been cleared by BLS, so remain provisional, insofar as benchmarking the NFP series is concerned.
Update 5/27 9:40PM Pacific: Reader Adjoining states asks to see how Wisconsin compares to Illinois and Minnesota. As figure 2 below shows, according to the Philadelphia Fed's (log) coincident indices, not good. This holds even truer if one does not normalize to 2011M01.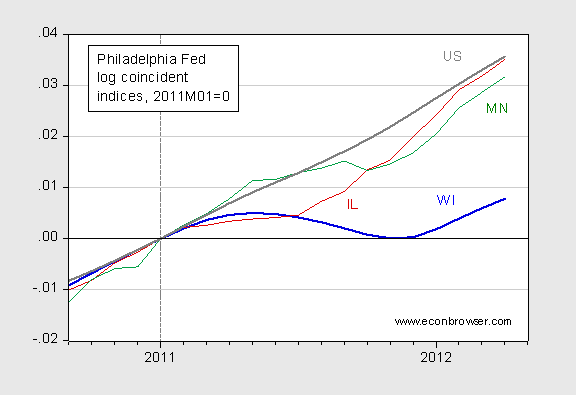 Figure 2:
Log coincident indices for Wisconsin (blue bold), Illinois (red), Minnesota (green), and the US (gray bold). Source: Philadelphia Fed coincident indices, April release.