The Spring Wisconsin Economic Outlook has not yet been released (last year, I believe it was released in early/mid May), so I thought I'd take a look at what recent private sector forecasts indicated. Here is one graph of relative GDP trends from Chase's State of the Wisconsin Economy, dated March 31.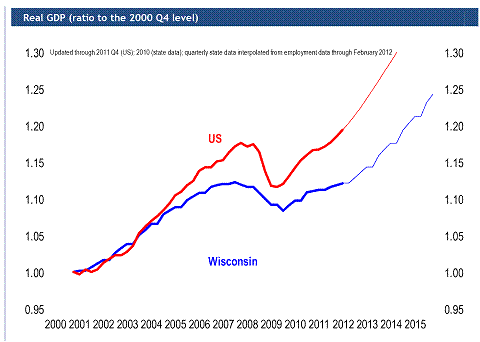 Figure from Chase, The State of the Wisconsin Economy, March 31, 2012.

Note the trend break at beginning of 2011. The forecast for employment growth is also of interest.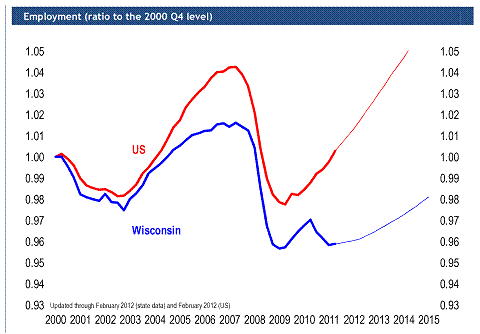 Figure
from
Chase, The State of the Wisconsin Economy, March 31, 2012
.
Even after adjusting for anticipated re-benchmarking of the WI NFP series associated with QCEW data (discussed here), employment trends are not particularly auspicious relative to nationwide trends. This point is highlighted in Figure 1.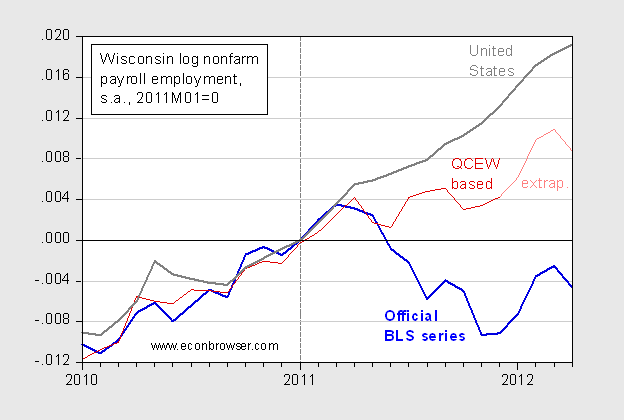 Figure 1:
Official BLS Wisconsin log nonfarm payroll employment series (blue), US log nonfarm payroll employment series (gray), and QCEW-based estimates of NFP, see
text
(red), and spliced BLS series from Jan-Apr (salmon), all normalized to 0 at 2011M01. Dashed line at 2011M01. Source:
BLS
(April release), BLS (April release) via FRED,
author's calculations
.
Note that the new fiscal year starts on July 1, so much of the momentum in the first part of CY2011 is associated with the prior administration's budget.)

Given slated decreases in government spending in CY2012 (the average of FY2012 and FY2013 levels) expressed as a share of state GDP or in real per capita terms, these extremely modest income and employment gains (in absolute, and expressed relative to nationwide terms) seem plausible.
Speaking of counterproductive pro-cyclical macroeconomic policies, I will be speaking at the Center for American Progress on June 14th, where the topic of the panel will be "Assessing the Austerity Experiment". The panelists include Carlos Mulas-Grenados (Executive Director, IDEAS Foundation, Spain), Jared Bernstein (Senior Fellow, Center on Budget and Policy Priorities; former Chief Economist and Economic Adviser to Vice President Joseph Biden), and Zach Schiller (Research Director, Policy Matters Ohio). The keynote speech will be given by Mass. Governor Patrick Deval.