The BLS has released preliminary estimates for June employment in Wisconsin. Private payrolls declined 11.7 thousand while total nonfarm payroll declined 13.2 thousand (0.5% and 0.5% respectively, using log differences), at seasonally adjusted rates. Civilian employment decreased 7.9 thousand (0.3%). (At annualized rates, these would be 6%, 5.8% and 3.3%, respectively). It is interesting to observe that none of these figures are cited in the text of the Wisconsin Department of Workforce Development press release. Instead, it notes:
The Department of Workforce Development (DWD) today released the U.S. Bureau of Labor Statistics (BLS) revised estimates for May and preliminary estimates for June, covering unemployment and employment statistics for the state of Wisconsin. In brief, the estimates showed:

Place of work data: Upward revision to seasonally adjusted private-sector job number in May by 1,200; downward revision of government total by 1,400.
Place of residence data: A preliminary seasonally adjusted unemployment rate of 7.0 percent in June, up 0.2 percent from 6.8 percent in May.
Here is a graph of the private payroll employment series for Wisconsin, as released by BLS.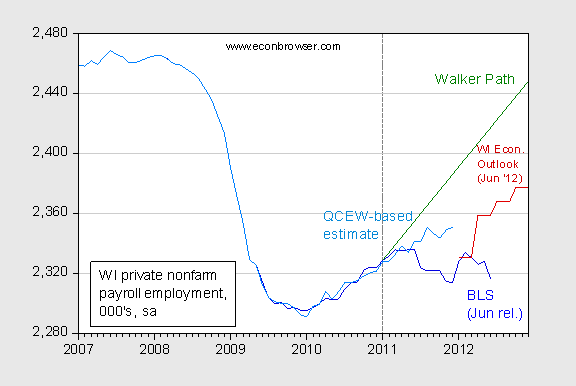 Figure 1: BLS estimate of Wisconsin private nonfarm payroll employment from CES (blue), QCEW based estimate of WI NFP (see post) minus government employment (light blue), forecast from June Wisconsin Economic Outlook (red), and Walker path for additional 250 thousand jobs by 2016 (green). Source: BLS (June release), Wisconsin Economic Outlook (June 2012), author's calculations.
The WI DWD press release provides QCEW-based data on employment. This is in line with the Administration's argument that the BLS series will be revised upward significantly, with the new benchmark (more discussion here). I have posted my estimate of what the revised series will look like, based on data available through December 2011. However, since January 2012, BLS has estimated a negative gradient to the private employment series. I have plotted the forecast (in red) from the June 2012 Wisconsin Economic Outlook, published by the Department of Revenue. If the private employment series is revised upward in line with the QCEW series, then the forecast will not be too far off in June, assuming the January through June change represented by the BLS series applies.
Figure 1 also shows the implied path of employment (green) assuming constant numerical increase in employment to hit the January 2016 target of 250,000 additional employment recently reiterated by Governor Walker.
Update, 9/21 12:40pm Pacific: From EPI June 2012 "Jobwatch" email (h/t Tim Smeeding):
Wisconsin is still suffering in the wake of the Great Recession
When the recession began in December 2007, wisconsin had 2,881,800 jobs. Since then, wisconsin has experienced 33 months of job loss. wisconsin 's employment trough occurred in November, 2009 when wisconsin had 168,100 fewer jobs than it did before the recession started. Now in June, 2012, wisconsin has 158,900 fewer jobs.
Wisconsin's jobs deficit, or the difference between the number of jobs wisconsin has and the number it needs to regain its pre-recession employment rate, is 238,000. That number includes the 158,900 jobs wisconsin lost plus the 79,100 jobs it needs to keep up with the 2.7% growth in population that wisconsin has experienced in the 54 months since the recession began.
Wisconsin has not recovered from the Great Recession. As elected officials at both the state and federal level make policy choices to deal with budget shortfalls, they should avoid decisions that threaten to throw even this very tentative recovery into reverse. Putting workers back to work needs to be the primary goal for lawmakers.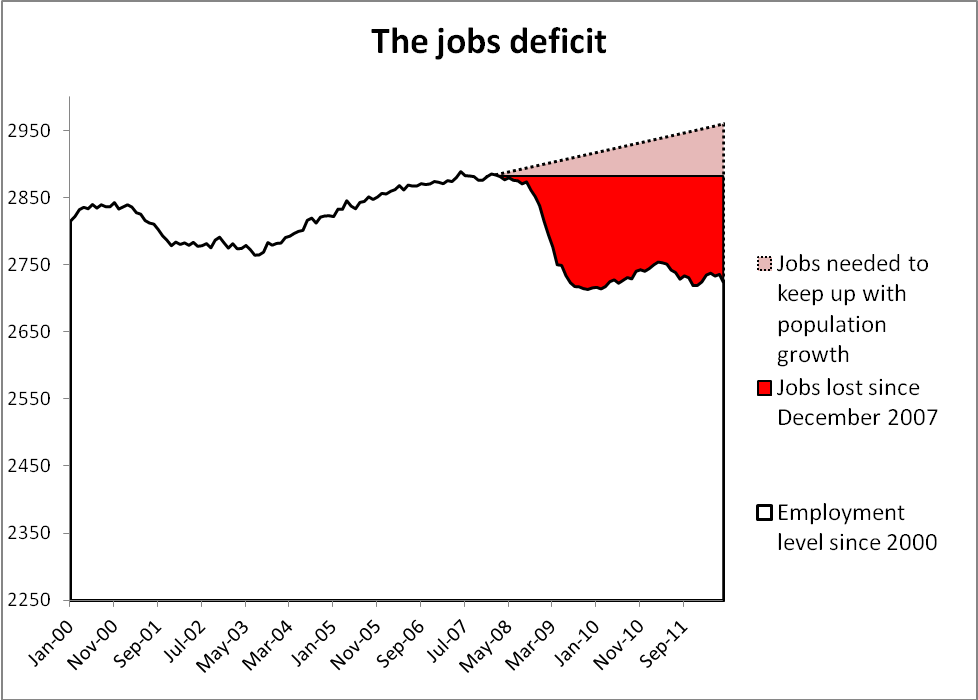 Interactive website at EPI.