From IHS-Global Insight, "U.S. Regional – Perspective Article: Swing States: Wisconsin," 9/24/2012:
The employment picture in Wisconsin so far this year has been grim. Whereas the country has seen year-on-year (y/y) job growth above 1.0% each month through July, the Badger State has seen y/y declines every month. As of July, Wisconsin payrolls had shed 0.8% since the same time last year. Although the state's important manufacturing sector is creating jobs, expanding at a 1.3% pace since July 2011, many other sectors continue to decline. The already beleaguered construction sector continues to be pummeled, shedding 7.7% y/y in July because of continued weak demand for new single-family homes and a lack of public infrastructure projects. And contrary to the trend throughout most of the country, where professional and business services has been a stalwart of the recovery, that sector's payrolls have declined 0.8% here. In addition, leisure and hospitality services jobs declined 6.7% from their July 2011 level. The finance sector continues to suffer as well, dropping 1.8% y/y in July. Although the state's jobless rate has remained below the national average, it continues to climb, with July bringing more bad news, when it climbed to 7.3% from 7.0% in June.
The following graph presents the Wisconsin situation vis a vis the region, and the US (through July):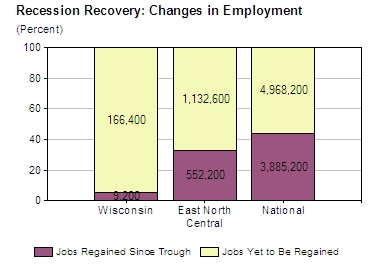 Source: IHS-Global Insight, 9/24/2012.
The figure makes clear that Wisconsin is clearly underperforming. My personal view is that the belief in the possibility of expansionary fiscal contraction on the part of the Walker Administration might explain some of the divergence. (Perhaps the specificity of the Wisconsin macro conditions (i.e., Walker's fiscal policies) explains why the state is leaning Democratic, despite a poor employment situation.)
[0]
Now, as is well known, there is some controversy surrounding the accuracy of the BLS establishment based estimates of state employment [1] [2]. As the WI DWD press release yesterday notes:
The most accurate count of jobs data, the Quarterly Census of Employment and Wages (QCEW), is based on a census of approximately 96 percent of Wisconsin employers. DWD last week submitted unemployment insurance (UI) records for the first three months of 2012 to the federal government. The UI administrative data show private sector job growth of 37,464 from March 2011 to March 2012. The federal government will incorporate the data in its next QCEW release covering the first quarter of 2012 for all states.
In a previous post, I've tried to take into account the QCEW data. I plot the implied private payrolls data with the official BLS data, the Wisconsin Economic Outlook forecast from June, and Governor Walker's promise to create 250,000 additional jobs by 2016.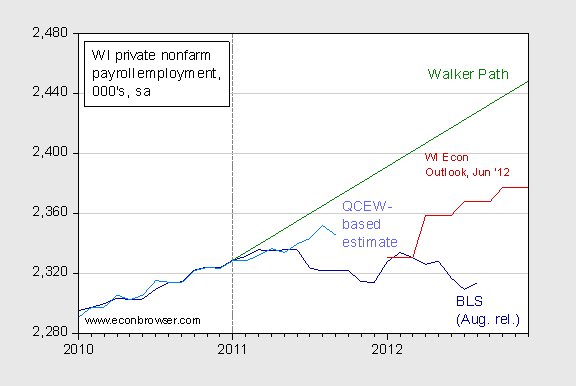 Figure 1: BLS estimate of Wisconsin private nonfarm payroll employment from CES (blue), QCEW based estimate of WI nonfarm payroll employment minus government employment (light blue) [see post], forecast from June Wisconsin Economic Outlook (red), and Walker path for additional 250 thousand jobs by 2016 (green). Source: BLS (August release), Wisconsin Economic Outlook (June 2012), author's calculations.
Even if one shifts up the BLS series to account for the QCEW data up to 2011M09, it's clear the gradient is negative over 2012 thus far. What about employment prospects? The report continues:
The remainder of the year will bring little good news to Wisconsin's beleaguered labor market. Payroll growth will be flat in the second half, despite an average expansion of 1.4% among all US states. Construction will continue to suffer, dropping an additional 4.7%, with losses tapering off in the early portion of next year. The important professional and business services sector will continue to hinder recovery in the state, with payrolls remaining flat in the second half. Leisure and hospitality will drop an additional 2.1%. Further cuts at both the state and federal level mean that government employment will fall an additional 1.0%. Factory employment will continue to buoy Wisconsin, where durables manufacturing will add 2.3%. Education and health services will continue to grow modestly, adding 0.7% in the second half.
The August unemployment rate (preliminary) has risen to 7.5% from 7.3 in July, and from 7.0% in December of 2011.
Update, 2:45 Pacific, 9/29: In other news, the Walker Administration has experienced some difficulties in spending money in accordance with law and policies. From Wisconsin State Journal:
A federal agency has ordered the state to improve the way it handles economic-development money from the U.S. Department of Housing and Urban Development.
In a strongly worded Aug. 12 letter to Department of Administration Secretary Mike Huebsch, federal officials said two state agencies failed to follow federal law and their own policies in issuing economic development grants.


Among the findings:

The state gave out aid worth $20,000 per job created to Kapco, a company with a plant in Polk County — twice as much as its own policies allow.
Officials failed to check the financial soundness of two companies receiving $1.4 million in federal grants.
Eleven out of 20 loans using Community Development Block Grant funds awarded since Jan. 1, 2011, are "forgivable," despite the fact that the state's own policy calls for allowing businesses to get no-payback loans only in "extraordinary circumstances."
Questions remain about an $8.6 million chunk of CDBG funds withdrawn under unusual circumstances late last year.

…
And from the Milwaukee Journal Sentinel:
In a letter sent late Wednesday, Paul Radspinner, president and chief executive officer of FluGen Inc., wrote that he and other WEDC board members should have been told long ago of the issues, which were first raised by the U.S. Department of Housing and Urban Development more than a year ago. The board met as recently as last week but was never given detailed information about the problems, which came to light publicly Wednesday.
"It is unconscionable that the WEDC staff would consider this issue not important enough to share with the board at the June meeting let alone last week's meeting," Radspinner wrote.

…
A May 2012 letter from HUD shows that Walker's administration was warned in August 2011 that HUD did not recognize the economic development corporation's ability to administer federal money but that Walker went on in February 2012 to announce the agency was awarding federal money to several Wisconsin cities.
The GOP governor and lawmakers last year dissolved the state Department of Commerce and created the economic development corporation, which they said would be more effective at sparking the economy. Its board consists primarily of businesspeople, but also lawmakers from both parties.