Or, more accurately, non-New Classicals in the CRS
The Congressional Research Services (CRS), the Congress' nonpartisan analytical arm, has released a report entitled "Sequestration: A Review of Estimates of Potential Job Losses". From the summary:
One study estimated that a $48 billion sequester of Defense Department funds in 2013, compared with a baseline budget (without BCA cuts) for the calendar year, might support 907,000 fewer direct, indirect, and induced jobs. Job losses were forecast to diminish relative to the baseline after peaking in 2014 at about 1.2 million, with laid-off workers predicted to find new jobs in other industries as the economy adjusts to lower federal spending and employment recovers to the baseline forecast for 2022. Another analysis applied a 7.8% reduction to the National Institutes of Health budget for extramural awards, which are made to universities and other nongovernmental research facilities. It estimated that almost 34,000 direct, indirect, and induced job losses might result from such a program cut in FY2013. A third study, which reduced the budgets of Education Department and Head Start programs by 8.4%, put direct job loss among early childhood support personnel, elementary and secondary school educators, postsecondary faculty, and other support personnel at 80,500. Another analysis projected that a 2% reduction in Medicare's budget ($10.7 billion) in 2013, compared with a baseline budget, might support 500,000 fewer direct, indirect, and induced jobs. Of that total, almost 212,000 are direct jobs in such occupations as nurses, housekeepers, independent contractors, and medical residents.
In one view of the world, this assessment is clearly wrong. Each defense worker who is fired from building a ship will be one more worker who can enter the pool of unemployed, to be employed immediately by a private firm making widgets. That is, as government spending is reduced, the resources thus released will be immediately re-employed. Some people might characterize this as a Classical model (or New Classical, when throwing in random technology and preference shocks). [1] [2]
Apparently, Governor Romney does not subscribe to this view. From Slate:
Romney has been talking up the military and the defense industry as an employment haven for weeks. On Aug. 14, he warned that looming defense cuts would "threaten 150,000 defense-related jobs" in Virginia. A week later, his new running mate, Paul Ryan, declared that the cuts "could put almost 44,000 jobs at stake right here in Pennsylvania. We're not going to let that happen." In North Carolina, Ryan said he and Romney opposed the cuts because "we don't want to trade small-business jobs for military jobs. We want more jobs across the board." And last week, Romney protested that under the cuts, "up to 1.5 million jobs could be lost. GDP growth could fall significantly."
This argument is of course not consistent with a full-employment model, which is the typical alternative relied upon by those who have critiqued the use of multiplier analysis. I find it quite interesting how those who decried the use of models that allow for underemployment of resources are so willing to use the same type of models when assessing the implications of reduced defense spending.
Note, the sequester is only part of fiscal cliff: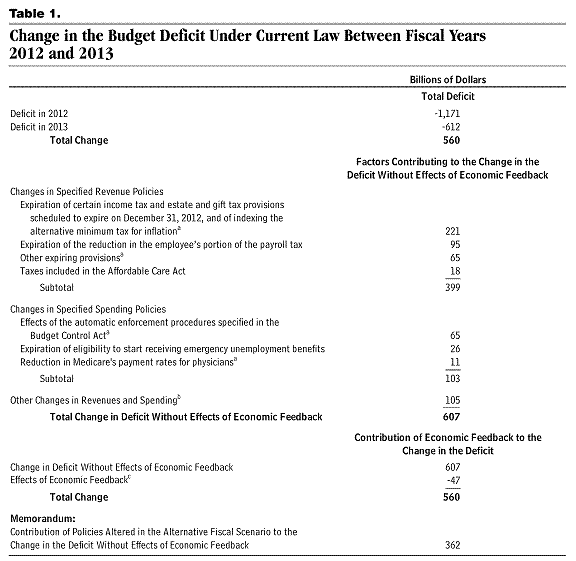 Table 1
from
CBO, "Economic Effects of Reducing the Fiscal Restraint That Is Scheduled to Occur in 2013," May 2012
.
It is of interest to see what financial sector economists are predicting in response to the fiscal cliff. Here is one forecast from Citibank: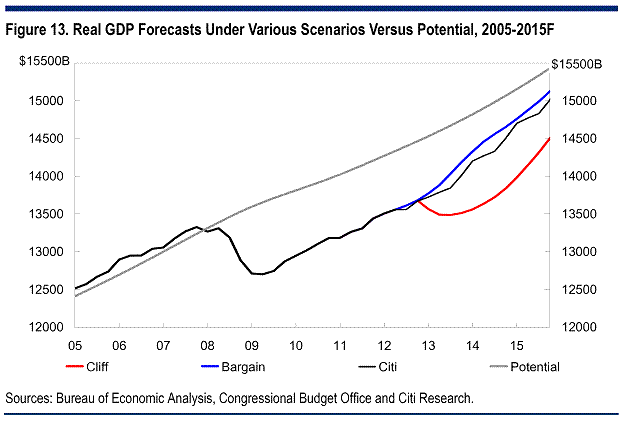 Figure 13
from Citibank, "The Fiscal Cliff: Assessing the Policy Risks,"
U.S. Macro Focus
, 21 September 2012 [not online].
Note that the Citi estimates are for a more profound recession and long term impact because of assumed nonlinearities (a threshold "stall speed" when 4 quarter growth is below 1.5%) and spillover effects to the rest-of-the-world.
Update, 5:50PM Pacific: Louis Johnston provides more insight on Governor Romney's military Keynesianism. See also Paul Krugman's take.