If the Bush tax cuts all lapsed?
Several weeks ago, Jim proposed breaking up the fiscal cliff into manageable pieces — which seemed like a reasonable approach. As we await counterproposals to the Administration's proposal, it might be useful to consider what would happen if agreement proves elusive, and all the Bush tax cuts were to lapse (along with other tax reductions), reverting to the tax rates of the Clinton years. Because the Republicans feel so strongly about impending defense cuts, we can be pretty sure that the sequester will be held in abeyance (probably along with the AMT patch).
Clearly, this is not an optimal outcome. I much prefer the President's proposal (described here), which includes letting the rates rise on the top bracket (as I outlined in this post). But EGTRRA and JGTRRA (aka the Bush tax cuts) have constrained our fiscal policy for a decade, and as Jeff Frieden and I discussed in Lost Decades, contributed to the financial crisis of 2008. With ever greater impact on tax revenues going forward, these provisions should end (although I would prefer to delay rate increases on middle incomes).
Were this scenario (all taxes revert, sequester held in abeyance) come to pass, GDP would be close to flat by end-2013, relative to end-2012, using the mid-point multiplier estimate from the CBO.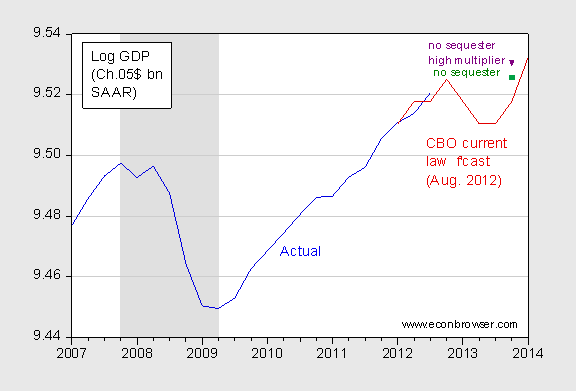 Figure 1:
Log GDP (bn Ch.2005$, SSAR) (blue), CBO August forecast (red), no-sequester (green square) and no-sequester using high multipliers (purple triangle). NBER defined recession dates shaded gray. Source: BEA (2012Q3 2nd release), NBER,
CBO, Budget and Economic Outlook: An Update (August 2012)
,
CBO, Economic Effects of Policies Contributing to Fiscal Tightening in 2013, November 2012
, and author's calculations.
Given that monetary policy is likely to continue to be accommodative, I suspect that the multiplier would be at the higher end of range tabulated by the CBO. That outcome is shown as a purple triangle in the Figure.
Now, consider the fact that Republicans have asked for (unspecified) entitlement reform. This demand for reform before the new Congress comes into session seems unrealistic. Dealing with these issues in a sensible fashion requires careful analysis, and I don't see that as being possible before January 1st.
In some sense, many conservatives should like this plan, insofar as it would reduce economic policy uncertainty — which some have pointed to as deterring investment and hiring — associated with tax policy. [1]
This is not my preferred outcome –- but it might be what we get.
See also this post on letting the tax cuts lapse; and my call for the end of EGTRRA and JGTRRA back in 2005.
Update, 1:40PM Pacific: Deutsche Bank's Torsten Slok provides this graph which summarizes CBO's (midpoint) estimates of the impact of each component of the fiscal slope. Notice the impact on the budget from the tax component is relatively large, while that on the economy relatively small. The sequester exhibits the reverse pattern. This of course reflects the first round impact from spending on goods and services on GDP, as opposed to the effect via disposable income that follows from tax changes.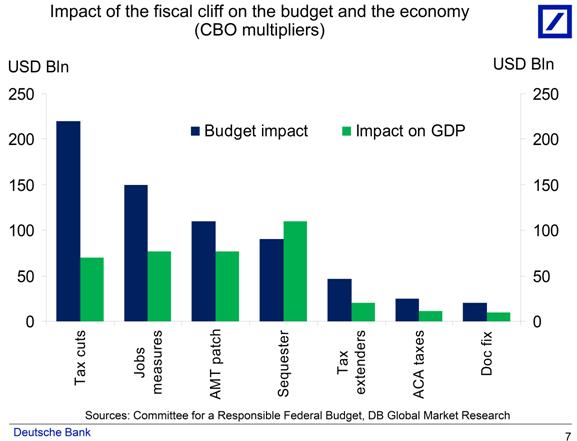 Source:
Torsten Slok, The U.S. Fiscal Cliff (November 2012) [not online].
And no, merely restricting deductions won't yield sufficient revenue Tax rates must rise.