From Reuters:
The dollar and euro made their largest percentage gains against the yen since late 2008 on Thursday after the Bank of Japan surprised the markets with an ambitious plan to fight deflation in a radical overhaul of policy.
Figure 1 depicts the extent of the move for the USDJPY rate, more than 3%; the corresponding move in the EURJPY rate was around 4%.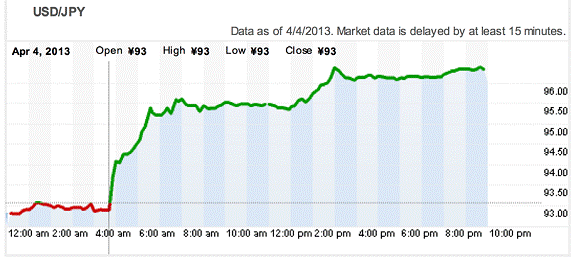 Figure 1: Japanese yen per US dollar. Source: Reuters.
From IDEAglobal today (not online):
The Bank of Japan (BOJ), under the leadership of Kuroda, introduced a new phase of monetary easing called Quantitative and Qualitative Monetary Easing. Under this, the bank will aim to achieve a 2% inflation target within 2 years. Most surprisingly, the BOJ decided to target the monetary base for its money market operations instead of the uncollateralized call money rate. The central bank expects that this new step would lead to an annual increase of about JPY 60-70tn in the monetary base, thereby reaching JPY 270tn at end-2014. Kuroda is apparently betting that an aggressive expansion of base money can boost Japan's stagnant economy and help the country end its prolonged deflation.

…

… The BOJ also astonished the markets by saying that all maturities of JGBs including 40 yr would be eligible for its bond-buying programme. Market players were previously nervous that the current governor would not get enough support for his policies. But, interestingly, the radical step of changing the target for money market operations was made by a unanimous vote, suggesting that Kuroda will find it easier to push through even bolder steps in the future.
For those of us who have advocated more energetic policies in advanced economies, including Japan, to spur growth these events represent a welcome move away from policy paralysis. For a discussion of the impact on trade flows and hence output, see this post; I'll update these estimates with more extensive econometric analysis in a post in the near future.