From Jason Stein, "State jobs agency adds 3rd finance chief in 2 years, then loses him in a day," Milwaukee Sentinel Journal (April 24):
This week the state's flagship jobs agency brought on its third chief financial officer in less than two years – only to see him resign within 24 hours to take a promotion at his former company.




…




WEDC has faced challenges since Gov. Scott Walker and lawmakers voted to create the quasi-public authority in July 2011 as a replacement for the former Department of Commerce.



Last year, the Journal Sentinel reported that the agency had discovered it had failed to track in one centralized database more than $12 million in past-due loans. As a result, the authority's CFO resigned and Walker brought in Reed Hall, the retired executive director of the Marshfield Clinic, as WEDC's new CEO to replace Paul Jadin, who left the agency in October to take a different economic development job.



Mike Klonsinski, the former chief financial officer of WEDC, resigned his $109,500-a-year job in October after the disclosure of the problems in tracking past-due loans. Klonsinski, who had earlier served as WEDC's COO, had replaced former chief financial officer Eric Schroeder in July when a close aide to Walker arrived to take the agency's number two job.

A summary measure of economic activity produced by the Philadelphia Fed (released on April 23) continues to show Wisconsin activity lagging Minnesota and the US (for more states in the regions, see this post).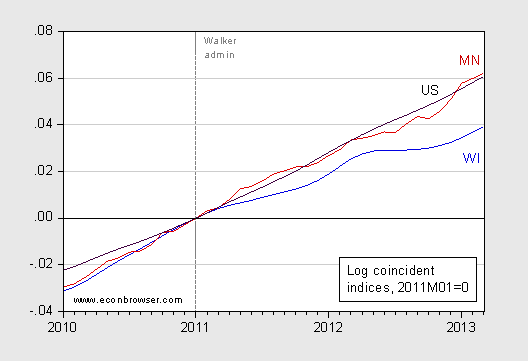 Figure 1:
Log coincident indices for WI (blue), MN (red) and US (black), rescaled to 2011M01=0. Source:
Philadelphia Fed
(April 23 release), and author's calculations.
Wisconsin's employment growth is shown here.