Transvaginal probes (amended to mandated ultrasounds) and giving regressive tax cuts after slashing K-12 education expenditures probably isn't going to draw high-technology/knowledge based workers to the state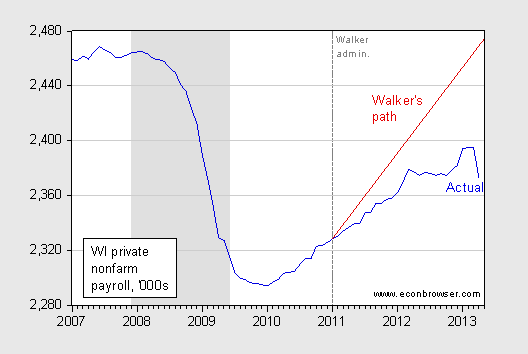 Figure 1: Wisconsin private nonfarm payroll employment, seasonally adjusted (blue), Walker's implied path for private employment (red). NBER defined recession dates shaded gray. Source: BLS and NBER.

In the last day, the privatized Wisconsin Economic Development Corporation gets its fourth head in two years [1] (the last one lasted but one day), and the Wisconsin Senate steamrolls the opposition to pass a bill requiring mandatory ultrasounds to precede abortions (after the requirement for transvaginal probes was dropped – edit mdc 11:20am 6/13) (a bill the Governor has stated he supports) [2]. Last week, a joint finance committee passed a tax cut bill that would result in a half billion dollar deficit in FY 2015-17, and included provisions that would restrict lawsuits related to lead poisoning [3]. From the Milwaukee Sentinel Journal's Jason Stein:

Making use of a jump in the expected tax revenue in the coming two years, Republicans on the Joint Finance Committee lowered the potential gap in the budget two years from now by $179 million over the spending proposal offered by Gov. Scott Walker in February, the Legislative Fiscal Bureau report shows.



But GOP lawmakers on the budget panel used most of the windfall in state revenue to increase Walker's proposed income tax cut rather than improve the state budget's bottom line.


…


A Fiscal Bureau analysis showed that in 2014 the Republican income tax cut would deliver about 45% of its savings to taxpayers making between $20,000 and $100,000 a year, while a Democratic proposal to distribute the tax cut more toward the middle class would deliver 70% of the savings to people within those income levels. The analysis showed that the GOP plan would deliver an average tax cut of $112 to a typical Wisconsin family making $52,000 a year, while the Democratic plan would deliver $176 in savings to that family.
With respect to the operations of the state Senate, this video (starring Senate President Ellis) is a must see. Here's a photo: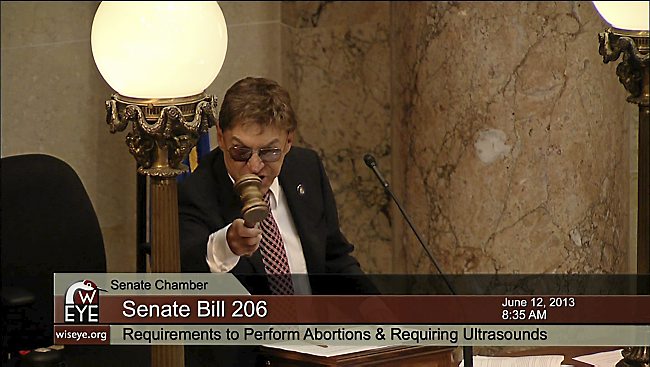 Source:
TwinCities.com
.
I would be remiss if I did not remind readers that the budget bill also includes a special provision that specifically prohibits all UW employees (including professors I believe, although I'm not a lawyer) from working with the Wisconsin Center for Investigative Journalism.[4] I'm just guessing, but my guess is that implementing this type of measure would not encourage the inflow of academics interested in the exploration of ideas and facts.
Previous posts regarding Wisconsin's lackluster economy since 2011M01, here: [5], [6] [7] [8]