Rising Predictive Power?
At a recent workshop on time series analysis (program here), my coauthor Kavan Kucko presented updated results based on the methodology in our 2010 paper on the predictive power of the yield curve, across countries (discussed in this post).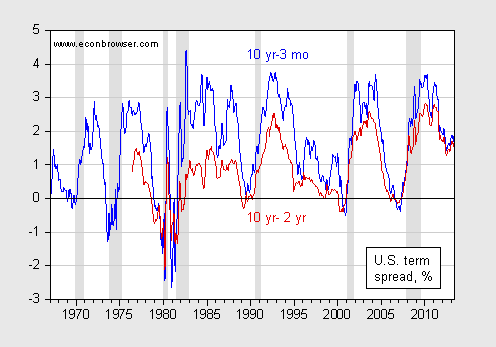 Figure 1:
10 year-3 month term premium (blue) and 10 year-2 year term premium (red), in percentage points. Source: FRED and NBER.
In his presentation, Kucko noted that the predictive power of the yield curve for future growth has apparently risen, according to rolling regression estimates.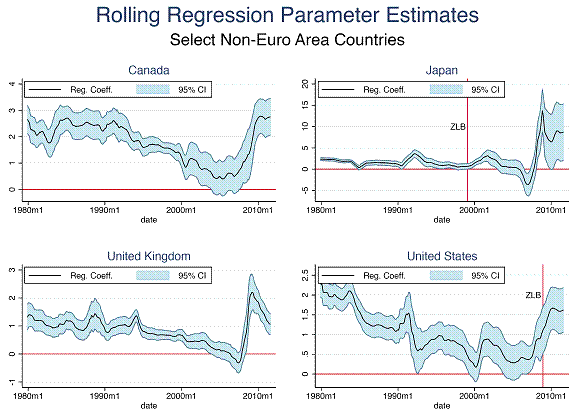 Figure 2:
Kucko, "The Predictive Power of the Yield Curve across Countries and Time.
Hence, after years of apparently declining predictive power — particularly during the Great Moderation — the yield curve now seems to signal future growth more strongly. It's useful to keep this finding in mind, given fact that some analysts have been predicting a recession [1]. Here are the spreads for some key countries.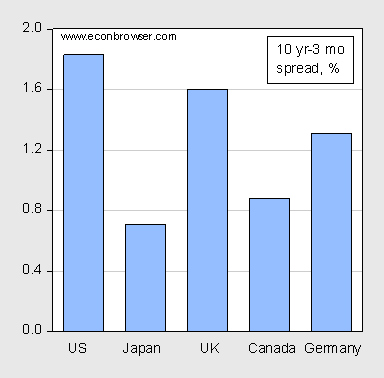 Figure 3:
Ten year – three month interest rate spreads, in percentage points. Source:
Economist, June 8, 2013
.
Of course, one could argue that previous relationships may not hold in a period of the zero lower bound, and credit easing. In the absence of credit easing measures, the spreads would probably be larger, although there is considerable uncertainty regarding the extent. The IMF staff has recently surveyed the literature, and summarized their results in this graph.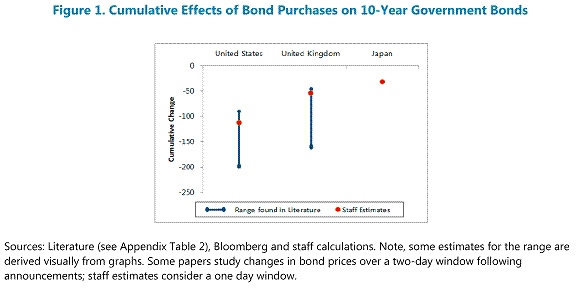 Figure 1
from
IMF, Unconventional Monetary Policies – Recent Experience and Prospects, April 18, 2013
.
Using the IMF staff estimates, the US term premium would be 2.83%, the UK about 2.1%, and Japan about 1%.