In response to what I thought were straightforward renditions of the data indicating reductions in government spending, reader W.C. Varones writes: "Cutting government spending" is a real stretch." In a (perhaps vain) attempt to convince him that indeed spending is declining, I present data from BEA and CBO (I am hoping that he hasn't joined the Jack Welch view of government statistics gathering).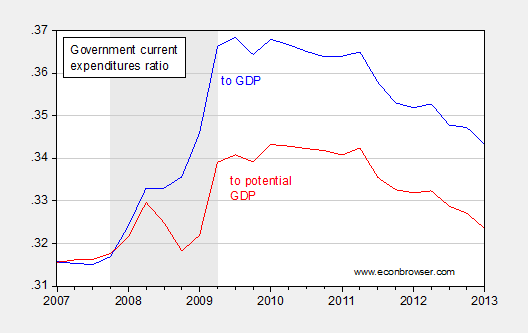 Figure 1: Share of government current expenditures (all levels) to GDP (blue), and to potential GDP (red). Source: BEA, 2013Q1 third release and CBO, Budget and Economic Outlook (February 2013).

Note that these government spending figures pertain to spending on goods and services, as well as transfers (and interest payments).
Sure looks like the gradient is negative to me, regardless of normalization. And despite protestations about the decline being relative to a high point, I will merely observe that the current ratio to potential GDP of 0.324 is less than that recorded in 1986Q3 (under President Reagan).
Sometimes, I wonder If we can't agree that down is down, what hope is there?
Update, 7/1 11PM Pacific: Reader Jonathan asks about the composition of government consumption cuts versus transfer cuts. Figure 2 shows the breakdown.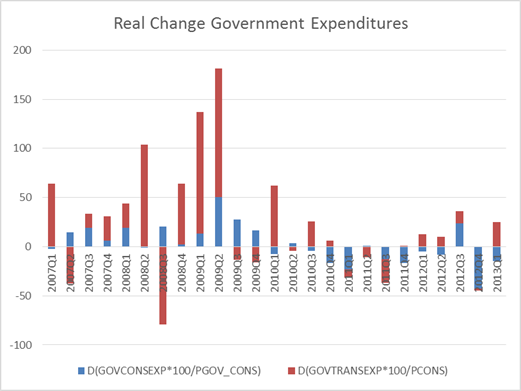 Figure 2:
Change in real government consumption (blue), and real transfers (red). Government consumption deflated by government consumption deflator; government transfers deflated by personal consumption expenditure deflator. Source: BEA, 2013Q1 third release and author's calculations.