From Jason Stein and Daniel Bice in the Milwaukee Sentinel Journal:
Gov. Scott Walker's administration rewarded the new hardline Capitol Police chief and his top deputy with double-digit pay raises earlier this year after moving the pair on paper to phantom jobs for two weeks and then back to their real posts.
Chief Dave Erwin — who has overseen a crackdown on Walker protesters at the statehouse — received an overall salary hike of 11.7%, to $111,067 a year, the same rate as his predecessor. That amounts to an $11,680 annual raise.
That hefty raise was possible only because Walker officials transferred Erwin on Feb. 5 to a ghostposition in the state Department of Administration, according to a copy of the transfer letter obtained by the Journal Sentinel. Then, on the same day, he was shuffled back to his real job as head of the Capitol Police force.



Each of the moves, backdated to earlier in the fiscal year, came with a retroactive boost in pay for Erwin. Under state rules, the chief is a civil servant, not a political appointee.



Peter Fox — who served as employment relations secretary under then-Gov. Tommy Thompson, a Republican — said the moves were legal but a "charade" performed for favored employees. Fox said he was basing his comments on what he knew of state practices from his tenure more than a decade ago.

The ongoing crackdown mentioned in the article is described here and here. Discussion of the arrest of a member of the press, here.
The Milwaukee Sentinel Journal article mentions the Department of Administration's explanation that the pay raises were necessary to bring the officers' pay in line with that being received by heads of other departments. This principle makes sense to me; civil servants should be compensated adequately. Nonetheless, I find it interesting that views with respect to adequate compensation and funding of state employees were not applied with equal vigor in other parts of the government; consider for instance local education, primarily K-12.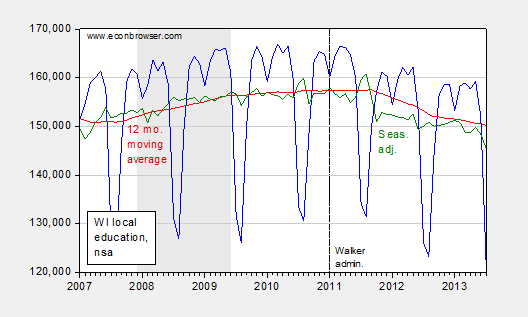 Figure 1:
Wisconsin employment in local education, not seasonally adjusted (blue), 12 month moving average (red), seasonally adjusted using ARIMA X-12 (green). NBER defined recession dates shaded gray. Dashed line at 2011M01. Source:
DWD
, and author's calculations.
If one compares May 2013 to May 2010, local education employment is down 7300, or 4.5% (log terms). Relative to 2010M12, seasonally adjusted employment is down 6943, or 4.7% (log terms).
Digression: The July figures for state employment were released today. Wisconsin employment growth continues to lag the US, and to lag a regional comparator, Minnesota.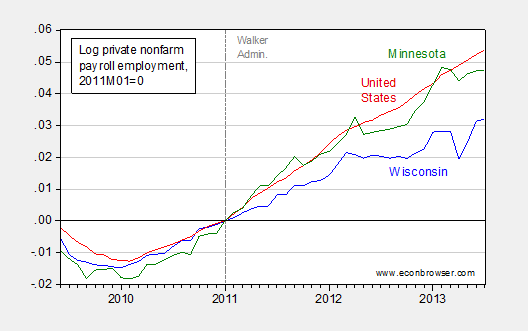 Figure 2:
Log private nonfarm payroll employment for Wisconsin (blue), for US (red), and for Minnesota (green), all 2011M01=0. Source:
BLS
, and author's calculations.
Hence, Wisconsin's lagging performance persists (see this April post).