Update, 10/20 12PM Pacific

After the failure of the Republican effort to defund the Affordable Care Act, what is the net macro effect? According the IHS-Global Insight, and S&P [1], 0.6 ppts were shaved off 2013Q4 GDP growth (SAAR). S&P puts a dollar figure to this impact — $24 billion in lost output.
As IHS-Global Insight notes [not online], while Treasurys are rallying, "yields on 1-, 3-, and 6-month T-bills could stay elevated (relative to September levels) since the debt-ceiling will have to be raised again in February." Moreover, "We further estimate that the spike in short-term yields this week will add another $114 million to the federal debt in higher interest costs from this week's T-bill auctions." (That's the instantaneous effect; recall that GAO estimated that pulling to the brink in 2011 cost $1.3 billion in elevated interest costs in FY2011 alone. [2] The Bipartisan Policy Center estimated the ten year cost of that event at $18.9 billlion. [3]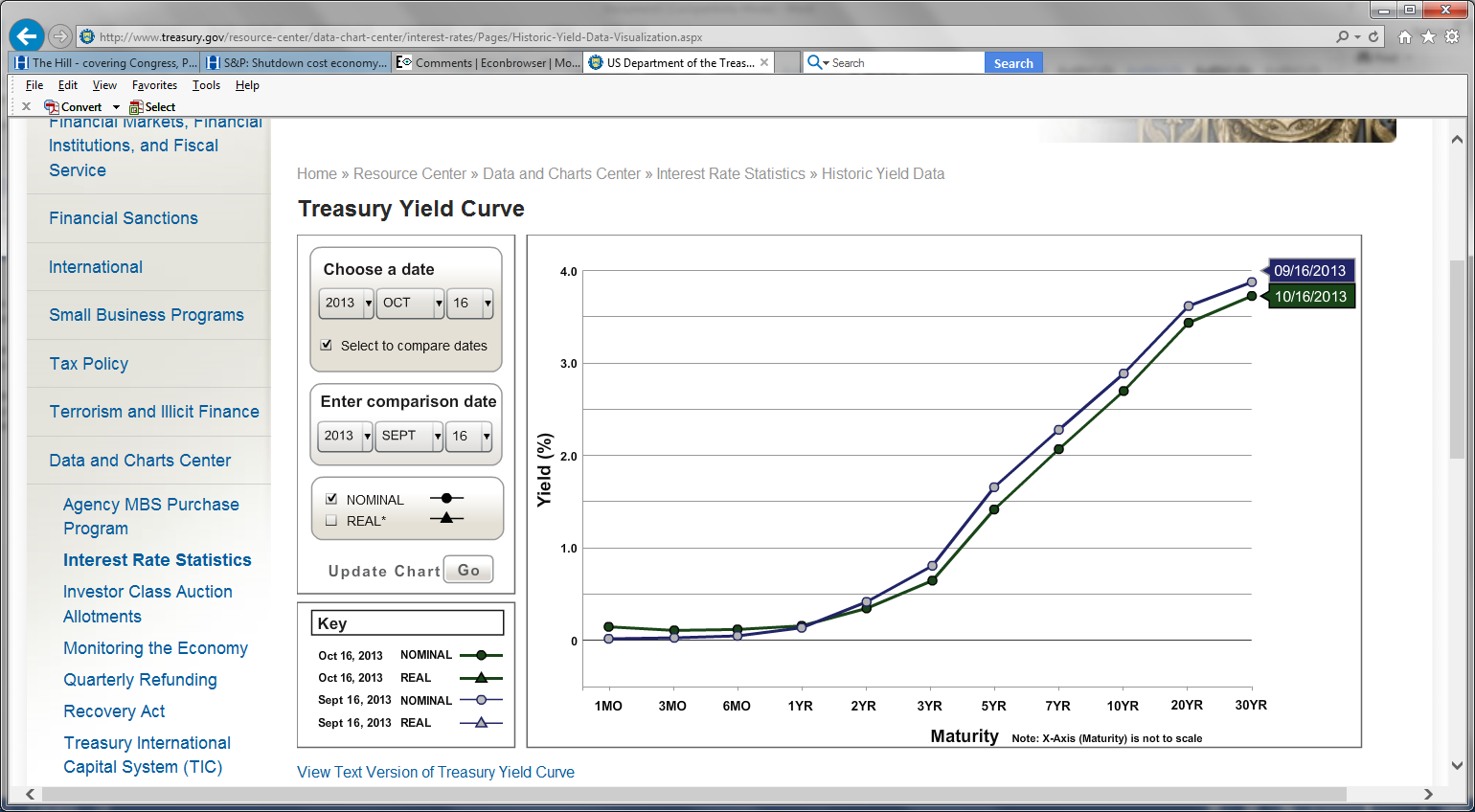 Figure 1:
Yield curves on Oct 16 and Sep 16. Source:
US Treasury
.
Note that the short rates are indeed higher than they were a month ago. Not surprising, since in February, we'll be back at (roughly) the same place.
If indeed we face a similar bout of brinksmanship (perhaps it'll be about defunding Medicare next time), then this will not augur well for the future.
Update, 10/17, 7:45AM Pacific: Macroeconomic Advisers has estimates of 1% off growth for three years, due to crisis-driven fiscal policy overall; Paul Krugman critiques and provides his own estimates.
Note that in Macroeconomic Advisers' latest outlook (dated Oct 16, not online), the shutdown alone (apparently no uncertainty effects, no spillover effects) trimmed 0.2 ppts off of 2013Q4 growth.
Sudeep Reddy at WSJ RTE surveys the estimates of the damage.
Update, 10/20 noon Pacific: My view on China's reaction to the self-inflicted fiscal crisis, in today's International NY Times.