Two numbers to remember: 84 thousand and 107 thousand
The first number is the amount by which actual October employment lags Governor Walker's promised path; the second is the amount by which the Administration's own forecast for January 2015 lags Walker's promised 250,000 net new jobs figure.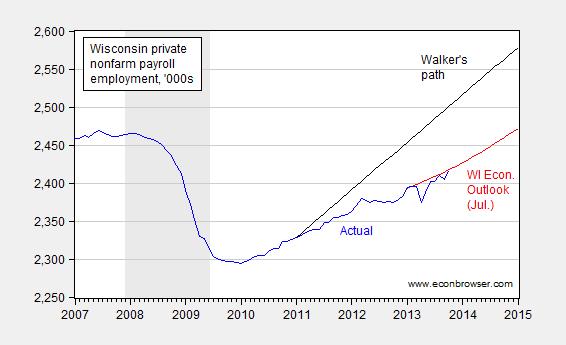 Figure 1: Private nonfarm payroll employment for Wisconsin, seasonally adjusted (blue), July 2013 Wisconsin Economic Outlook forecast, interpolated from annual data using quadratic match (red), and Walker's promised path for private NFP (black). September and October private NFP from WI DWD. NBER defined recession dates shaded gray. Source: BLS and DWD, Wisconsin Economic Outlook, and author's calculations.