From Davey, "Twinned Cities Now Following Different Paths," NY Times today:
"It's staggering, really, like night and day," said Lawrence R. Jacobs, a political scientist at the University of Minnesota. "You've got two states with the same history, the same culture, the same people — it's kind of like they're cousins. And now they're looking across the border and seeing one world, then seeing something else entirely on the other side."
Indeed, economic performance in Wisconsin and Minnesota have diverged since 2011, as documented here and here. This is true even after adjusting for population growth.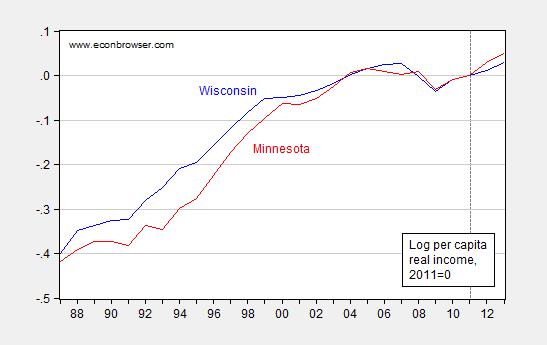 Figure 1:
Log per capita Gross State Product in Wisconsin (blue), and in Minnesota (red), in Ch.2005$, rescaled to 2011=0. Vertical dashed line at 2011. Data for 2013 is based on Philadelphia Fed coincident indicators, first 11 months. Pre-1997 data in Ch.1997$ is spliced to post-1997 data. Source:
BEA
, FRED, Philadelphia Fed,
Census
, and author's calculations.
Real per capita income in Wisconsin has lagged Minnesota a cumulative 2.2% (log terms) since 2011. Clearly, other factors affect growth rates besides government policies. However, the two states are roughly comparable in size — MN was 10% larger than WI in 2011. WI export exposure is 8.7% vs. 7.4% for MN that year. In fact for the two years ending 2012, Minnesota's Wisconsin's real exports grew an average of 3.9% vs. Minnesota's 1.0% — so Wisconsin had a leg up. And yet Wisconsin growth since 2011 has lagged.
More on the Minnesota-Wisconsin comparison here.
h/t dilbert dogbert for alerting me to the article.