How vulnerable to sanctions — official and market-driven — is Russia?
The Short-Run Economic Fallout of Russian Intervention
In the wake of unilateral moves by the Russian Federation, the US has imposed sanctions on Russia. [1] [2] [3] These measures have added pressure on Russian markets above and beyond those imposed by the international financial markets: the stock market is down, the currency has weakened, and sovereign bond yields are up. (Russian officials concede impact [4]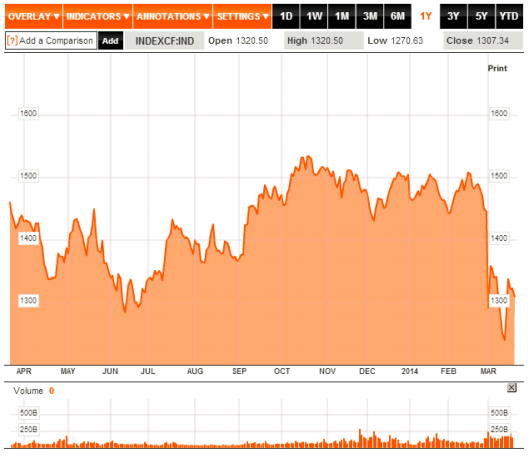 Figure 1: MICEX index, April 2013-April 2014. Source: Bloomberg.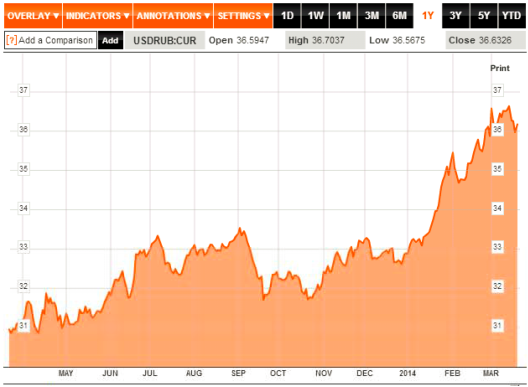 Figure 2: USDRUB, April 2013-April 2014. Up is a depreciation of the Russian rouble. Source: Bloomberg.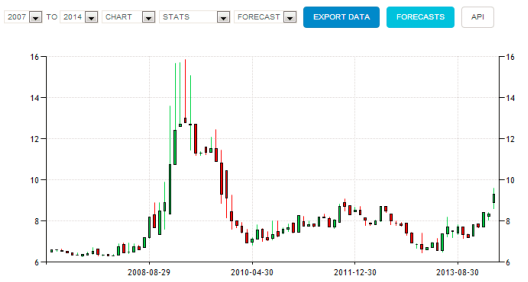 Figure 3: Ten year Russian sovereign yield, 2007-2014. Source: TradingEconomics.
Elevated risk showed up in capital outflows, even as of the end of 2013.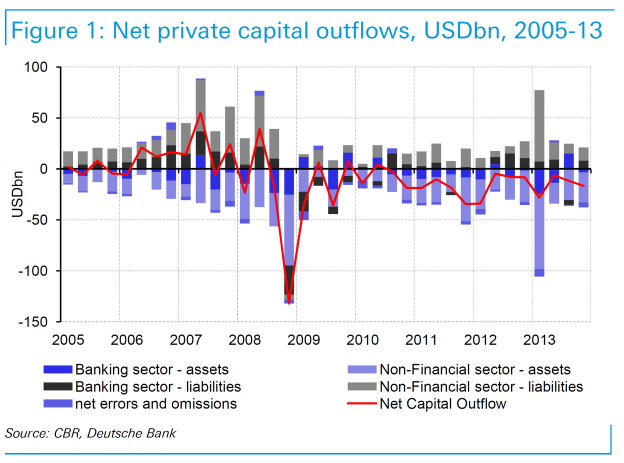 Figure 1 from Y. Lissovolik, A. Zaigrin, "Russia: macro implications of increased geopolitical risk," Emerging Markets Monthly (Deutsche Bank, 13 March 2014) [not online].
The Impact of Sanctions
The question, then, is whether economic sanctions will have the desired effect. Much of the conventional wisdom regarding sanction efficacy can be found in the work of Hufbauer, Schott, Elliott, and Oegg, who draw their conclusions from an analysis of a large set of sanction episodes. Successful sanctions (about a third of cases) imposed costs in excess of 2 percent of GDP, while unsuccessful sanctions imposed costs of about a percent of GDP. Much depends on what is the "desired effect"; I'll return to this point at the end.
In most — or at least many — previous episodes, the sanctions worked more through the trade channel. Most of the impact seen thus far in the Russian episode has been along the financial dimension; it remains to be seen whether the financial impact will be greater, or perhaps more focused, on relevant target groups. From a memo by Steve Englander/Citi yesterday ("International finance as continuation of war by other means"):
The Russia/Ukraine crisis may be the first major political conflict that is played out in international financial markets. The difference between this and standard imposition of sanctions is that both sides have some options that can inflict damage on the other side. Normally sanctions involve a big group of countries on one side and a vulnerable target on the other so the vulnerability is very asymmetric. Small countries can occasionally expropriate big country assets but in most cases that ostracizes the small country from the international financial community.
Obviously, the impact of the financial sanctions depends on the credibility of the threat of imposition. For Europe, where natural gas supplies and bank loan exposure loom large, the threat is less credible. From G. Moec, M. Stringa "Who is exposed to Russia?" Deutsche Bank, 20 March 2014:
In absolute terms, French banks are – by far – the most exposed, with USD 51bn claims (loans and securities) over Russia in Q3 2013.



However, these claims must be compared with total bank assets in each country to get a sense of the systemic impact that an asset freeze or deterioration in the creditworthiness of Russian assets could have. Austria then comes out with the highest ratio (1.4%), followed by the Netherlands and Italy.
Still, at 0.5% of total bank assets, we would regard the French ratio as significant, especially in a period of pressure on capital ratios.
The United States, however, has less direct bank exposure, and doesn't depend heavily on Russian exports, energy or otherwise. In that respect, the threat of additional US sanctions are credible.
In addition, while Russia seems fairly resilient along some dimensions — high foreign exchange reserves to short term external debt, a relatively small budget deficit (see IMF Article IV report from October here; and the Economist's capital freeze index) — there are some clear vulnerabilities. First and foremost is the slowing growth rate.
Prior to the Crimean crisis, the IMF was already forecasting modest growth in 2014 (see this post). The IMF has not released new estimates to my knowledge, but like others, they are probably marking down growth estimates due to reduced capital inflows and heightened uncertainty. Citi has reduced its 2014 forecast from 2.6% to 1% (Weisenthal/BI)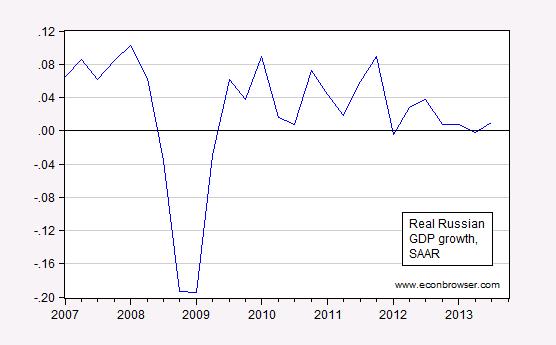 Figure 4: Russian q/q annualized GDP growth, in 2000 prices. Source: OECD via FRED, and author's calculations.
Other macroeconomic indicators are suggesting a slowdown.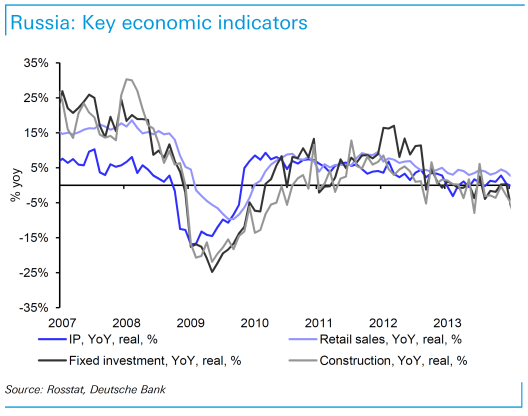 Figure 5: Russia: Key Economic Indicators. Source: "Russia," Emerging Markets Monthly (Deutsche Bank, 13 March 2014) [not online].
Second, the Russian government remains highly dependent on oil export revenue. In the absence of oil revenues, the government deficit is on the order of 10% of GDP. A big drop in oil prices would be extremely painful.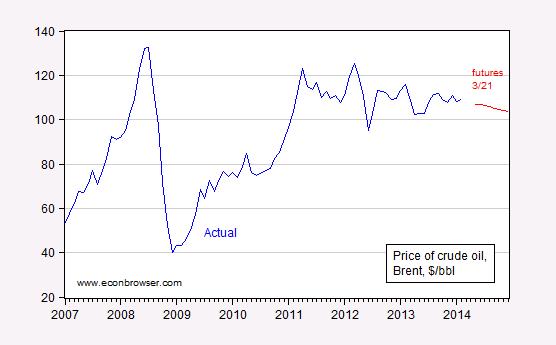 Figure 6: Price of crude oil,Brent (blue), and futures as of 3/31/2014 (red). Source: EIA via FRED and Barchart.com.
While there is little the US could do to affect world oil prices now by way of production measures (see Jim's assessment here), any economic slowdown which decreases demand for (price inelastic) oil would surely put pressure on Russia. And oil conservation measures in the US would have an impact, although I am sure that all the folks arguing for more vigorous diplomatic and military measures (e.g., [5]) would not favor policies such as a Strategic Petroleum Reserve (SPRO) release, or a higher gasoline tax.
Hence, the past might not be a completely adequate guide to assessing the sensitivity to sanctions (and spillover effects), given the fragile nature of growth, and the localization of induced pain to groups important to the ruling elite.
Defining Success
What is the desired effect of the sanctions? If it is to restrain Russian proclivities for intervention, the costs that can be imposed might be sufficient. In fact the Institute for International Finance predicts a severe recession in Russia — a 5% cumulative drop in GDP — should there be a secession of Eastern Ukraine. [6] If success entails eliciting a Russian withdrawal from the Crimea, that might be a tougher task — as argued by Dan Drezner.