Wisconsin continues to lag the other regional economies
The Wisconsin Department of Revenue today released its Winter Wisconsin Economic Outlook. The forecast indicates a shortfall relative to Governor Walker's promise to create 250,000 new private sector jobs.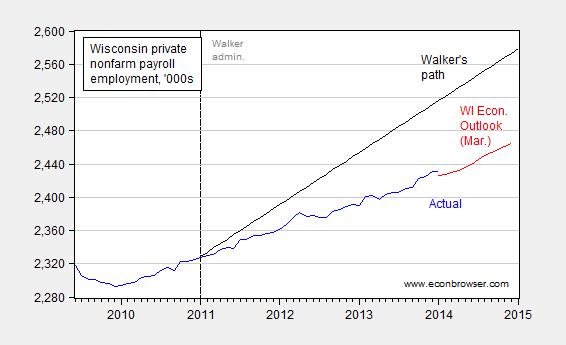 Figure 1: Nonfarm private payroll employment for Wisconsin (blue), quadratic match interpolation of quarterly forecast (red), and linear trend for Walker's target of 250,000 new jobs (black). Source: BLS and Wisconsin Economic Outlook (March 2014).
In order to hit the target, 12,275 jobs per month would need to be created each month for the next year; the mean job creation rate since 2011M02 has been 2,892, with standard deviation of 3,817. Achievement of the Governor's goal would therefore seem "unlikely".
How about Wisconsin's relative performance? As noted in an earlier post, Wisconsin private nonfarm payroll employment is flat going from December to January (the earlier post used state data, but the BLS released series are numerically indistinguishable). Of course, one should not put too much weight on one month's numbers. It's interesting to observe that while the 3 month annualized growth rate of Wisconsin private employment (Governor Walker's preferred measure) is 1.5%, Minnesota's is 2.4%.
Figure 2 depicts overall nonfarm payroll employment (which is more favorable to Wisconsin of late).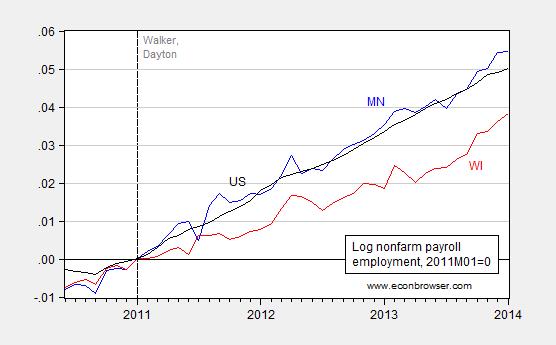 Figure 2: Log nonfarm payroll employment for Wisconsin (red), Minnesota (blue) and the US, all seasonally adjusted, 2011M01=0. Source: BLS, and author's calculations.
Minnesota's cumulative growth rate since 2011M01 relative to Wisconsin is 1.6% as of January 2014. Wisconsin's performance relative to Minnesota is not unique. Using a broader measure of economic activity, the Philadelphia Fed's coincident indices, one finds that Wisconsin is outpaced by all her neighbors. (see also [1])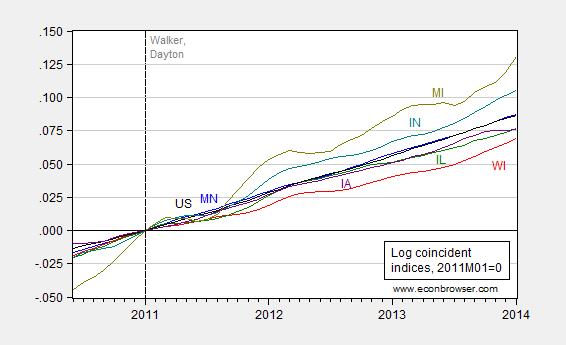 Figure 3: Log coincident indices for MN (blue), WI (red), IL (green), IA (purple), IN (teal), MI (olive), and US (black). Source: Philadelphia Fed, and author's calculations.
Indiana and Michigan outpace the Nation, but these states experienced a much deeper drop during the Great Recession.
The cumulative growth gap since 2011M01 between Minnesota and Wisconsin is 1.8% (log terms); using the Philadelphia Fed leading indices as of the December release, the gap will shrink to 1.3% by June 2014 (as pointed out by some observors). However, with upwardly revised employment figures for Minnesota (more so than for Wisconsin), my guess is that the January release of the leading indices (slated for March 24) will imply faster Minnesota growth, so that the gap does not shrink as much as suggested by the current forecast (if at all). Furthermore, using the December forecasts, the US-WI gap will widen from 1.7% to 2.5%. Hence, Wisconsin also lags the Nation.