April nonfarm payroll employment surprises. The most recent trends in the labor market diverge from those of GDP.
Employment growth at 288K, reported by the BLS today, was noticeably above the Bloomberg consensus of 218K. Previous months' data were revised upwards as well.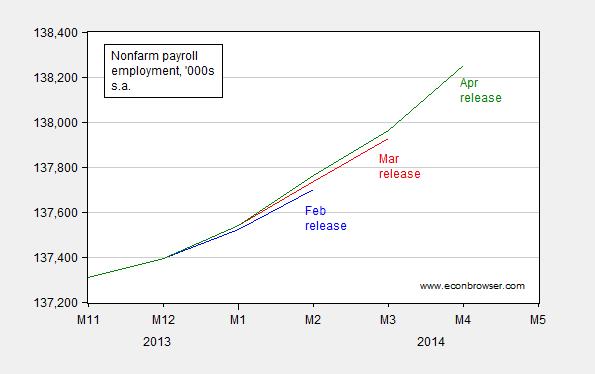 Figure 1: Nonfarm payroll employment from February release (blue), from March release (red), and from April release (green), in '000s, seasonally adjusted. Source: BLS, various releases.
Obviously, with the severe weather conditions experienced in half of the United States over the winter, one could wonder if the seasonal adjustment procedures were producing odd results. The seasonally adjusted and not-seasonally adjusted figures are shown in Figure 2.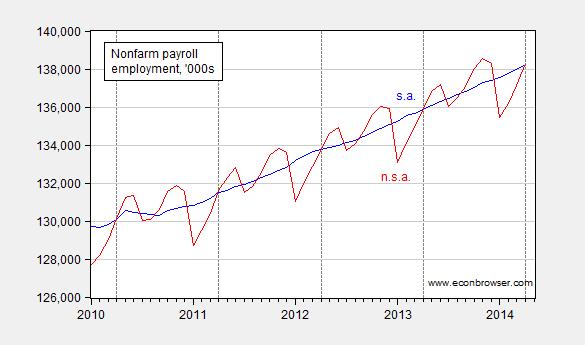 Figure 2: Nonfarm payroll employment, seasonally adjusted (blue) and not seasonally adjusted (red), both in '000s. Source: BLS via FRED.
In April, the seasonal adjustment factor is small, so that typically the seasonally adjusted and not seasonally adjusted series coincide. Hence, the level is not so much in question as the month on month change — that is one could legitimately wonder about the change relative to March.
On the other hand, one knows that it's dangerous to rely upon high frequency movements in the NFP series (the 90% confidence interval is plus/minus 90K [1]; see also [2]). For those interested in the longer term changes, it's noteworthy that the twelve month change in the seasonally adjusted and unadjusted series match exactly for April 2014.
In addition, aggregate hours worked in the private sector surged in April March, and continued to gain in April. Figure 3 depicts private sector employment and hours worked, both normalized to the previous peak, in 2007M12 (as identified by the NBER).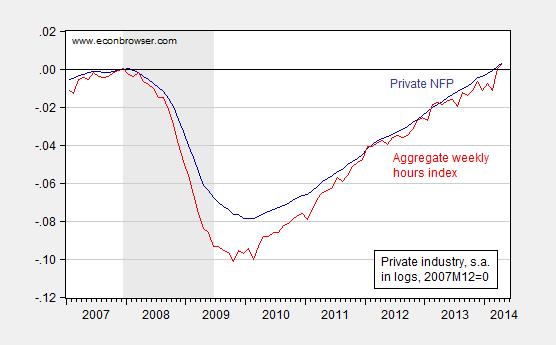 Figure 3: Log private nonfarm payroll employment, '000s (dark blue), and log private aggregate hours worked index (dark red), both normalized 2007M12=0. NBER defined recession dates shaded gray. Source: BLS via FRED, NBER, and author's calculations.
Both series have now exceed their pre-recession peaks.
As noted by Furman/CEA, the growth in employment is broad based.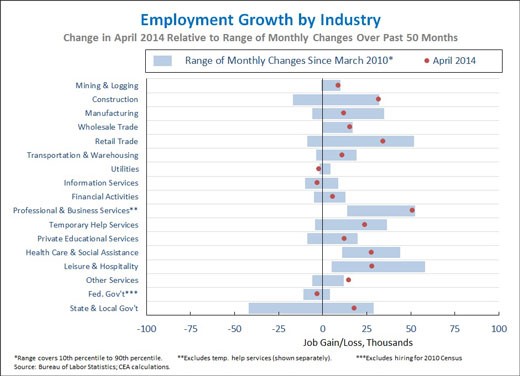 Figure from Jason Furman/CEA.
Finally, it's of interest to note the disjuncture between recent employment trends and GDP trends. As noted by Jim, the 2014Q1 advance release indicated at minimum zero growth, q/q, and according to latest updates by Macroeconomic Advisers, negative growth.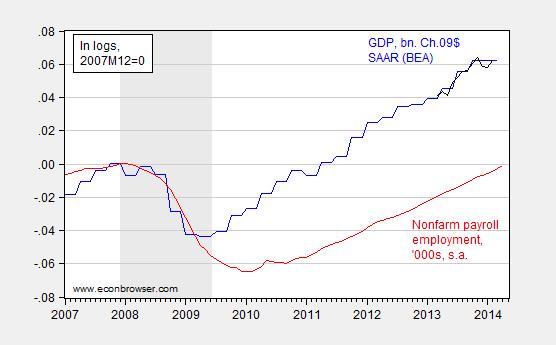 Figure 4: Log GDP from BEA (blue), from Macroeconomic Advisers (black), and log nonfarm payroll employment, s.a. (red), all normalized to 2007M12=0. NBER defined recession dates shaded gray. Source: BEA, Macroeconomic Advisers, BLS via FRED, NBER, and author's calculations.
Figure 4 illustrates that flat GDP growth and employment in the last quarter appears a bit anomalous. However, given the variability associated with the employment-GDP link, one shouldn't make too much of the divergence. (Note: the widening gap between trend GDP and employment is consistent with the cointegrating coefficient of about 0.62 estimated in Chinn, Ferrara and Mignon (2013), discussed in this post).
One thing to look for: March trade figures to be released on Tuesday. With exports accounting for a negative 1.2 percentage points of the first quarter growth (SAAR), surprises on this variable could have a noticeable impact on the overall growth number (the advance release uses estimates of the 3rd month trade figures).
On the employment release, see Furman/CEA, and McBride/CR. For survey of views, see Leubsdorf/WSJ RTE. More on the household survey from Irwin/NYT, and Madigan/WSJ RTE. Longer term view on household survey DeLong.