How much can an independent Scotland rely upon? updated 9/16
The U.S. Energy Information Administration has just released its 2014 International Energy Outlook.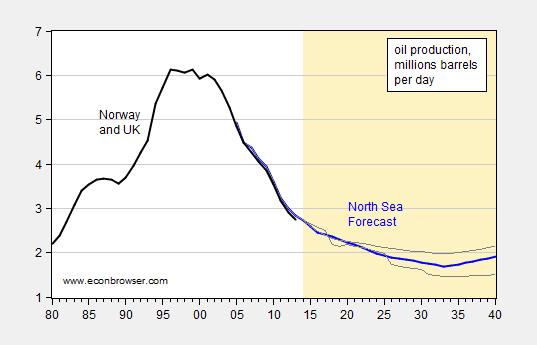 Figure 1: Norway and offshore UK Oil production in millions of barrels (black), North Sea oil production, actual through 2013 and forecast (blue), and high and low price forecasts (gray lines). Source: EIA, IEO 2014, Sept. 9, 2014, and EIA.
EIA does not report forecasts of the UK share of North Sea production. UK production accounted for about 33% of total Norway and UK production in 2013, down from 80% in 1982 (the EIA statistics only go back to 1980). See this Economist article for a graph of UK oil-equivalent production extending back to 1970.
Obviously, the revenue implications depend on the price of oil as much as the production levels. However, declining quantity of production seems the be in the cards, and in any case, production levels will be substantially below where they have been.
Update, 9/16, 11:35AM Pacific: Frequent commentator Steven Kopits presents his views on the outlook for UK North Sea oil production, and the implications for Scottish independence.